Avintia MotoGP team boss Ruben Xaus says Johann Zarco's clash with Pol Espargaro at Brno set the precedent for the French rider's punishment for his Austrian Grand Prix collision.
Zarco was involved in a horror high-speed accident with Franco Morbidelli in last weekend's Austrian GP, when the Avintia rider moved off-line slightly under braking for Turn 3 and Morbidelli ran into the back of him.
The resulting chaos from the collision almost saw Valentino Rossi and Maverick Vinales wiped out by errant bikes, while Zarco suffered a fracture to his wrist.
MotoGP's Stewards Panel investigated the incident further on Thursday with Zarco and Morbidelli, and on Friday announced that the Avintia rider's actions were "irresponsible".
Zarco – should he make the start of the Styrian GP – will start from pitlane as a result.
Avintia boss Xaus believes Zarco's collision with KTM's Espargaro at Brno which took the latter out of the race – and for which Zarco was handed a long-lap penalty – laid the groundwork for the Stewards' decision after the Austria incident.
"It doesn't matter what I feel, the situation is last week at Brno we got a penalty which didn't really understand," Xaus said to motogp.com when asked for his thoughts on the penalty.
"At the end, that's what I think created the precedent for the situation and because of that situation, we end up here with another penalty.
"We can discuss or not, it's what we have and we have to accept.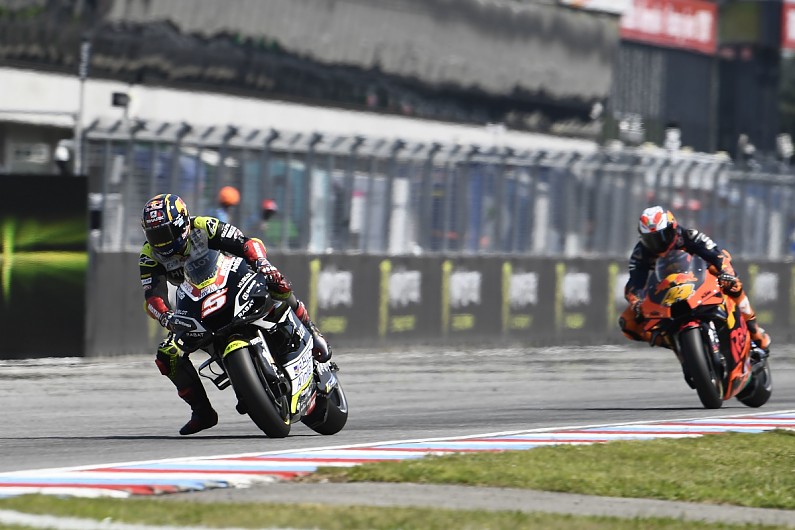 "It doesn't matter what we say, it must be upheld, we cannot argue on it and my goal is to just finish it here.
"It has been a big battle here, we are lucky that nothing happened.
"And I am focused on ending up at Misano with a real clean situation to focus again to do results and try to bring Zarco the possibility a better bike next year."
Zarco has always maintained his innocence and said he did not move over on Morbidelli intentionally under braking – though the SRT rider disagreed with this when he spoke about the incident on Thursday at Red Bull Ring.
Morbidelli branded Zarco a "half-killer" last Sunday after the incident, though apologised for this on Thursday.
Zarco, who will undergo a medical check this afternoon, feels the heat he has taken for the incident is because he is "coming from a difficult season" with KTM last year.
He also notes that perhaps he has been "unlucky" in being involved in big accidents, referencing his clash with Marc Marquez in Australian in 2018.
"It's easy to put all the angry feelings on one person that doesn't have at the moment all the power because I'm coming from a difficult season, I'm building up my confidence well after all the life and racing problems I got in one year," he said.
"I think it's easier if you find someone to put all the bad energy on.
"If you remember the crash of Australia [in 2018] some people were saying it was my fault.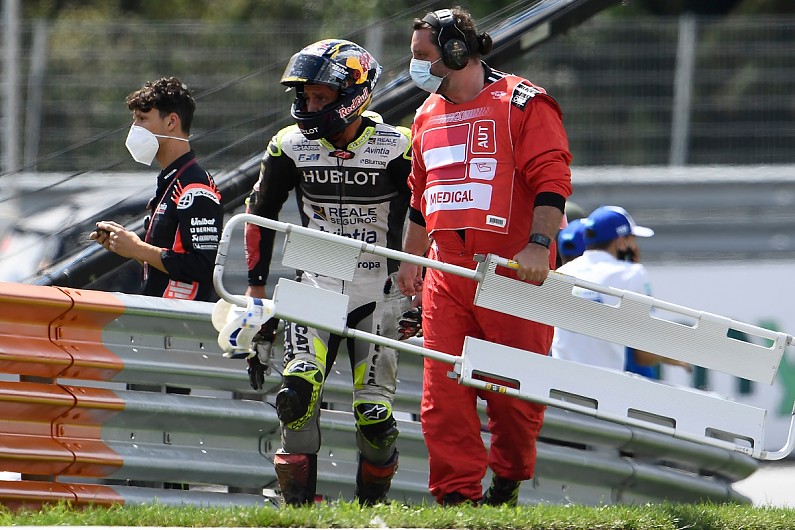 "I was just stuck behind Jack [Miller] and for me Marc [Marquez] didn't want to overtake Jack, so he went back to the left and with this speed.
"And I even brake before, we can see on the image I rise up my head to try to brake. But when he came on the line I totally flew away.
"So, for me it's my second crash at this speed and people say, 'yes, you are always the one in this critical situation'.
"But shit, I can say I'm unlucky because in this one I was in front and Morbidelli touched me in the back."