Johann Zarco admits he is "unhappy" with his MotoGP Styrian Grand Prix pitlane start penalty, but believes it "is not the end of the world".
The Avintia Ducati rider was handed the punishment for his part in the heavy crash with Franco Morbidelli in last week's Austrian GP, which almost led to Maverick Vinales and Valentino Rossi being collected by errant motorcycles.
Zarco and Morbidelli attended an FIM Stewards hearing on Thursday, where it was decided that the Frenchman should start from the pitlane for Sunday's second Red Bull Ring race.
The Avintia rider says he thought about appealing the penalty – having maintained his innocence – but felt this could impact him unnecessarily at Misano in September when he expects to have fully recovered from the wrist fracture he suffered in last Sunday's crash.
"Unhappy with the penalty," Zarco said on Friday. "I was thinking to appeal to the FIM, but then it's a bit tricky and would push the problem even later.
"In that case, maybe my appeal is not accepted, then the situation is maybe not good.
"So, I prefer to swallow this penalty and start from the pitlane this weekend.
"And like this, we close the story. So, better to do in that way, and me, I'm pushing myself to do the best race as possible in Misano, also because I will be 100% fit and still getting points… my target is to stay with Ducati with the best bike as possible.
"It was not planned to play for the championship this season, so that's why starting from the pitlane is not the end of the world.
"It's a good way to finish this story."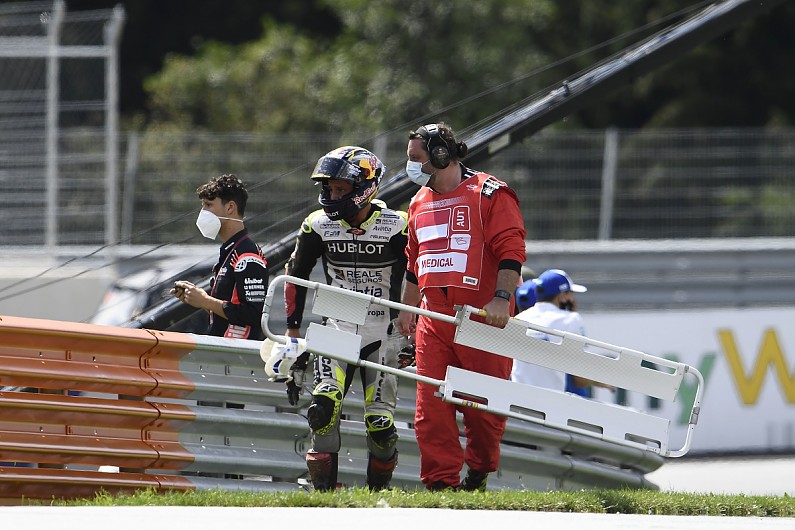 Zarco was absent from Friday's practice sessions at the Red Bull Ring as he needed to wait until the minimum 48 hours after an operation had passed before undergoing a fitness check – which he passed.
He says he was informed about his penalty on Thursday, and feels attending the hearing was a waste of his time owing to how his punishment was ultimately communicated.
"They told me personally… in the way they told me it, there was no sense [that] I went to tell my version [of the event]," he added.
"They say 'we are seeing this and we give you the penalty', and I say 'why did I come to explain my point of view?'. 'Just to be correct in the words', that's why.
"They told me later on, much later, but they could have told me in front of me."