Ott Tanak took a relatively untroubled home victory on Rally Estonia to record his first World Rally Championship win for Hyundai since joining this season – ahead of team-mate Craig Breen.
Tanak and Breen merely had to minimise the risks in the six final stages as they held first and second respectively overnight, but there was one heart-stopping moment for Tanak when a rut almost sent him into a ditch.
Disaster was averted at the cost of only a couple of tenths of a second and Tanak kept his stranglehold even as the pursuing Toyotas were able to win every stage of the day.
Elfyn Evans took the first stage of the morning, Sebastien Ogier would claim two and Kalle Rovanpera ended up winning three, including the points-scoring Power Stage.
The only fly in Toyota's ointment on the closing day was the loss of its fourth car, driven by Japanese ex-Formula 3 driver Takamoto Katsuta, who rolled out of sixth place.
Tommi Makinen's squad showed that despite lacking Hyundai's specialist knowledge of the Estonian roads, they could get themselves right back on the pace once they got the damper settings dialled in.
"We learned that we did our preparation test in too fast conditions," Makinen admitted. "It was completely different conditions what we did our preparation beforehand and that's the answer why our car was not absolutely perfect all over."
No such reasoning was needed in the Hyundai camp, as both Tanak and Breen had a very simple job in the eyes of team principal Andrea Adamo: "Let me say I warmly suggested them to finish first and second," the Italian said.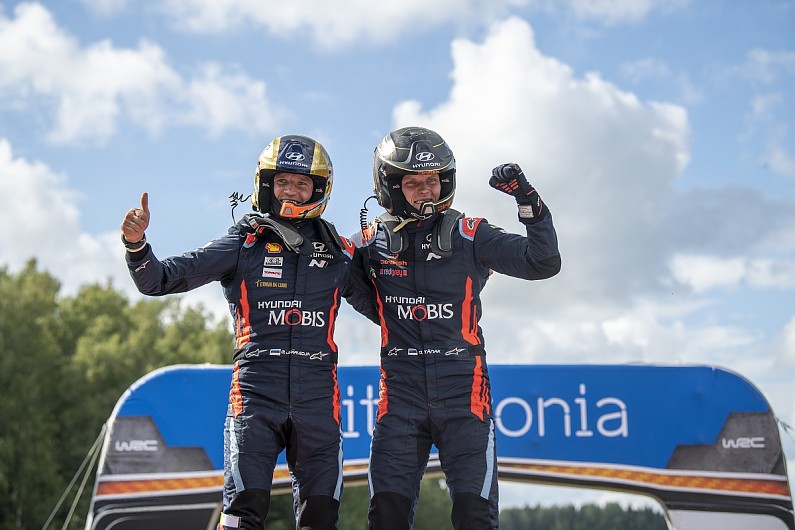 Erstwhile championship leader, and the biggest loser from the WRC's Estonian adventure, was Thierry Neuville in the third Hyundai. The Belgian crashed out on Saturday and restarted hoping just to save his tyres for an all-out assault for Power Stage points.
As he attempted to launch into the stage, however, something was clearly amiss with the car's electronics and the i20 limped through to the finish. His hopes of leading Hyundai's charge in the three remaining rallies of 2020 would appear to be bleak.
Hyundai also lost its fourth car, a 2019-spec i20 WRC entered for its reigning WRC2 champion Pierre-Louis Loubet, when his steering gave out on the second stage of the day, ending a run where the asphalt specialist improved in pace and confidence on the loose Estonian surface.
M-Sport was the benefactor and gained valuable points in a rally where its two rapid Finnish drivers were driven to distraction by their pace compared with the Toyotas and Hyundais. Nevertheless, Teemu Suninen and Esapekka Lappi finished in sixth and seventh respectively, with Gus Greensmith coming home eighth, which gave the Cumbrian squad a much-needed haul of points to take home.
In WRC2 the Citroen of Mads Ostberg was never really challenged and was followed onto the podium by M-Sport's French hopeful Adrien Fourmaux. Hyundai's Nikolai Gryazin had been set to take the runner-up spot until he suffered a puncture on the final stage, allowing Fourmaux through and handing third place to Swedish privateer Pontus Tidemand.
Finishing in front of all the WRC2 runners however, in ninth overall was Oliver Solberg, claiming his first WRC3 victory in emphatic style.
But for reigning champion Tanak he sent out a wanring warning shot to his rivals after finishing the final stage.
"We have been working so, so hard – I mean the team has been working so, so hard, I've just been at home sitting on the sofa! But still great job guys, we keep pushing and I'm sure we can do it!" he said.
"It's great of course, we, you know, we have some previous know-how and if you race home even if you don't know some roads still you feel the support which you get from the people around so it's amazing. It's great feeling and first Rally Estonia (in the WRC) and the win is mine so happy for sure."
Rally Estonia result after SS17
| Pos | Class | Driver | Car | Gap |
| --- | --- | --- | --- | --- |
| 1 | RC1 | Ott Tanak, M.Jarveoja | Hyundai | 1h59m53.6s |
| 2 | RC1 | Craig Breen, P.Nagle | Hyundai | 22.2s |
| 3 | RC1 | Sebastien Ogier, J.Ingrassia | Toyota | 26.9s |
| 4 | RC1 | Elfyn Evans, S.Martin | Toyota | 41.9s |
| 5 | RC1 | Kalle Rovanpera, J.Halttunen | Toyota | 1m18.7s |
| 6 | RC1 | Teemu Suninen, J.Lehtinen | Ford | 2m39.6s |
| 7 | RC1 | Esapekka Lappi, J.Ferm | Ford | 2m52.0s |
| 8 | RC1 | Gus Greensmith, E.Edmondson | Ford | 4m53.8s |
| 9 | RC2 | Oliver Solberg, A.Johnston | Volkswagen | 7m38.6s |
| 10 | RC2 | Mads Ostberg, T.Eriksen | Citroen | 8m17.3s |
| 11 | RC2 | Jari Huttunen, M.Lukka | Hyundai | 8m37.6s |
| 12 | RC2 | Egon Kaur, S.Simm | Skoda | 9m26.4s |
| 13 | RC2 | Adrien Fourmaux, R.Jamoul | Ford | 9m45.7s |
| 14 | RC2 | Pontus Tidemand, P.Barth | Skoda | 11m07.4s |
| 15 | RC2 | Eyvind Brynildsen, I.Minor | Skoda | 11m09.5s |
| 16 | RC2 | Karl Kruuda, D.Moscatt | Volkswagen | 11m43.5s |
| 17 | RC2 | Nicolas Ciamin, Y.Roche | Citroen | 11m51.3s |
| 18 | RC2 | Nikolay Gryazin, K.Aleksandrov | Hyundai | 12m09.9s |
| 19 | RC2 | Marco Bulacia Wilkinson, M.Der Ohannesian | Citroen | 12m15.2s |
| 20 | RC2 | Rainer Aus, S.Koskinen | Skoda | 12m23.1s |
| 21 | RC2 | Sean Johnston, A.Kihurani | Citroen | 12m31.2s |
| 22 | RC2 | Yohan Rossel, B.Fulcrand | Citroen | 12m42.6s |
| 23 | RC2 | Priit Koik, A-Uku Heldna | Ford | 14m03.3s |
| 24 | RC2 | Gregoire Munster, L.Louka | Hyundai | 14m22.3s |
| 25 | RC1 | Kimmo Kurkela, R.Hamalainen | Ford | 15m42.1s |
| 26 | RC2 | Jan Solans, M.Barreiro | Ford | 16m09.5s |
| 27 | RC2 | Jaroslaw Koltun, I.Pleskot | Ford | 21m12.1s |
| 28 | RC4 | Martins Sesks, R.Francis | Ford | 21m26.9s |
| 29 | RC4 | Robert Virves, S.Pruul | Ford | 22m04.7s |
| 30 | RC2 | Alexander Rzhevkin, Y.Fedorov | Skoda | 29m31.8s |
| 31 | RC1 | Thierry Neuville, N.Gilsoul | Hyundai | 45m08.7s |