Williams head of vehicle performance Dave Robson reckons the team can score points "purely on merit" if it can reach a "gaggle" of rival squads ahead in Formula 1's midfield.
Over the first five events of F1's 2020 season, including this weekend's 70th Anniversary Grand Prix, Williams has reached Q2 in the last four qualifying sessions with George Russell.
The team has finished on the verge of the points at two races so far this season – 11th with Nicholas Latifi, who was the last of the finishers at the flag at the attritional Austrian GP, and 12th for Russell last time out in the British GP.
But on both occasions Williams required other teams to hit trouble, although both its drivers beat Kimi Raikkonen's Alfa Romeo in the first Silverstone race.
Speaking after Russell had qualified 15th for this weekend's 70th Anniversary GP, Robson said: "It's nice that we're racing and we're close to at least a couple of teams.
"I think the next gaggle of cars ahead of us and the Haas are all quite close to one another.
"They're that little bit [too] far away at the moment, but if we can close that gap then there [is] potentially points to be had purely on merit, rather than – at the moment – relying on quite a lot of other people's misfortune."
Russell was the only driver to complete just a single run in Q2, which he completed on the soft tyres that have dominated the build-up to the second Silverstone race because of their fragile nature.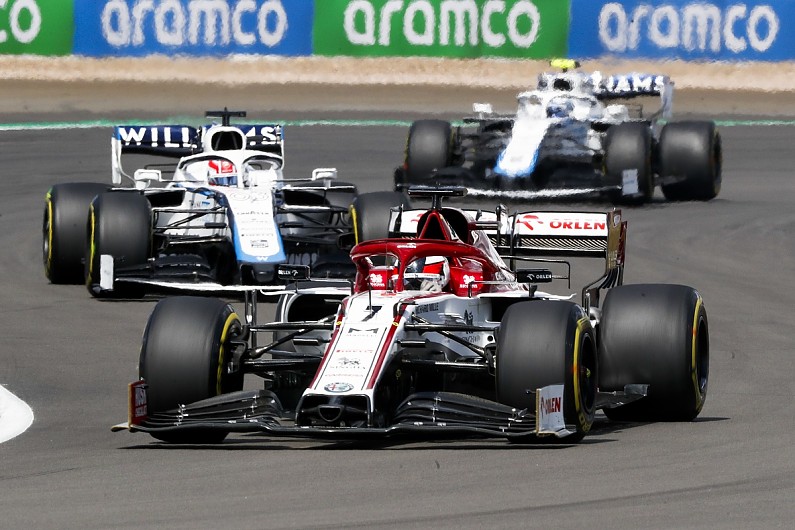 When about this tactic by Autosport, which would have meant Russell starting on the unfancied red-walled rubber had he made it into Q3, Robson explained that that outcome would have left Williams "unbelievably surprised".
"I think we would probably have just taken that to be honest, despite starting on an unfortunate race tyre," he added.
"But to be honest I don't think that was going to happen. So it was about getting as far up Q2 as we could.
"To be honest the tyres over a lap were a much-of-a-muchness [between the softs and mediums] but we were quite keen to keep the other new option for tomorrow."