A limit on the number of spectators following the COVID pandemic may be having an impact on club racing, but during the downtime work has been carried out to protect drivers from more familiar motorsport dangers – as MARCUS PYE has found out

The very late government-led volte-face that prevented spectators attending last weekend's British Touring Car Championship opener at Donington Park left circuit operator MotorSport Vision in an invidious position.
Having prepared to welcome racing-starved enthusiasts in controlled numbers, they had the devastating news midweek and although this alone would not have affected the grids for the televised feature races or supports, at racing's grassroots it's a very different story at some venues.
Having worked at Thruxton and Castle Combe over the past two weekends, I have observed at first hand what might be telling trends. The Classic Sports Car Club attracted a sensational record entry – more than 400 cars, plus extra drivers for longer races – for its season opener at Hampshire's cathedral of speed, a most welcome surprise given the uncertain climate the UK is not alone in finding itself in.
That said, it is promoting race meetings at eight venues around the country (four now lost) and hopefully Le Mans Bugatti in France this shortened term, thus its circus is peripatetic, with a nucleus of regular performers and others joining the fray at local tracks or their favourites.
It's a different ballgame for the Castle Combe Racing Club, the vast majority of whose members traditionally commit to racing there exclusively, or venture further afield occasionally. Many are West Country born, bred and based and therein lies the reason why grids in the resident Saloon Car Championship (below) in particular are half the 30 or so they were last year.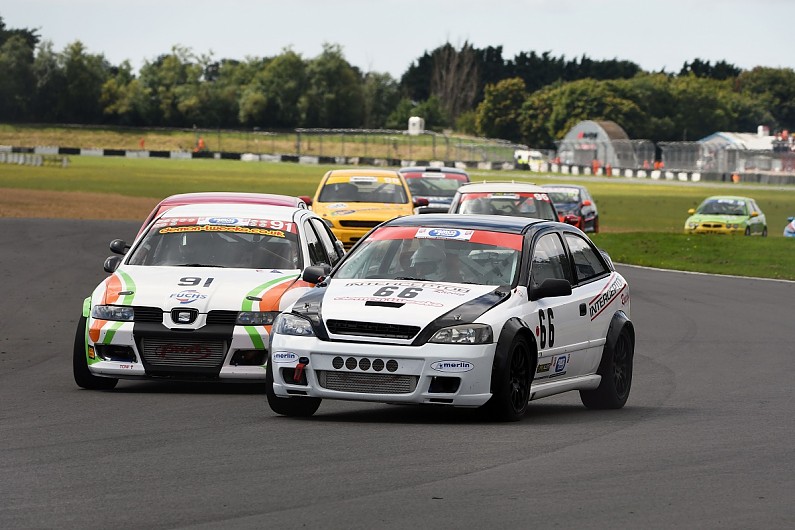 For the hardcore Combe racer, every meeting is a family day out, one in which partners, kids, relatives, friends and neighbours turn up and party in the paddock or on spectator banks. Racing is a focal point, but the social aspect is every bit as important. With only two extra passes allocated per entry on Saturday (up from one at 4 July's belated opener) that's not going to happen.
So they don't enter, even though investment and effort has now been made to stream events on Castle Combe TV.
Entering the paddock at CSCC Thruxton, the magnitude and sheer variety of racing cars whisked me back to my early visits to the British Automobile Racing Club's home base through the 1970s. It's a much bigger area than it was, doubled by the grass areas each side of the old runway, which used to be pretty rough and inhospitable but is now properly surfaced to match the super facilities in place outside the modern pavilion for corporate events.
At Combe, with just the three resident championships – Formula Ford, Saloons and GTs, plus the popular Hot Hatch series – the paddock was missing its usual buzz and bustle
These are Thruxton's lifeblood with so few race days on its planning permission, therefore, like Combe, it's really feeling the pinch. The small staff, headed by Pat Blakeney and Lorne Mitchener, are working overtime against the inevitable backdrop that much of the fully-booked midweek calendar cannot now happen, although the kart centre is back on stream.
At Combe, with just the three resident championships – Formula Ford, Saloons and GTs, plus the popular Hot Hatch series – the paddock was missing its usual buzz and bustle.
Inevitably it looked sparse without the moving feast of 'guest races' that build each programme, bringing welcome new footfall and spend to Cafe Bar H and Merlin Motorsport. On Saturday, the schedule was bolstered by the eighth annual Dave Allan Trophy race, a mini-enduro in memory of the respected Honda test driver, killed at Millbrook proving ground in 2012.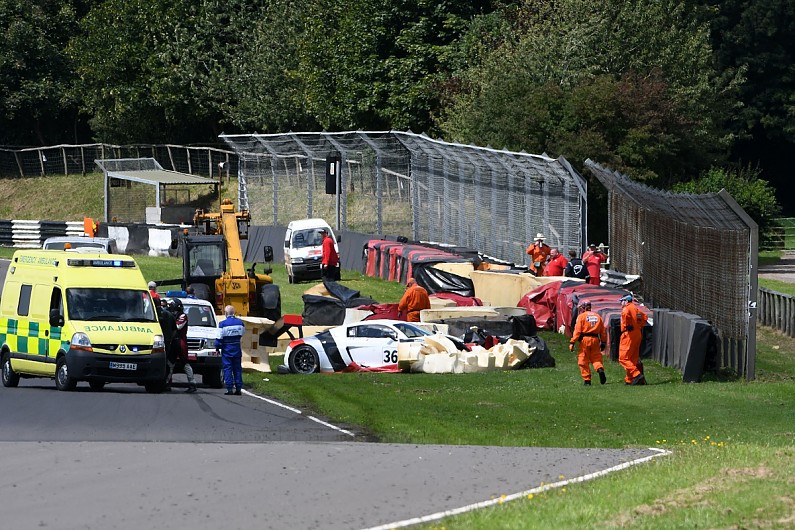 For the second time in as many meetings there was a big GT shunt, this time within seconds of the start of the day's opening race. Thankfully, Keith Butcher escaped from his battered left-hand-drive Audi R8 LMS (my favourite car there) with just a bruising after a 115mph impact with the barriers at Folly (above). After an hour's delay, officials and circuit maintenance crews did a brilliant job getting the event restarted with the Motorsport UK steward's blessing, let alone finished before the 1830 curfew with race one becoming race nine.
Accidents anywhere are regrettable but this is motor racing. While huge thought and effort is aimed at reducing inherent risks – from Motorsport UK licensing circuit improvements and better driver safety equipment standards, to organising clubs training their officials – cars have always veered off track and hit the scenery. Recticel-protected guardrails soften the blows, as seen at Combe, but at Thruxton something extraordinary has happened from April to June when no events were permitted.
In response to the massive BTCC shunts at the ultra-fast Church corner in previous years, some 200,000 cubic metres of earth from construction sites off-campus has been trucked in to make an imposing high-banked 'run off' on the outside of the downhill approach to the notorious right-hander, blending into the foot of Woodham Hill.
By the time it's grassed (this autumn or next spring?) novice drivers will be able to contrast the track against a sea of green deterrent and no longer be quite so terrified of the corner I first took flat in a Formula Ford in November 1981, to avoid my rolling team-mate landing on top of me! After that it was a doddle. Relatively speaking.