There may have only been two weekends of British GT action held so far, but 2016 GT4 champion GRAHAM JOHNSON already knows who he's tipping for the title
Spoiler alert: Phil Keen and Adam Balon will win the 2020 British GT3 Championship. How can I be so sure? Because the duo has everything in its favour.
The only British GT3 driver pairing to continue into 2020 from last year, Keen and Balon have bonded. All of the other drivers are still trying to suss out their team-mate, but Keen and Balon got all of those first-date-like awkward moments out of the way last year. Everyone else is still asking themselves, 'Do I trust my team-mate? Is he quick? Do I even like him?!'
Keen and Balon are at the passing-wind-in-front-of-one-another and peeing-with-the-door-open stage of their relationship, while suppressed stomach farts are the order of the day for all other driver combos.
But a bromance isn't Balon and Keen's only ace card. Keen has a possible disruptive force within the same garage in the shape of Sandy Mitchell. Mitchell will be eyeing Keen's still relatively fresh Lambo factory driver contract – indeed Mitchell outqualified his more experienced team-mate last weekend at Donington Park, despite carrying extra ballast in his Huracan due to being part of a Silver pairing with Rob Collard.
If you want to see Keen raise his already high game, pit him against a much younger, rapid pedaller in the same car in the same team. Besides, Keen now has the right ingredient to win the title: Balon as his team-mate. And Adam has his own hare to chase too.
INSIGHT: Is this the year for national racing's nearly man?
Of Innocent fruit smoothie founding fame and with a Samson-like hair mane that's the envy of every Am on the grid, Balon's extra motivation comes in the shape of the aforementioned 51-year-old Collard. 'I beat a 15-time British Touring Car race winner', has a nice ring about it, so you can bet that Balon has pinned a target on the back of Collard's race suit.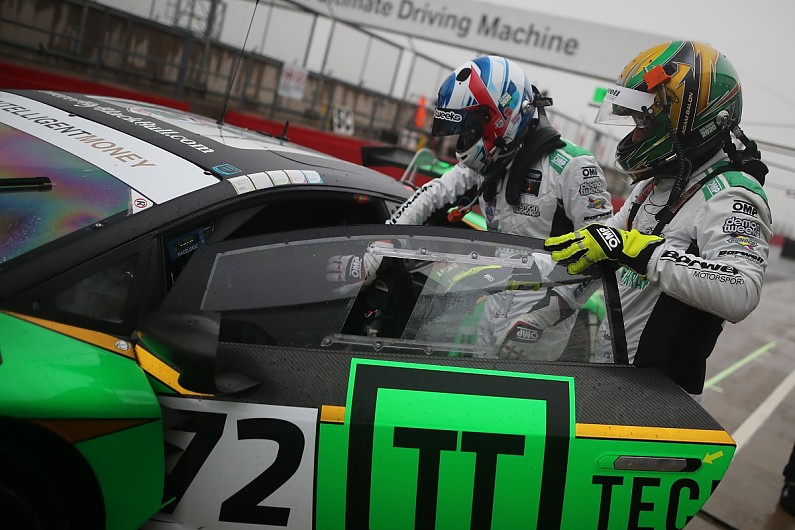 I've raced Adam and, when his head is in gear, he is genuinely rapid. The championship is his to lose, but relax Adam: winning the title means everything, but it also means nothing. Take the crown and I can say with experience that the phone won't ring the next day. You'll get a nice pot, a hangover, and a tale for the grandkids when they come along, but otherwise life won't change either way.
A chilled driver is a quick driver. Locking those tense forearms and turning the wheel in robotic-style costs tenths. Motorsport is about the 10% bit of talent that lies within our arms and legs, and the 90% of mental strength that lives between our ears.
More ace cards for Keen and Balon come in the shape of Barwell and the Lamborghini. The two go together like daddy and daughter. Few team owners go into bat harder for their drivers in a sticky situation than Mark Lemmer and Chris Needell, and few team owners know how to better apply the rulebook to their advantage.
A word to the wise: if you want to win, the only time to get stuck into a race in the first stint is when you are leading!
But it's not going to be easy for Keen and Balon because I think it's highly likely that we'll see a different race winner at every round for the rest of the season. There have been four different winners from four races thus far – with two new winners emerging from the Donington Park races – and that trend will continue because SRO, the series organiser, has got the recipe sorted for 2020.
Teams and drivers may not like the ad-hoc Balance of Performance tweaks Stephane Ratel's organisation frequently makes, but they are missing the point: they are in the entertainment business. Like it or not, applying speed-controlling measures to the cars is creating a great racing spectacle.
But in terms of winning the GT3 title, it's going to be all about consistency, not race wins. Step forward Keen, Balon and Barwell, who finished seventh (best Pro-Am) and first at Oulton Park, then added a fourth and a second (third and second in Pro-Am respectively) last weekend.
Meanwhile in my stomping ground of GT4, the picture is less clear cut. The race at Donington last weekend was a very polite affair, with almost revolving-door-like action taking place in the battle for second in the first race, in particular.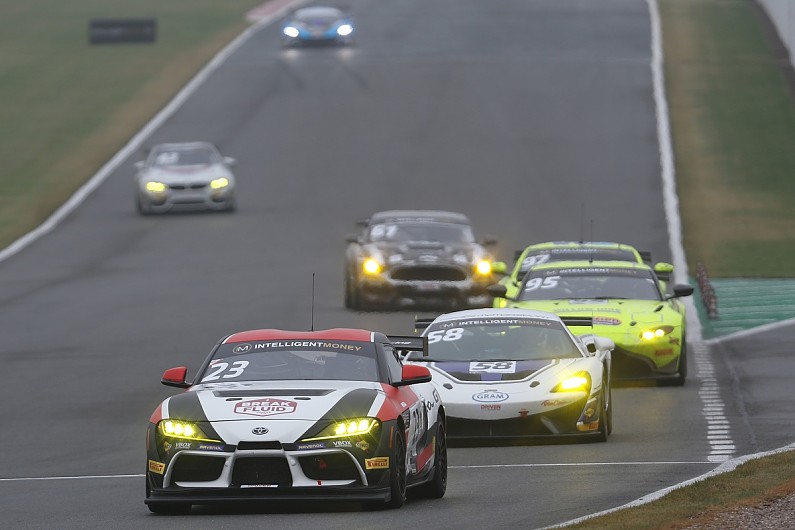 'No, after you, I insist' was seemingly the catchphrase of that race as they swapped positions time and time again while letting the impressive Jamie Caroline disappear up the road in his obviously sorted TF Sport Aston Martin. A word to the wise: if you want to win, the only time to get stuck into a race in the first stint is when you are leading!
While watching multiple changes for second, third, fourth and fifth places was fun to watch, with every position change comes another loss of time. As on-track battle rages, the driver waiting to complete the second stint of the race helplessly watches any chance of a win drift away. The first stint of a BGT race is all about avoiding losing time, not enjoying a sprint race.
The GT4 grid may be small in 2020, but at least the spectacle is good if this year's drivers don't quickly learn how to be successful in endurance racing.
Twist my arm and I'll call it: the yellow TF Aston Martin will win British GT4 in 2020. And yes, I am aware that there are two yellow TF Aston Martin GT4s…