The co-founder of the Feed Racing school has explained why Marijn Kremers hasn't taken up his prize drive in British Formula 4 this season, much to the ire of Carlin.
Former BAR Formula 1 test driver Patrick Lemarie set up the Feed programme alongside his fellow ex-BAR driver and 1997 world champion Jacques Villeneuve.
The school held a shootout at the end of last year and the winner was due to receive a funded drive in British F4 with leading squad Carlin.
That competition was won by 22-year-old Dutchman Kremers, but he was not on the grid when the season began at Donington Park last weekend amid the fallout from the coronavirus pandemic.
While the school's next intake of drivers have been on-track in the past week, Carlin boss Trevor Carlin was furious that the commitment to run Kremers in F4 with his squad was not honoured.
"They told me some time ago they couldn't proceed because of coronavirus, and being the nice chap I am I accepted that," Carlin told Autosport.
"And then much to my disgust they just decided to relaunch the whole thing and say they're offering a prize with another F4 team in another F4 championship.
"It's like someone winning a lottery, the lottery decide they're going to cancel the prize, and then launch another lottery."
Lemarie (below, right, with Villeneuve and Kremers) has explained that the decision for Kremers not to race was taken in consultation with the driver's Australian-based management company Patrizicorse earlier this year, at a time when all overseas arrivals had to quarantine for two weeks when travelling to the UK.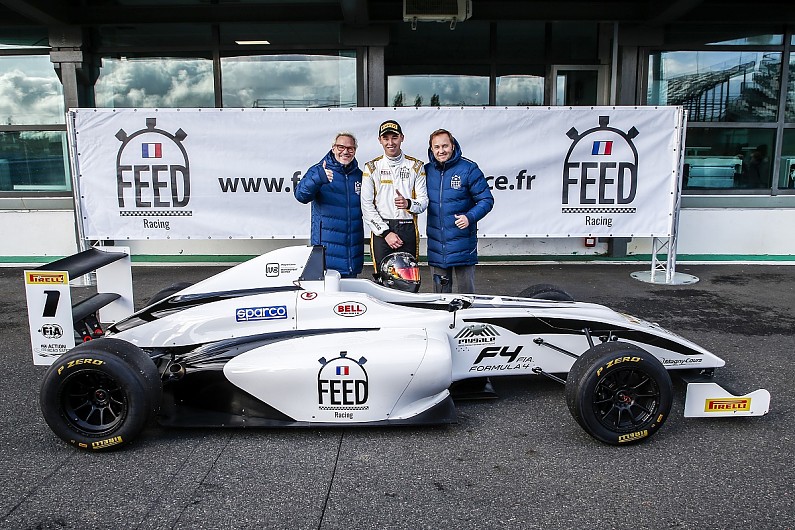 "We had a fantastic connection with Trevor to race this year with Marijn Kremers, who is a very talented driver," Lemarie told Autosport.
"He had five or six days testing and he was very fast and everyone was very happy.
"Then COVID was a big problem for us because Marijn wouldn't get to do testing because of the quarantine and it made us worry about this season and his management as well.
"We had to make a decision a few months ago and we weren't even sure there would be a championship this year."
Lemarie said, at this point, Kremers' management decided that the Toyota Racing Series would be a better option and Villeneuve explained the situation to Carlin.
But, with coronavirus cases in Australasia on the rise again, the TRS plan may be off the table, too.
"It was not a problem between us and Carlin – it was what was the best for Marijn," added Lemarie, who also said that Kremers' age meant it's essential he climbed the single-seater ladder quickly if he's to build a career.
"We had a problem because we didn't know how much [time] the quarantine would go [on] for.
"I know Trevor is very frustrated – we have no problem with Trevor, he was our first choice [for the prize drive].
"We wanted our driver to go to Carlin – it was not our decision to break that deal.
"We said to Trevor that's Marijn's decision. Trevor has been very understanding – I knew he was a gentleman.
"It was a very uncomfortable situation for me and Jacques. Everyone is a bit frustrated in that situation but it's a very difficult year for everybody.
"He will race, that's for sure – we have the budget and I think he's ready."
Regarding the Feed school reopening, Lemarie explained that there will be no prize drive for 2021 and instead the competitors in the shootout will be whittled down ahead of a final in "May or June next year to prepare them for 2022".