Defending Formula E champion Jean-Eric Vergne says his only job is to help team-mate Antonio Felix da Costa win the title now his own chances are "gone".
The DS Techeetah driver scored only a single point from the two races on the reversed Tempelhof Airport circuit to fall from eighth in the standings down to 12th.
He now sits 93 points behind da Costa, who twice bagged pole position before leading every lap on his way to a brace of comfortable victories.
Although Vergne dominated qualifying on the conventional circuit to beat BWM Andretti driver Maximilian Guenther to pole by 0.495s, the double FE champion ruled out his chances of retaining the title.
"It's fair to say the first two races here have been a complete nightmare," he told presenter Vernon Kay.
"When there is a little something going wrong and there is another one, all of a sudden everything starts to go wrong in the same time. That's what happened to me.
"It's quite hard of course mentally because I know the car is fantastic – we saw with Antonio.
"It was important yesterday to try and reset and come here as fresh as possible knowing for sure that the championship is gone.
"But it's OK, I can't win every year. I have to improve myself; Antonio has been doing a fantastic job."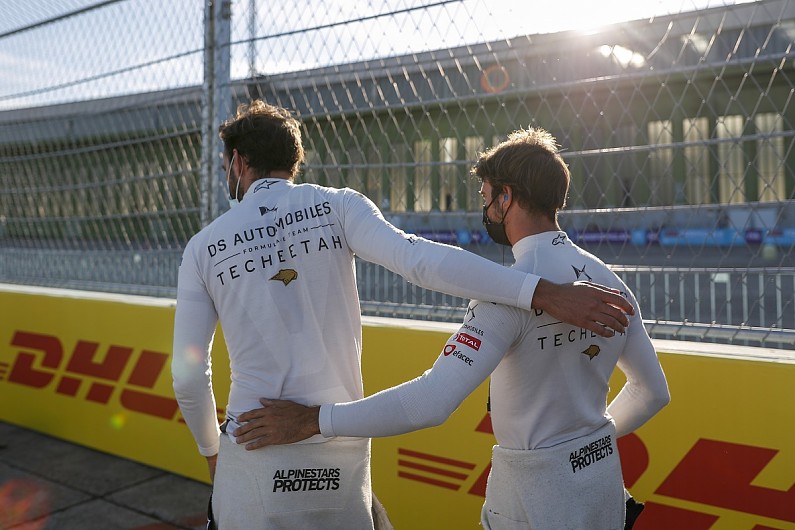 Vergne added that his focus has now switched to ensuring da Costa wins the championship ahead of the final four races of the 2019-20 season in addition to securing back-to-back teams' titles for DS Techeetah.
He said: "The only thing I can do right now is try and help [Antonio] win the championship and also to win the constructors' championship with DS Techeetah and also get back to where I should be.
"I think today was already much better. I just had with this year with this new car, I haven't felt very comfortable, especially in the braking.
"Things are starting to get back a bit to normal."
Explaining why da Costa had qualified down in eighth, DS Techeetah team principal Mark Preston said: "Antonio just made a mistake in Turn 6.
"The total grid is covered by 0.9s so it's just tightening up as we're repeating the same surface and track.
"It's perfect: when one [driver] is down, the other is up."
He also said that Michelin's revised tyre pressures, which were reduced by 0.1-bar ahead of the second double-header, had hurt da Costa.
"I think it's probably helped everyone a little bit," he said.
"Antonio was probably the only one that got it right in the last two days. The slightly lower pressures have helped a bit for everybody.
"Maybe it changed the balance a bit and Antonio didn't quite have it perfect but it obviously suited [Vergne]."