Since it was introduced 50 years ago, the Mini Miglia series has continued to grow due to its close racing and low costs. This weekend the popular series will be shown to a wider audience as part of the British Touring Car Championship's support bill, as STEPHEN LICKORISH finds out
Not many UK club championships enjoy such enduring popularity that they continue to thrive for 50 years. Fewer still get invited to appear at some of the country's largest events. And even fewer feature a car that is compared to a ground-effect Formula 1 machine.
But the Mini Miglia championship ticks all of those boxes and will be making its latest high-profile appearance at the Brands Hatch British Touring Car Championship meeting this weekend.
Sadly, there will be no spectators at the Kent circuit to enjoy watching the Minis battle first-hand but, if last year's outing on the BTCC bill at Thruxton was anything to go by, ITV4 viewers are in for another treat. The championship was also set to feature at the Brands DTM round, prior to this being cancelled amid the coronavirus pandemic.
The Mini Miglias first appeared on track back in 1969 and have been a popular element of the club racing scene ever since. The Mini 7 Racing Club launched the series to be a step up from its existing Mini Se7en category – which first started in 1966 – with drivers racing on full slick tyres and benefiting from increased power. It was created as a halfway house between the Se7ens and a full-blown heavily-modified Mini Special Saloon.
A number of trial races with a handful of cars were run in 1969 before the first championship season was held the following year. Those initial regulations from 50 years ago ran to just a single page and make for interesting reading – for example, under the heading 'electrical' they simply state: "Cars must be fitted with headlamps, standard dynamo in working order, starter (which will normally be used for starting the engine while on the circuit), and adequate battery and a windscreen wiper in working condition."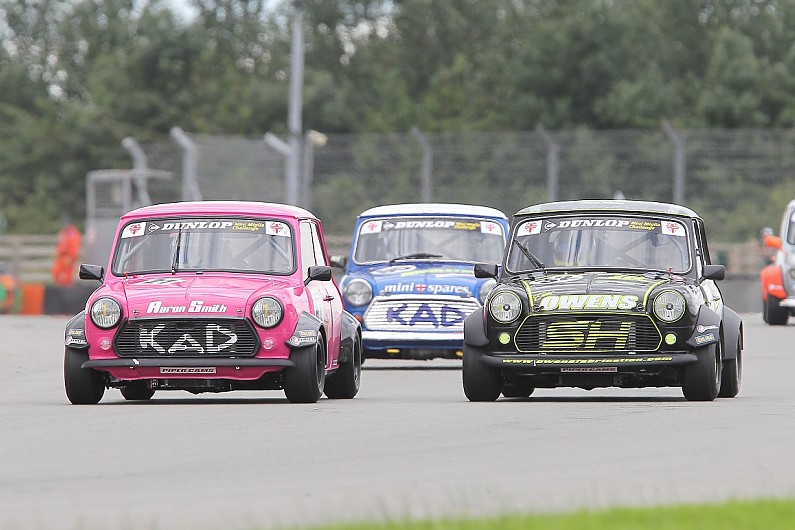 The cars – and the regulations – have evolved over the past half a century and the modern Miglias are regularly described as mini touring cars. They now feature a 130bhp 1293cc engine, up from the original 998cc motor, and are capable of some seriously quick lap times.
"There's nothing else out there that's like it – it's a racing car that looks like a Mini," says Mini 7 Racing Club commercial manager Colin Peacock, who is also a regular competitor in the series. "That's the difference between us and a production [Mini] championship, we have evolved this machine over 50 years.
"It holds the road and cars that cost £500,000 get beaten by a Miglia on test days! We've got so much grip – it's amazing."
"It just did everything I wanted it to. I'm driving it like the Williams [FW07C] and it's doing exactly the same thing!" Nick Padmore
One of those to fall in love with the category is historic racing ace Nick Padmore. While he has competed in a plethora of different machines, from a Williams FW07C to a Lola T70 sportscar, the Miglia is still one of his favourites.
"I always wanted to do it because my dad raced them back in the '70s," Padmore (below) explains, his father Keith having been a Miglia race winner in the late 1970s and early '80s. "All my racing life, he's been saying 'you haven't driven anything until you've driven the Miglia' and he's right! They're just awesome. They've got very good handling.
"I remember at the Brands Mini Festival, whenever I chucked it at the corner, it just did everything I wanted it to. I'm driving it like the Williams and it's doing exactly the same thing! You can be really late on the brakes and they roll lots of speed into the apex. The Dunlop slicks are so grippy, it cocks its rear wheel on the entry to the corner and you're flat back on the throttle."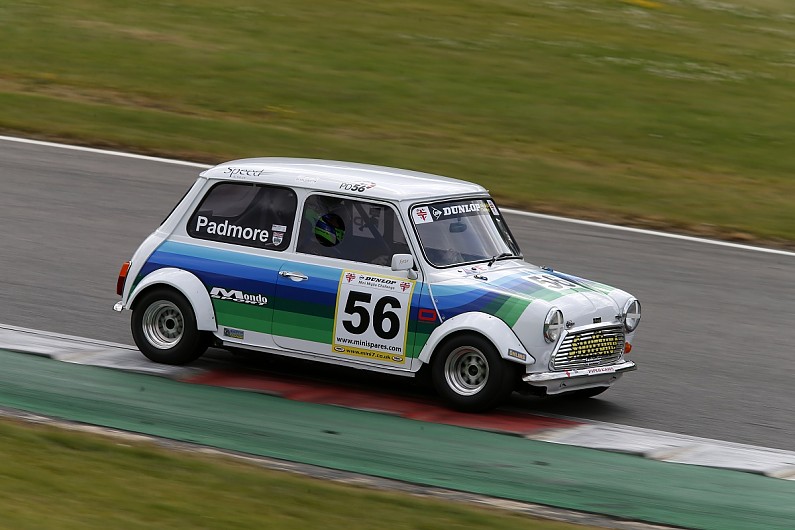 Part of that is down to the bespoke 10-inch Dunlop tyres the series uses and Peacock is quick to pay tribute to the tyre manufacturer and its motorsport boss Mickey Butler, who have been long-time supporters of the Miglias.
It is clear that the car's impressive handling and performance, along with the closeness of the racing, are part of the reason for the category's continued success. But Peacock believes a focus on keeping costs down and having a strong social side to the championship also play a major role.
"We're not a commercial organisation," he says. "The club's run by members for members and we try to keep costs low and regulations as tight as possible. You can win the championship and you don't need to spend millions to win it."
Padmore agrees that the organisers have done a great job to make sure the category remains accessible for drivers without large budgets.
"They're very good because they don't want the costs to get crazy," he says. "The front tyres will last a whole weekend and probably a test day for the next event. The rear tyres are a harder compound and last forever. You put them on and you never do anything with them – they spend most of the time in the air!
"It's very, very close and 99.9% of the time it's clean. I love doing it because it's me and my dad [turning up] in a van and trailer. The social side is just amazing and they get invited into the big events.
"My dream was always to go into touring cars and this is the closest I can get to touring cars."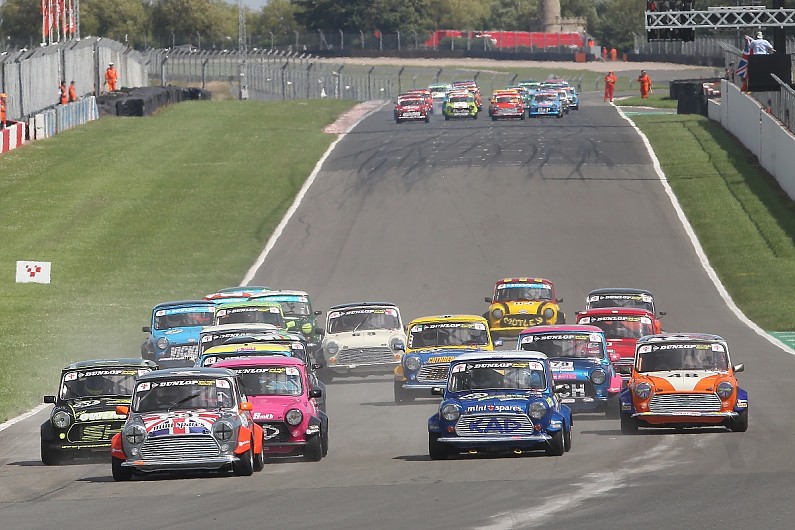 Speaking of touring cars, Padmore was one of the winners when the Miglias were on the BTCC bill at Thruxton last year. But given the quality of drivers that are regular frontrunners – including past champions Aaron Smith, Kane Astin and Rupert Deeth, Civic Cup dominator Lee Deegan and possibly a familiar BTCC name this weekend – Padmore will have his work cut out to triumph again.
The Miglias are set to have three races on the Brands Grand Prix circuit as part of a combined grid with the Se7ens, alongside sub-classes for the entry-level S machines and the more open Libre division.
The oversubscribed 46-car field will be some sight this weekend and is the perfect demonstration of how these cars continue to prove popular 50 years after their first appearance.
Pictures by Ollie Read, Gary Hawkins and Mick Walker