Reynard's reputation for conquering new series went before it. Having won its first race in Formula 3 with Andy Wallace at Silverstone in 1985 and repeated the trick in Formula 3000 with Johnny Herbert at Jerez in 1988, the pressure was on as it geared up for its Indycar debut at Surfers Paradise in 1994.
Chief designer Malcolm Oastler was company founder Adrian Reynard's golden boy and armed with the drawings for what would have been the 1993 Galmer – an evolution of Andy Brown and Alan Mertens' 1992 Indianapolis 500-winning design – but crucially lacking first-hand experience of Indycar. However, Reynard knew just the man who could provide it: Bruce Ashmore.
Ashmore had joined Lola as an apprentice in 1976 while studying mechanical engineering at nearby Cambridge University and had worked his way up to chief designer by 1987, filling the shoes of Penske-bound Nigel Bennett. During that time, he turned his hand to the awesome Nissan R90CK that took pole for the 1990 Le Mans 24 Hours, while his Lolas won four straight Indycar titles between 1990 and 1993, including the 1990 Indianapolis 500 with Arie Luyendyk.
Ashmore singles out the Lola T91/00 that Michael Andretti used to win the 1991 title as his favourite-ever car design: "It was based a lot on the 1990 car, but it just needed a tweak," he says. "I improved the aerodynamics a bit and the geometries were too locked in on the 1990 car, so I just gave it a bit more adjustability."
But by 1993, Bennett's Penske designs had started to fight back, and an overworked Ashmore asked Lola boss Eric Broadley to consider expanding its operations to include a US-based design office to cut down on travel from the UK. But he was firmly rebuffed, with Broadley preferring to keep everything based in Huntingdon.
"I thought there was too much work for one designer to design the car, and Penske was stepping up and just working so much harder than we were, it was a struggle to stay ahead of them all the time," says Ashmore (pictured below, right, with Jacques Villeneuve and Tony Cicale in 1994).
"I was travelling so much backwards and forwards from England and America doing a design on the car in the UK and working with the teams in the US doing the development on the car, I thought 'I've got to live one side of the Atlantic or the other'.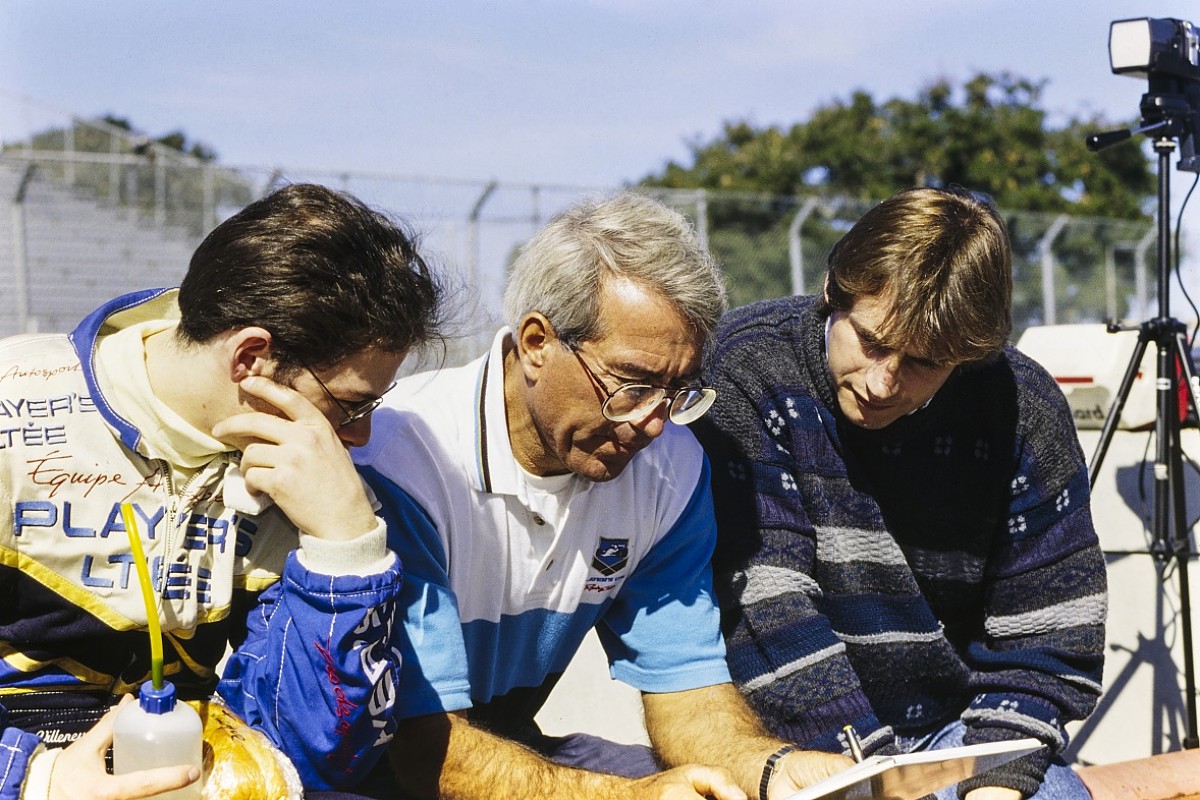 "So I proposed to Lola that we have a US-based design office and another guy over there. I didn't mind whether it was me in the US or the UK but I wanted to be one side or the other. But Eric just said, 'no, we'll carry on the way it is, everything is going to be based in the UK' and I thought 'oh, okay'."
At a career crossroads, having achieved "pretty much everything that I wanted to do" in his 17 years at Lola, Ashmore was impressed by Reynard's infectious enthusiasm during a chance meeting at Indianapolis and took the plunge in July 1993 of becoming technical director at Reynard, where he found an entirely different culture than he'd known at Lola.
Where Broadley's core focus was on suspension geometry, at Reynard a "top-down" focus on aerodynamics "to the point where we designed our own windtunnels" and forensic attention to detail were the order of the day. That suited Ashmore just fine: he regarded his emphasis on thorough windtunnel testing to validate aero numbers as a key strength. In that regard, the two companies closely reflected their founders.
"Eric really didn't believe [windtunnel testing] was that important, he [believed he] could design a better car than they could just by looking at it" Bruce Ashmore
"Eric was very hands-on with the design, he loved working at the drawing board and really did control a lot of the geometries that went on the cars," Ashmore says. "He was very involved in that, but not so much windtunnel testing, whereas Adrian was more conceptual and focused on design philosophies.
"He was good at noticing when we had a problem and getting everybody together to solve it before it took effect. That was a big strength of Reynard over Lola. But you can't emphasise enough that it was always about aerodynamics at Reynard."
Ashmore says the Scuderia Italia Formula 1 car Lola was contracted to build for 1993 typified Broadley's approach.
"If it had gone to the windtunnel, who knows what it would have done?" Ashmore says of a car that in the hands of Michele Alboreto (pictured below at Magny-Cours) and Luca Badoer failed to qualify seven times. "But it never went in the windtunnel. I said, 'how are you going to compete with all these other Formula 1 cars where they're hours and hours and hours of windtunnel testing?'
"He really didn't believe it was that important, he [believed he] could design a better car than they could just by looking at it."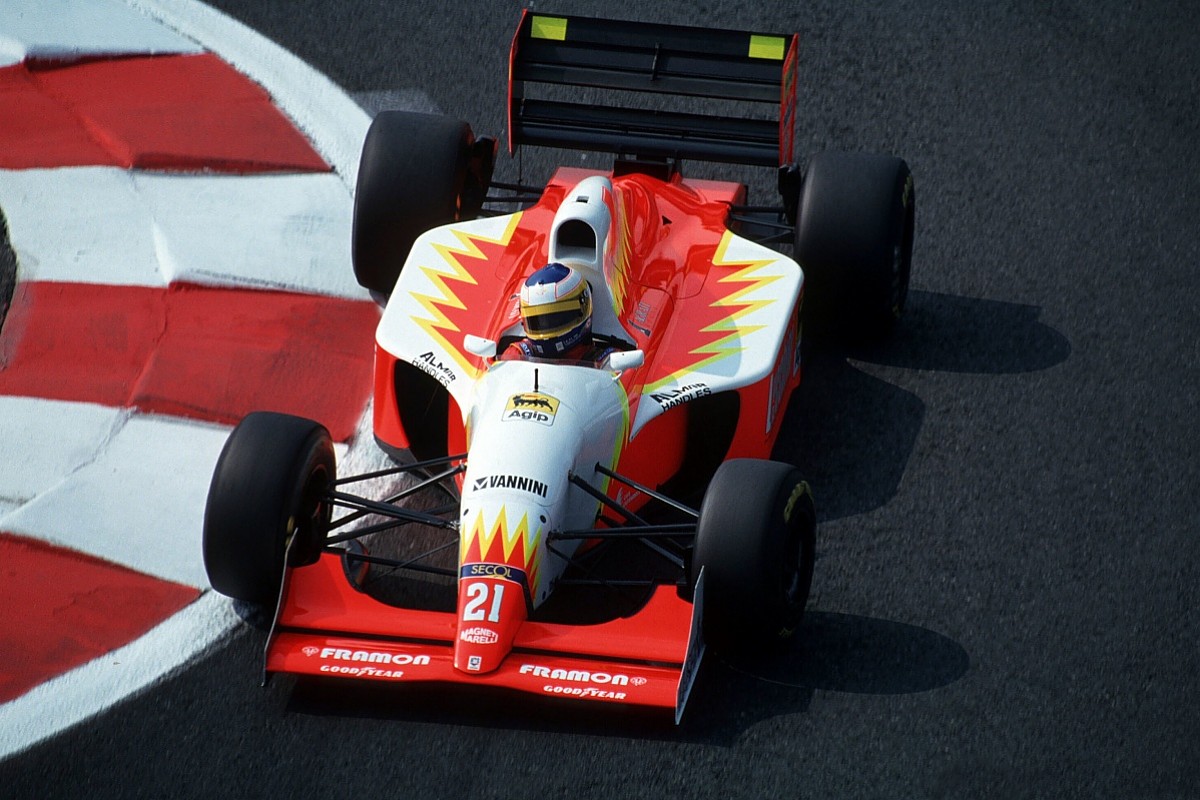 Reynard would seek the best drivers and partner teams to run its cars – not to mention the best engines and tyres, as its cars were designed to run on Firestones – and also took a keen interest in the staff on those teams as part of a philosophy it called 'good guy racing'.
"We made sure all the good guys got onto our teams and if we recognised a bad apple in a team then we would do everything in our power to get them replaced," explains Ashmore. "We figured if our teams have all the good guys, then they will win and all the bad guys will end up on the other teams and they will lose."
Shortly before joining, Reynard took Ashmore out to dinner and informed him in no uncertain terms that if there was any friction with Oastler, then the latter would always win out.
"He said, 'Malcolm is my top guy, if you don't get on with him, I'm going to support him and you'll be out of the door'," Ashmore recalls. "That was fine, because I had met Malcolm and I thought he would be a good guy to work with."
Ashmore found in Oastler a kindred spirit – who had also progressed through the Formula Ford ranks – with a passion for aerodynamics and making cars simple. Indeed, upon his arrival Ashmore was given free rein to tweak Oastler's 94I as he saw fit, but "changed hardly anything".
"He would just see a problem that you'd had for years and say, 'why don't we do this'. He would see another route to get there," says Ashmore. "The wishbone mounts were really simple and he had a good feel for the aerodynamics, what was important from a pitch sensitivity point of view and the drag ratio. He was always aerodynamics first."
Together with Reynard's chief aerodynamicist, the late Andy McAulay, Ashmore spent time in the windtunnel and "tweaked the geometries a little bit, front and rear, using all the same components but just re-arranging them slightly".
It certainly did the trick: back in Indycar after his nightmare season in Formula 1 with McLaren, Andretti (pictured below at Mid-Ohio) continued Reynard's tradition of winning on its series debut in Australia, despite his Chip Ganassi Racing machine needing a pre-race engine change and its driver making early contact with the wall.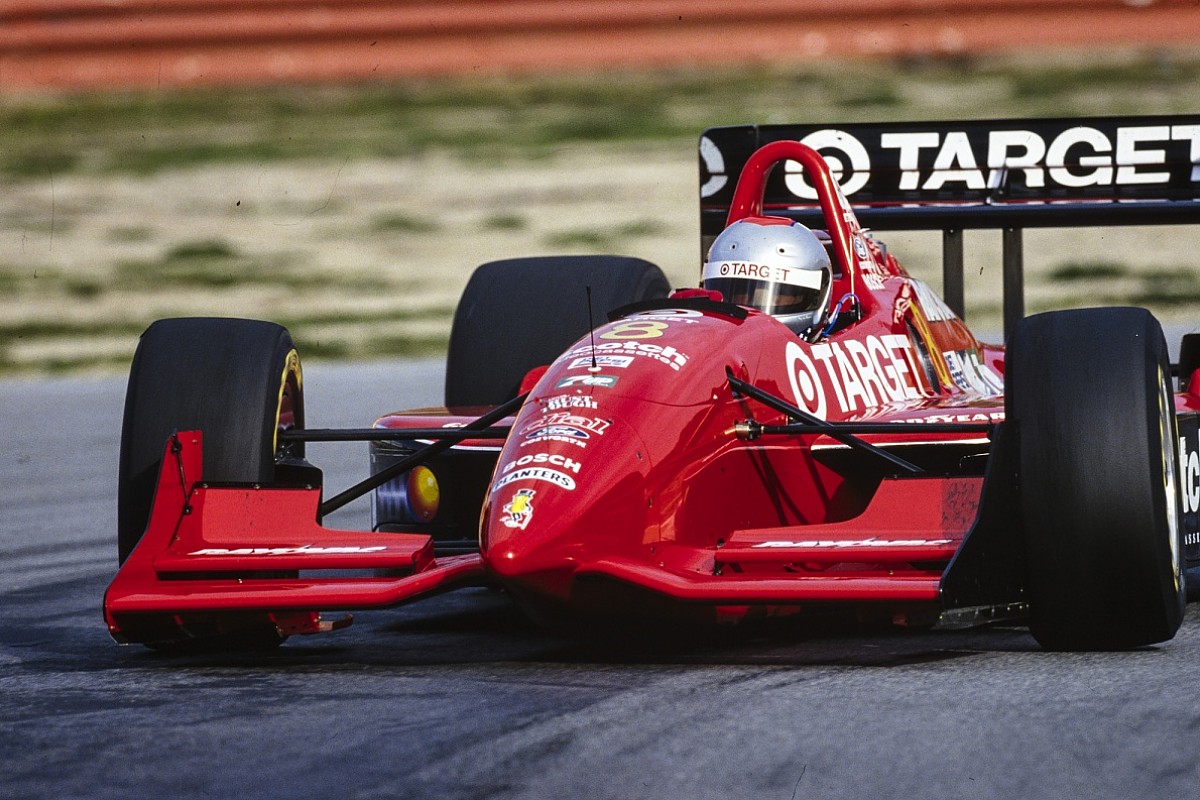 "Everything was driven to winning that first race," confirms Ashmore. "Adrian would come down to the windtunnel and you'd tell him everything we'd found. Then he'd say, 'How's that going to work at Surfers?' It wouldn't surprise me if that was how he went about each series that they had entered.
"We had qualified second and Nigel Mansell, the guy I was working with last year, was on the pole. Adrian walked up to Michael before they get in the cars, and he says, 'yes Adrian, I know, I've got to win the race!' He was in the lead by the first corner and he led every lap in the end."
That began a flood of success as Reynard won back-to-back Indy 500s in 1995 and 1996 with Villeneuve and Buddy Lazier, and from 1995 won every CART title until 2001, the year before it went bankrupt. Team Penske even abandoned development of its own chassis, the radical PC27, and reverted to Reynard for the 2000 season, which helped to re-establish it as a winning force after three winless seasons.
PLUS: How Penske ended its longest drought, 20 years on
In addition to working with Oastler on car development, a core part of Ashmore's remit had been to oversee the design and build of the Auto Research Centre, a windtunnel and CFD facility in Indianapolis servicing major manufacturers.
Reynard's bankruptcy meant Ashmore had to take on development himself, and effectively turned Forsythe into a manufacturer in its own right to remain competitive
That responsibility gradually expanded as he was appointed president of Reynard North America in 1999 and he describes the two-year period splitting time across various projects – which included running Reynard's newly purchased sportscar arm, Riley & Scott – prior to his departure in November 2000 as "the busiest period of my life".
"I was working all the time," he says. "I had offices at Reynard North America, ARC and Riley & Scott, and I would bounce between all three. Whichever company I felt needed me, that's where I was."
Needing a new challenge, two years as technical director at Forsythe Racing followed – his first experience of directly working for a team. He helped to integrate the two sides of the "disjointed" outfit which, before his arrival, "didn't have a computer network joining the teams".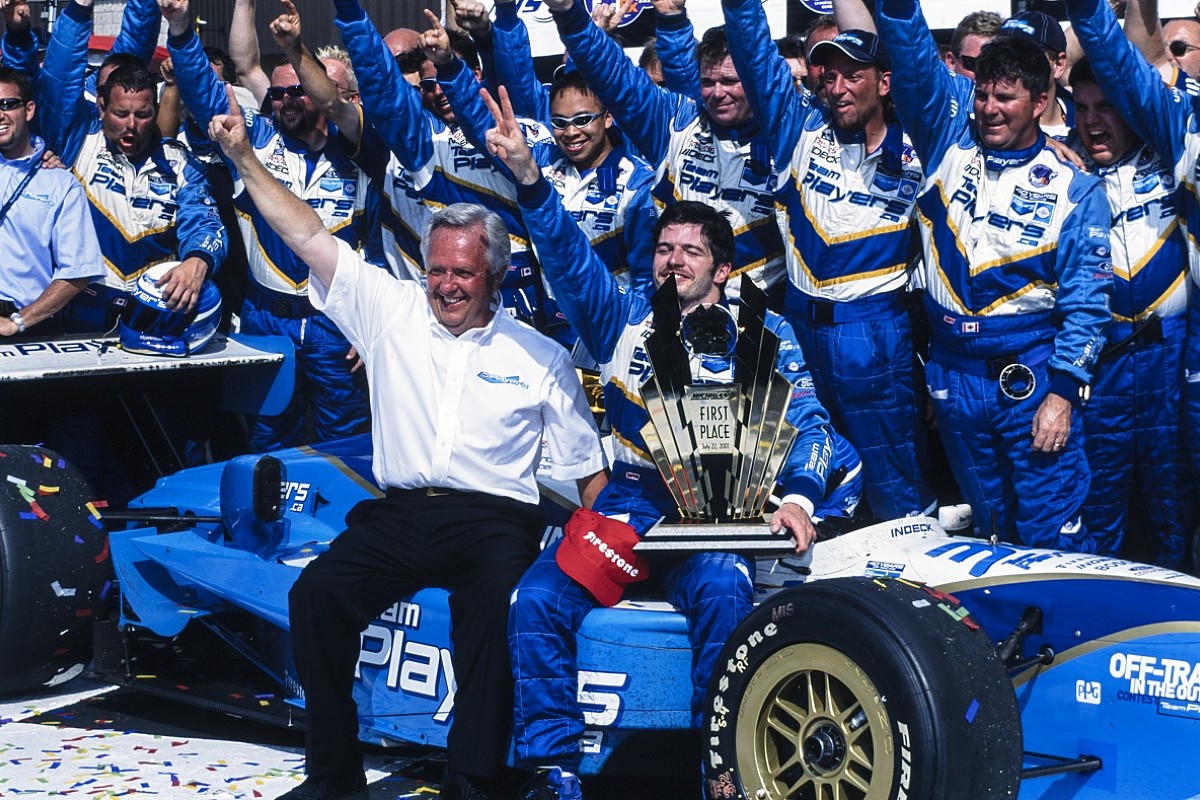 "There were two computer networks so all the data was separate, it was effectively two one-car teams in one building," he says. "It needed someone who had strong enough influence to join it together where everything was shared, and so that was my job."
Patrick Carpentier (pictured above at Michigan in 2001) made good on his promise to become a race winner, despite the tumult caused by Reynard's bankruptcy, which meant Ashmore had to take on development himself, and effectively turned Forsythe into a manufacturer in its own right to remain competitive.
Carpentier ended 2002 third and, although Ashmore was no longer with the team when Paul Tracy gave Forsythe the title in 2003 – having left to set up his own design and development agency – he could feel more than a little satisfied with the part he had played in turning its fortunes around.
"It was a super-competitive time," he says. "Then at the end of that year [2002] they switched to Lolas and it pretty much became a spec car series."
Today Ashmore Design works on various projects in and out of motorsport, having pitched for the 2012 chassis contract that eventually went to Dallara. Incidentally, many of the design cues featured in the BAT concept that Ashmore pitched with Mertens and the late Tim Wardrop closely resemble those featured in the current IndyCar design.
PLUS: The all-star engineering vision that IndyCar rejected
Dallara currently has a near-monopoly on spec racing series, with Lola going the same way as Reynard and March before it in 2012, but some things haven't changed in the intervening years. Just as in Reynard's period of late 1990s domination, the team at the top is owned by one Chip Ganassi…