The coronavirus pandemic has put Johnathan Hoggard's 2020 plans on hold, but the latest winner of the Aston Martin Autosport BRDC Young Driver Award is ready to pick up where he left off in a successful 2019 campaign, says STEFAN MACKLEY
Momentum in motorsport for any driver is crucial, but perhaps even more so for one trying to make their way up the career ladder, as campaigns blend into one another and riding the crest of a wave can make all the difference.
For Johnathan Hoggard, the coronavirus pandemic halted what had been much-needed and well-deserved momentum. After an impressive 2019 campaign – which included winning the prestigious Aston Martin Autosport BRDC Young Driver of the Year Award and finishing runner-up in the BRDC British F3 Championship in his rookie season – Hoggard's 2020 plans have had to be put on hold.
But that's not stopped the 19-year-old from keeping his name out there and impressing on the track – in virtual reality, at least. Last month he claimed the BRDC Esports Championship – which raised nearly £18,000 for the National Health Service – taking three victories from the opening four rounds and winning the title with a race to spare.
It may not have been in real life, but the importance of doing well against more established rivals, such as Formula E Nissan e.dams driver Oliver Rowland and Formula 2 race winner Callum Ilott, wasn't lost on Hoggard.
PLUS: The understated Formula E ace taking sim racing by storm
"It was important to do well against the big names, to really show where I'm at and to keep my name out there, and show why I won the Autosport Award as well," says Hoggard, who didn't let his lack of high-end sim equipment slow him down.
"I only had an office chair, and my pedals on the carpet. My wheel was bolted to my desk, but had to have a ladder behind me because whenever I hit the brakes I went backwards!
"I was using that in the BRDC Esports Championship until the final round. Then I got a new set-up, but clearly that didn't work for me because it was probably one of my worst rounds of the whole thing."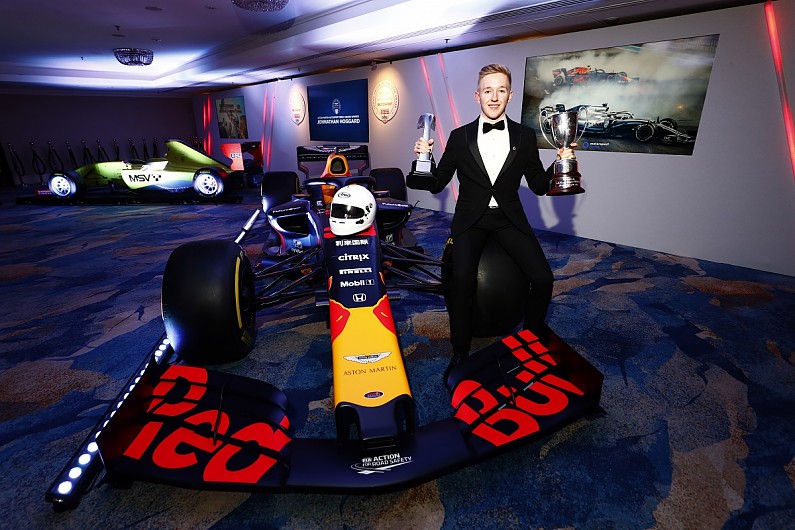 While sim racing has gone through a bit of a golden patch over the past few months, the virtual world is nothing new to Hoggard, who spent time racing against friends well before lockdown.
While it's partly for fun, he believes it has also helped him to keep mentally sharp by going through the same motions and disciplines of a race weekend, a process that enabled him to take the most wins (seven), poles (seven) and fastest laps (nine) in British F3 last season.
"When you're up against all the pro drivers you have to take it a lot more seriously, so I found myself doing what I would normally do on a race weekend," he recalls. "Going hrough data, for example, which I thought was quite useful.
"In the BRDC series we had a qualifying set-up and a race set-up, so I was doing simulations in practice. For example, a two-lap qualifying stint and then maybe switching to the race set-up and doing a full 25-minute race run and just seeing how they all compare. Just doing quite a few of those to get yourself in the best shape for the race.
As he demonstrated on his way to winning the Aston Martin Autosport BRDC Young Driver of the Year Award, Hoggard can quickly adapt to different machinery
"Not having been at a race track for however many months, you can quite easily get out of the rhythm of it. So if you keep on doing it – keep it on your mind maybe not every day but a couple of days a week – then when you do go back to a race track you're always thinking, 'Let's have a look at the data'.
"When you get to a certain point in your driving where you don't feel like you can improve massive amounts, it's examining the data and finding half a tenth or whatever in each corner that can really make a big difference."
It's not just in the BRDC Esports Championship where Hoggard has had success in the virtual world, as he also claimed the Porsche Carrera Cup Asia Virtual Edition title, in the process earning the opportunity to do some ice driving with Porsche next year in Mongolia.
It bodes well for Hoggard, who for 2020 had planned to move beyond single-seaters and explore the GT route, confirming earlier this year that he would be driving in Porsche Carrera Cup Asia for Team StarChase – five-time winners of the championship and its most successful outfit.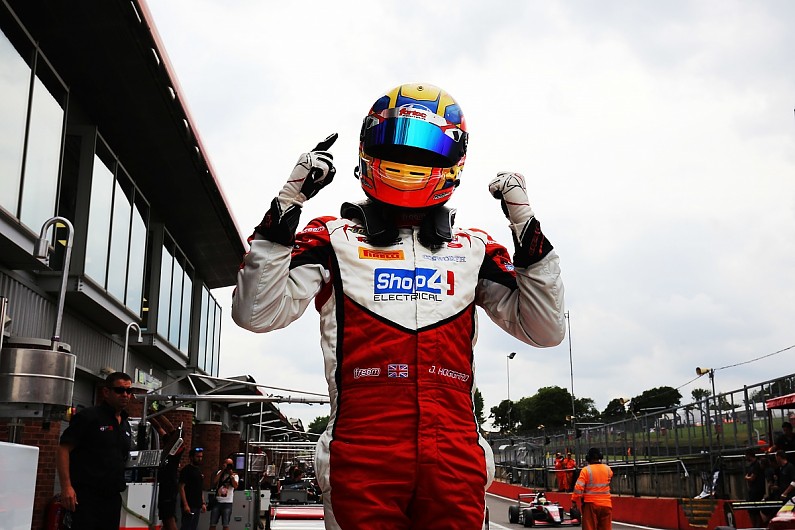 While the pandemic has delayed the start to that season – the championship has yet to release a revised calendar – Hoggard still intends to compete in the series once it gets going.
"Team StarChase is the team to be with and I'm looking forward to getting stuck in," he says. "I don't really have any expectations at the start. I know it's going to be tough because there are guys out there who have done it for a number of years and are really experienced. So long as I do the right preparation and get a couple more days in the car before the first round, I should be in a good position to perform well."
He's already had experience of racing GT machinery thanks to competing in this year's Daytona 24 Hours aboard a Lamborghini Huracan GT3 Evo, after winning the Sunoco Whelen Challenge.
While switching to GTs, especially in Asia, might not seem the most logical of choices given that the majority of his career has been spent in single-seater machinery – he finished third in the 2018 British Formula 4 Championship before his British F3 campaign – budget restrictions and the ambition to experience different championships has been the driving force behind the transition.
"It was good doing Daytona (below) because it's interesting to see what motorsport is out there in the world. When doing single-seaters you mainly think of Britain and then you go to Europe and that's kind of it," admits Hoggard.
"But when you go to GTs, it really opens your eyes to what else is going on around the world. Porsche and Carrera Cup do a great job of bringing talented drivers through their programmes and hopefully eventually getting them involved with the factory team. So again, it's another great opportunity to get involved with a really good manufacturer."
As he demonstrated on his way to winning the Aston Martin Autosport BRDC Young Driver of the Year Award – when he switched between the MotorSport Vision Formula 2, Garage 59-run Aston Martin Vantage GT3 and Ligier LMP3 cars – Hoggard can quickly adapt to different machinery.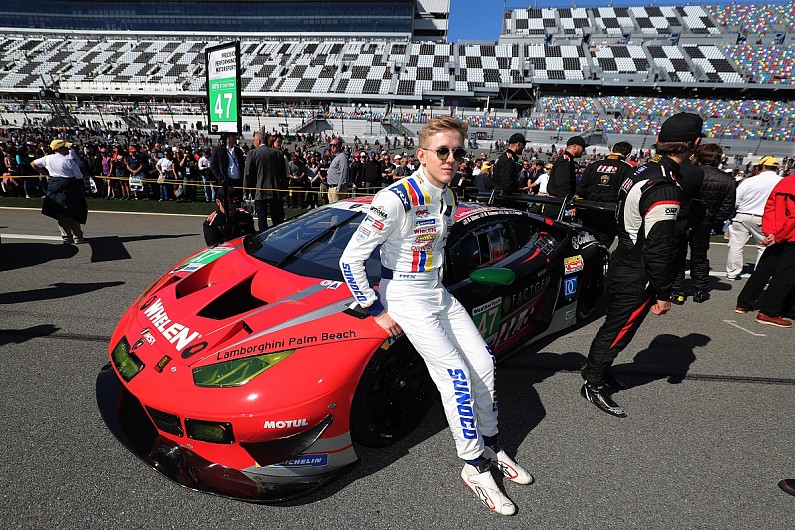 As Autosport described: "Whether it was on old tyres, new tyres, with or without F2 overboost, in the dry or the wet, Hoggard was consistently fast. He gave both benchmark drivers, Darren Turner (in the Aston Martin) and Alexander Sims (in the Ligier), something to think about."
Hoggard doesn't hide the fact that he has his sights on being picked up by a manufacturer, and for a young driver with a bright future it's a sensible and mature approach. While Formula 1 is the ultimate aim for the majority of aspiring racing drivers, it's a difficult and unlikely path that can easily end a driver's career. The plethora of top-line GT championships around the world and various manufacturer-backed programmes makes for a more logical route, and one that more and more young drivers are following.
But that's not to say Hoggard has turned his back on single-seaters completely. He competed in the official FIA Formula 3 test with Charouz Racing at the end of last season and more recently tested Fortec's Euroformula Open car, both at Valencia.
"Country to country the rules change quite a lot and, with most countries having the 14-day quarantine in effect, it might be quite difficult getting in and getting out. That might be one of the reasons I have to stay in Asia for a while" Johnathan Hoggard
He hasn't ruled out trying to compete in Europe this season or attempting a dual campaign, but admits that differing travel restrictions and quarantine periods in each country could make it unfeasible.
"It will entirely depend on what the Porsche calendar looks like, whether I'll be able to do anything [else] or not," he says. "The plan was maybe to do something if it fits, but it's going to be tough. Country to country the rules change quite a lot and, with most countries having the 14-day quarantine in effect, it might be quite difficult getting in and getting out.
"That might be one of the reasons I have to stay in Asia for a while. The last thing you want is to travel out there for a weekend and have to stay two weeks beforehand, and then come back and have to stay in quarantine for another two weeks. That's pretty much a month gone just for one weekend of racing, which isn't ideal considering how busy I'm guessing the calendar is going to be."
The curtailed 2020 season means that once championships do resume, adaptability and outright speed are going to be more important than ever. Which should bring Hoggard to the fore as he continues his impressive climb up the motorsport ladder.