designed by scottsdale-based architecture and planning studio, swaback, the moongate residence cuts a striking image amid the rocky desert landscape of arizona. appearing to rise organically from the ground, the design combines rough, oversized stonework with polished contemporary finishes.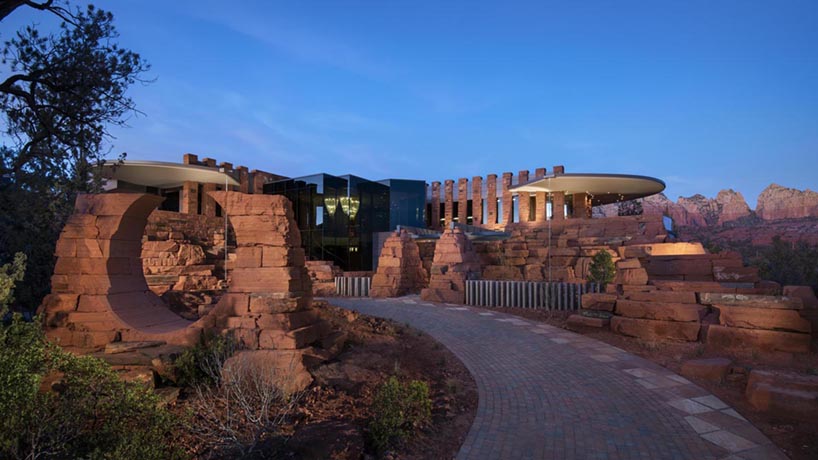 the selection of locally sourced stone, ranging from small blocks to boulders the size of a small vehicle, allows the house to appear as if it's rising out of the landscape
all images courtesy of swaback
at the entrance to the site, a semicircular stone structure, or inverted moongate, frames the house and gives it its name. the floor plan is composed of two semicircular wings, which are joined by a rectangular glass box entryway and gallery. the curving glass walls are strategically placed to capture nearby mountain views and other spectacular landmarks. sweeping roof overhangs, canted just so to shade windows and balconies during the summer while allowing winter sun to saturate the interior with its warmth.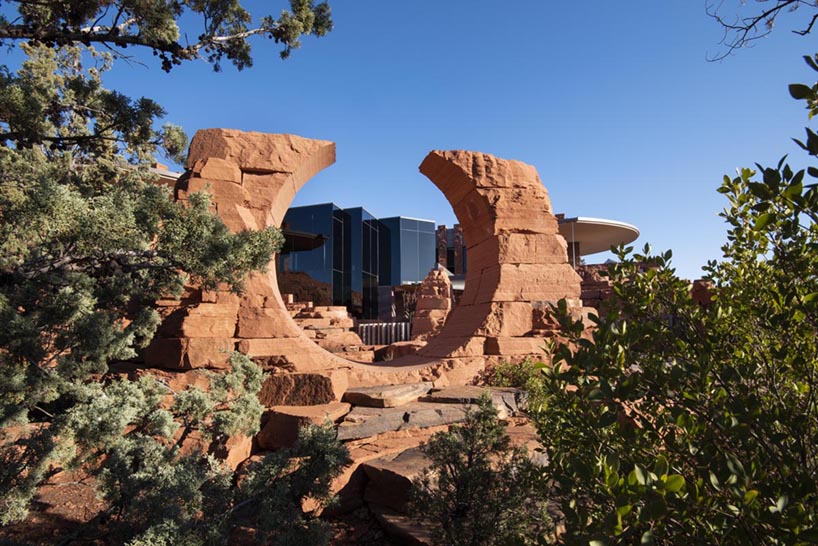 a semicircular stone structure that rises like an inverted moongate or ancient ruin frames the home's glass entrance and serves as a focal point along the long and winding driveway
at the entryway to the house, the massive stacked sandstone base, which is invisibly mortared, creates the effect that the structure was built into an escarpment. inside, a second-story glass floor above the custom entry front door arrival allows the homeowner to peer down at guests. at the owner's entry, two walls flank the entrance that are completely backlit onyx, adding to the natural stone motif. in the kitchen, the custom cabinetry is suspended via an internal steel frame truss from beneath the granite counters, allowing the millwork to effortlessly suspend above the floor.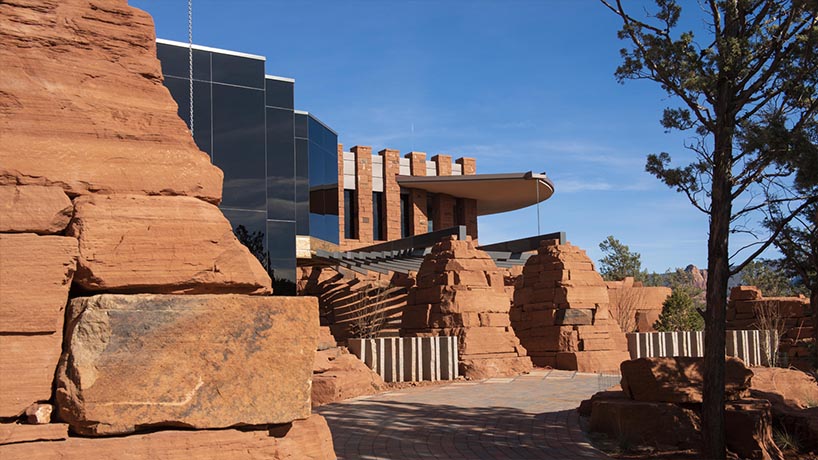 the architecture, while striking in its nature, still takes a back seat to the landscape
above all the living spaces, an acoustic fabric is stretched over insulated panels, to create an attractive ceiling all while mitigating sound bouncing from the hard surfaces of the stone flooring and the glass walls. these panels also emphasize the radial pattern of the architecture due to the strategic placement and well thought-out locations of each and every seam of the panels.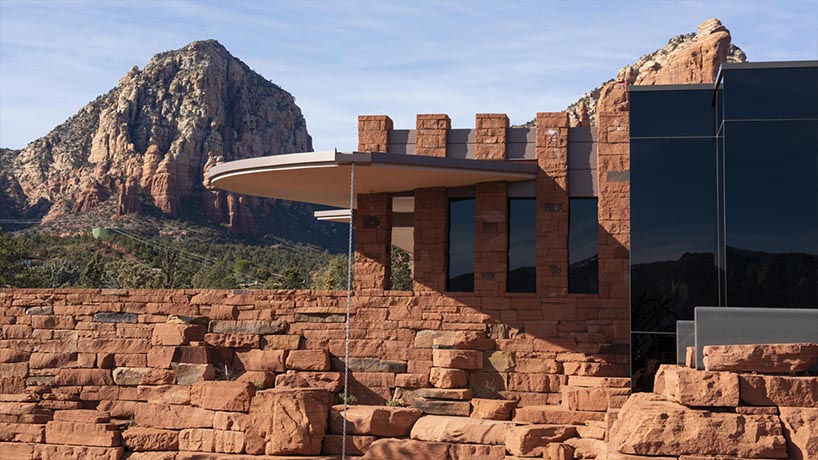 the placement of windows and captured views allow you to be in the main living space with 270 degree views
large oversized, cascading stonework and cabinetry enrich the interior, but the foyer's glass staircase, suspended by steel rods, is the home's main feature – an engineering feat that seemingly makes the crystalline treads appear as though they are floating up past a wall of windows pierced by the beautiful red rock stone. the dwelling's circular motif is echoed in the floor, custom doors and custom crystal chandeliers in a foyer off the owner's entry.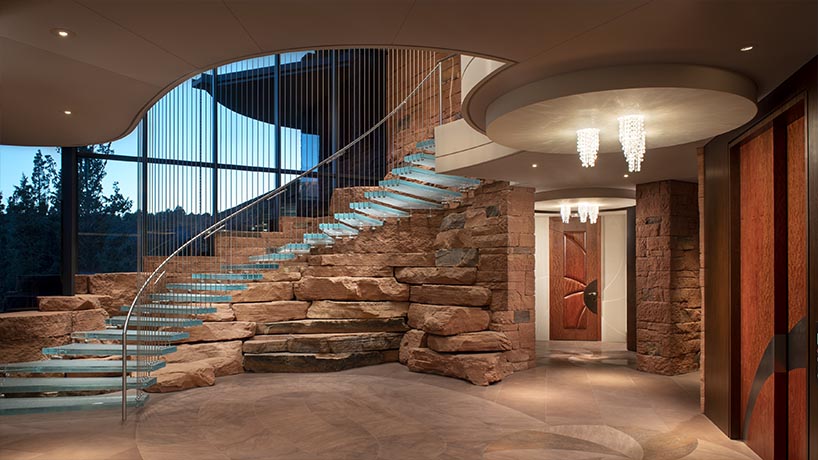 the incorporation of the stone in the interior of the house further reinforces the connection of exterior and interior, blurring the lines where one starts and the other ends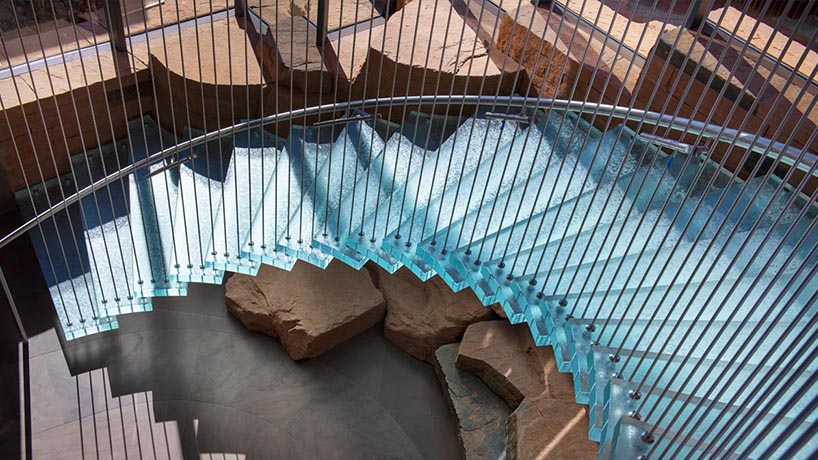 the glass treads flow along the stacked sandstone boulder wall in the same way that water conforms to a landscape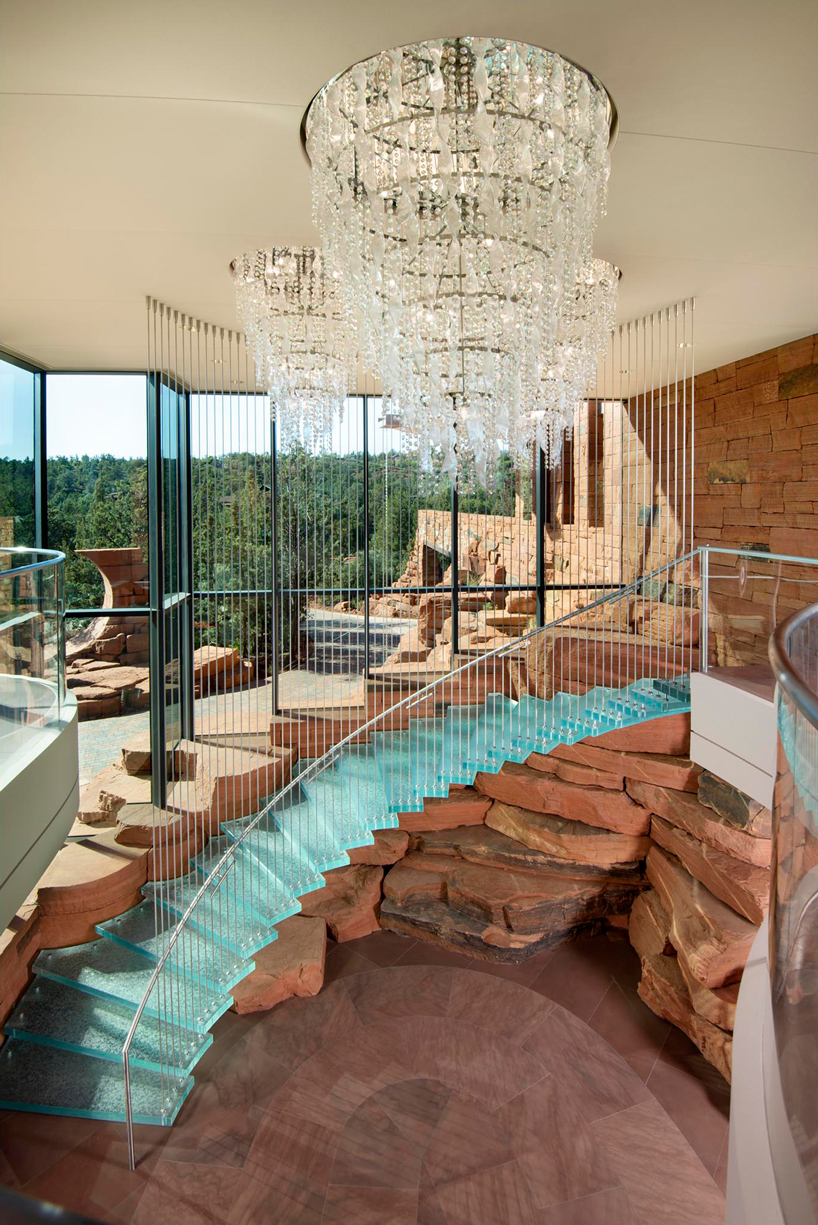 the manner in which the gallery stairs lightly touch the interior stone, suspended from the ceiling by thin rods, gives the illusion of a light, floating glass staircase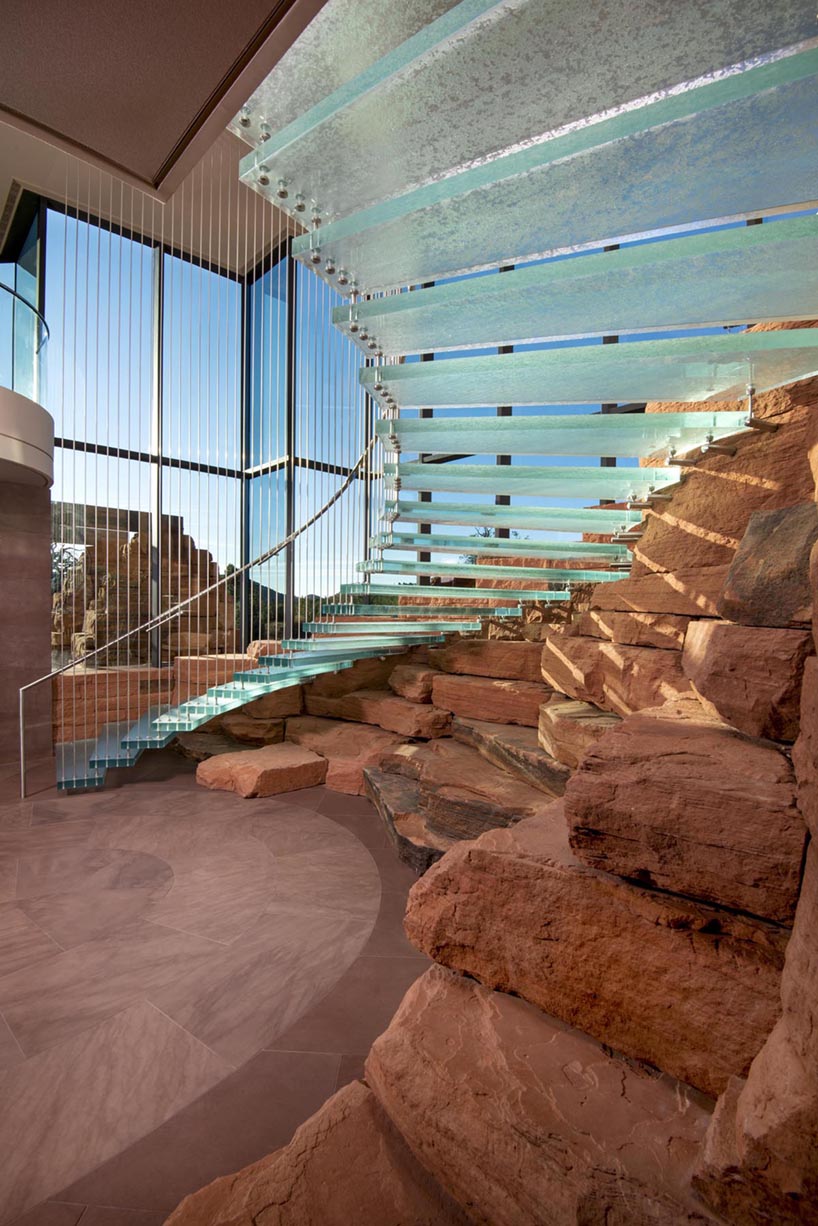 the structural components supporting this system are concealed and undetectable