Suzuki's Joan Mir says his non-finish in the MotoGP's first Jerez race meant he was "penalised" for the Andalusian Grand Prix as he had no data to fall back on.
Mir crashed out on lap two of the season-opening Spanish GP, while team-mate Alex Rins was a non-starter after dislocating and fracturing his collarbone in a qualifying crash.
This meant Mir returned to Jerez lacking in data of how the front tyre behaved in the scorching temperatures and in a pack of bikes, which led him to struggle from the off in Sunday's Andalusian GP.
Despite this, Mir got to the chequered flag in a career-best equaling fifth position, while Rins gritted his teeth through his injury to complete the top 10.
Commenting on his race, Mir said it was "important" for him to be able to run close to the podium – though concedes the mechanical issues for Francesco Bagnaia and Franco Morbidelli mean his result is not a "full fifth position".
"I was seeing the podium all the race, so this is something that I need for everything," Mir said.
"What penalised us a little bit was that last weekend no Suzuki finished the race, and we didn't have any information about the tyres and we didn't know about the [tyre] pressures until the start.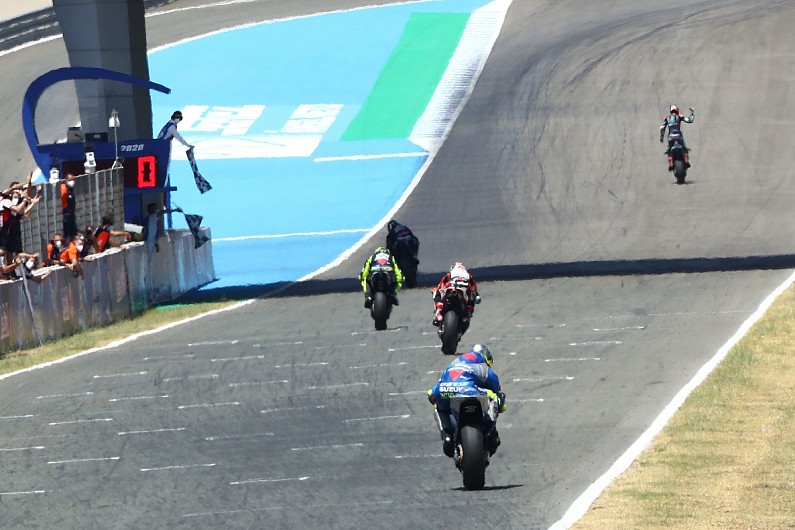 "And I was quite struggling with the front. I saw that everybody was struggling, but especially I struggled quite a lot compared to the others.
"I was there behind them and I was losing turning.
"But happy to finish the race, I did what I needed because I didn't want to go home without a good result.
"I'm conscious that two riders broke an engine in front of us, so it's not full fifth position.
"But I'm happy because we had problems."
Mir admits qualifying form for Suzuki has to be improved, after starting from 10th, while also highlighting acceleration as a point that needs to be worked on with the GSX-RR.
"With so many days in Jerez, all the bikes are very similar," he added.
"It is already difficult to improve anything. The positive is that we have been competitive.
"Fixing the front tyre [problems], we could have been on the podium.
"The acceleration must be improved, with [Takaaki] Nakagami we could not [stick with the Honda].
"The grip and the classification on Saturday must be improved. It is our worst point."