Robert Shwartzman dedicated his first Formula 2 win in the delayed feature race at the Red Bull Ring to his late father, Mikhail.
Ferrari junior Shwartzman started sixth, but suffered overheating problems as the field completed a series of formation laps behind the safety car due to heavy rain which ultimately forced the race to be red-flagged until track conditions improved.
The problem was rectified during the stoppage and following his pitstop Shwartzman made a crucial pass on Guanyu Zhou exiting Turn 4 that became the lead when pole-sitter Yuki Tsunoda, who had been suffering with radio problems, finally pitted.
Shwartzman held on to the end under pressure from Tsunoda to score his first series win and his first since his father passed away with coronavirus in April.
"I feel super happy, I wasn't expecting at the beginning of this race to be in this position," the 20-year-old said.
"The strategy was mega, so big thanks to the team.
"We changed the tyres quickly and when I exited the pit lane I was behind Zhou.
"I saw him struggling with the grip as it started to get drier, and it was a close move, but I managed to get a crossover on the exit.
"After that, Yuki was behind me, I tried to pick up the pace but at that time I was also struggling quite a bit with the rear tyres.
"In the end, Yuki caught me, and it was really close, but I managed to save first place.
"I'm really happy. I've run out of words.
"A big thanks to the team and to my father."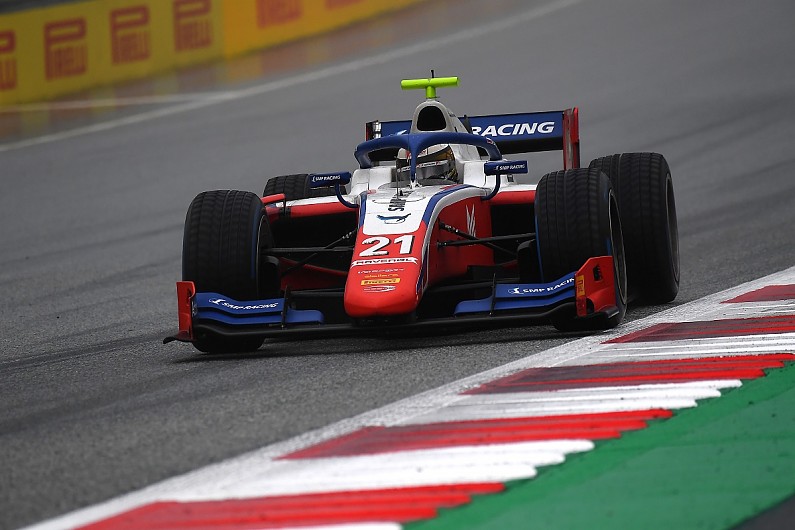 Shwartzman, who now leads the F2 championship standings, admitted that the red flag had "saved" his race, and feared that he thought the problem would be terminal.
PLUS: The quintet giving Ferrari a tough decision to make
"I couldn't do anything with the car, I was really scared and at some point I thought I wouldn't be going anywhere," he said.
"The situation with the rain and the red flags saved me, otherwise I wouldn't have been able to continue the race."
Behind Tsunoda, who admitted he hadn't noticed his Carlin team's pit-board calling him in, Zhou just held off Mick Schumacher for third place in a race he described as "one of the hardest F2 races I've done".
The Virtuosi driver explained that his struggles as conditions improved had been the result of choosing a full wet set-up.
"When the track started drying up I was struggling with the tyres," he said.
"I had to pit a bit earlier than the others. I put in a fastest lap and straight away I felt that the rears weren't there on a dry racing line.
"I couldn't really fight with these two guys.
"I tried my best and when I realised that I couldn't I kept my tyres cooler just to keep a good position in the end."
%MCEPASTEBIN%