IndyCar's newest winner Felix Rosenqvist says that the extreme compression between fastest and slowest drivers on any given weekend makes success extremely tough for all drivers.
Even on IndyCar's longest circuit, the 4.014-mile Road America track, the gap between the front rear of the 23-car grid was two seconds, while on the 2.439-mile road course at the Indianapolis Motor Speedway, the gap between first and last was 1.3s.
Rosenqvist, who won the second Road America race from seventh on the grid, commented: "I think in IndyCar right now the concept is just so tight.
"You look at qualifying. You have the top 15 within three or four tenths [of a second]. That's the difference of making a really good lap and an exceptional lap. It's so little difference.
"You're on the right side of that, you have a good chance to win that day. If you're on the wrong side, you start 15th! Maybe you need a strategy to turn it around. There always seems to be a good strategy or two out there, it's always very open.
"The formula of the series allows anyone to fight for the win if you have the pace and if you do a good strategy. You can't really count anyone out… I think that's why you see so many different results, so many different guys up in the front all the time."
Rosenqvist, who beat Colton Herta to last year's Rookie of the Year honours despite not winning a race, also reflected on his maiden IndyCar win and how his experiences in the series helped him to his first race victory.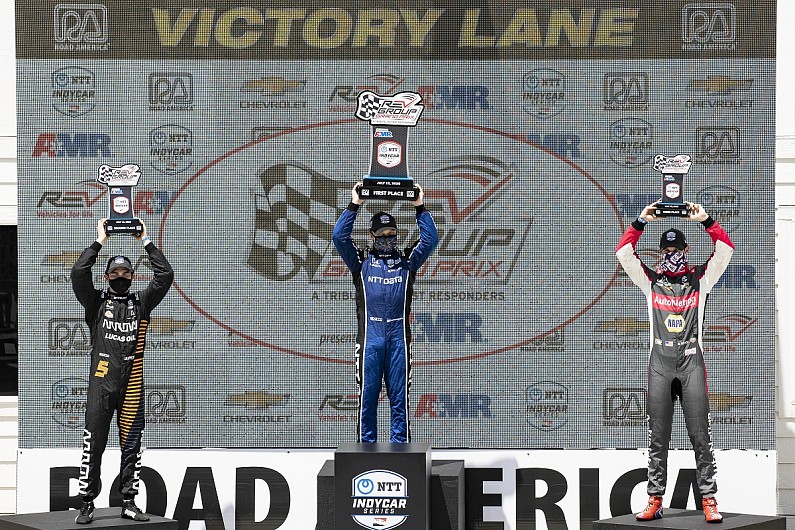 "Definitely it's hard to come in as a rookie and win races straightaway," he said. "I think [2018 Rookie of the Year Robert] Wickens really showed that. I had a good season last year, but it was still very up and down. I had a couple of podiums, one pole position. Still every weekend was a big swing.
"I think you need experience. You need to learn the facts, you need to learn how the weekends go, try to find a flow, ups and downs. It probably takes a couple of years, too, before you can master it yourself without being guided by your crew.
"I think that's what [team-mate Scott] Dixon does really well – being consistent. He takes a lot of decisions on his own in the car. He can sort of call the race a little bit inside the helmet. That's something the young guns need to learn."