Renault has brought a new front wing design and bargeboard additions to the Formula 1 season-opening Austrian Grand Prix as part of its three-part upgrade package.
In a session with select media, including Autosport, last week, Renault team principal Cyril Abiteboul explained that the team had grouped together three of its planned upgrade packages together for the first of two races at the Red Bull Ring.
"It's been a huge effort from internal production to get the package from races three, five and six – the initial numbering obviously – from Vietnam, the Netherlands and Barcelona that will be on our car in Austria," Abiteboul said.
The front wing has received several detail changes to its endplates, bringing them in line with a design that Ferrari debuted at last year's French Grand Prix.
This includes a flatter, squarer footplate which compresses at the trailing edge to accommodate a small fin.
At the trailing edge, there is also a small Gurney flap-style ridge to trip the airflow outboard and around the front tyre, along with the outwardly-pointing fin – marked with the red arrow in the image below.
The image shows the older-spec wing on top, with the new Austria wing below.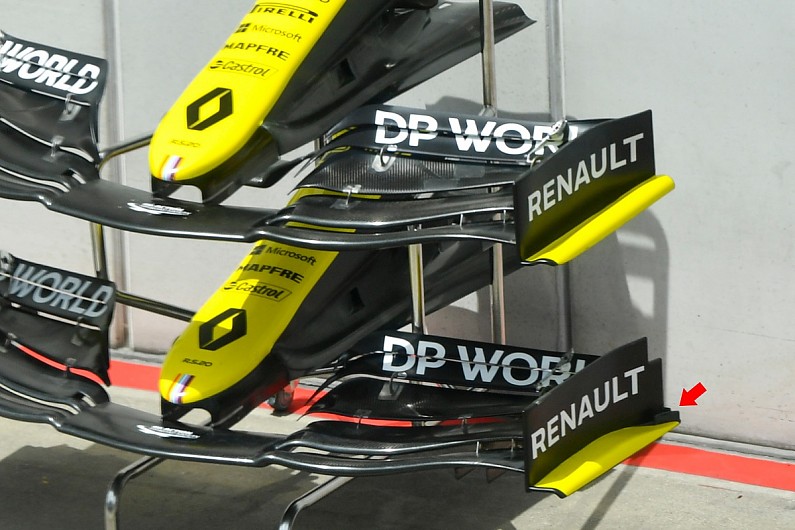 The airflow being pushed outwards – known as outwash – is enhanced by the square cut-out in the top corner of the endplate's rear edge, which takes airflow worked by the front wing elements and lets it bleed outwards.
This is helped by a shorter-chord top flap, which removes the scalloped section at the point where it meets the endplate of the older wing.
Renault has also added a number of vertical serrations to the bargeboard area, which will assist the rest of the bargeboard package with taking the airflow from the components in front – for example, the front wing tip vortices and the turbulence from the tyre – to pull it away from the floor.
PLUS: The new rules of F1's tech war
Tyre wake turbulence entering the floor section reduces the efficiency of the under-body aerodynamics, thus slashing the overall downforce produced.
Driver Esteban Ocon hopes that the upgrades that Renault has brought will alleviate any issues it had during testing, and says that his experiences of testing the 2019 car has helped inform him of the changes that the team needed to make.
"It was great to test the car in 2019 in Abu Dhabi to then see the improvement of the car in the winter test, and just get a way to see which improvements we should be doing," Ocon said.
"Now that we had a good test in February, I hope the upgrades we have now are going to help the problems we had then."