Audi driver Rene Rast says the constant in-race radio communication has been the hardest element of Formula E to adapt to compared to racing in the DTM.
The double DTM champion made a last-minute, one-off appearance for the Aguri squad in the 2016 Berlin E-Prix but has now been signed by Audi for the remainder of the season.
His move came after the team sacked Daniel Abt for using a sim racer to take his place in an FE Esports competition, and Rast is expected to remain in the seat next year.
When asked what his main takeaway had been from the first two races at the Tempelhof Airport, Rast said: "There's lots of things going on at the same time.
"In other racing categories, in DTM, you're not allowed to talk to the team.
"I can talk but they cannot answer. Here, I communicate all the time.
"I have to always monitor my energy, the traffic around me.
"There's so many things I need to keep an eye on.
"And on the other hand, you also have to race the competition and keep the car within the racing line.
"There's so many things and it makes it very, very difficult for someone like me who's new to the series.
"But again, I learned a lot that hopefully I can progress."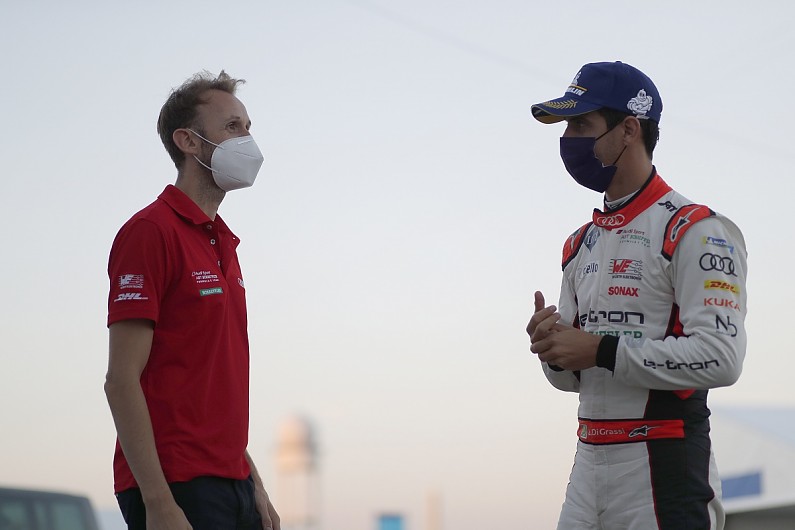 Rast qualified 13th for the opening race and climbed to 10th, but a Turn 1 lock up ahead of race two meant he ran slowest in qualifying and 1.5s adrift of team-mate Lucas di Grassi in sixth.
The team elected to start Rast from the pitlane to conserve useable energy and he progressed to an eventual 13th.
Meanwhile, a near crash for di Grassi in the final sector on his qualifying run for the first E-Prix meant he had to recover to eighth.
But he progressed through to the superpole shootout on Thursday and then finished third to winner Antonio Felix da Costa and Sebastien Buemi.
Di Grassi, the 2017-18 champion, credited his rise in form with a myriad if small tweaks to his car set-up.
He said: "There is no silver bullet.
"We did many small improvements in many areas from software to set-up.
"All of these small changes, they end up like a big step forward.
"We worked from qualifying eighth or ninth [on pace for race one] to sixth today, so we did this step in reality.
"It was not from 22nd to sixth, because I did a mistake in the qualifying yesterday.
"But the car has moved up a few places and now we have to do the same stuff again."