As Autosport launches the latest episode in its Race of My Life podcast series, we revisit the race former Red Bull Formula 1 driver Christian Klien picked as his best – the 2003 Marlboro Masters of Formula 3
Race: 2003 Marlboro Masters of Formula 3, Zandvoort
Car: Dallara-Mercedes F302
If you were in the junior categories back then, the Formula 3 Marlboro Masters, was probably the biggest race you could enter. You had all the national Formula 3 championships coming together to one event and if you just read the names of drivers who won that race previously, it's just phenomenal.
That year, 2003, was my first season in F3. The plan was take it as a learning year and the second year go for the championship. The beginning of the season went very well in the Euro Series and I had a win at Le Mans, but going to the Masters, I didn't expect to be a frontrunner.
From the team point of view, the number one driver at Mucke Motorsport was Markus Winkelhock. He was in his second year and he had experience on that race track. For me a top 10 finish would be mega and that's how I went in, I didn't feel any pressure at all.
I liked the track a lot. Zandvoort is a nice, flowing circuit that suits F3 cars perfectly. You can play with the aero of the cars and I quite liked high-speed corners and I was really up to speed. Usually it helps if you like a track and I got on with it very well. Later on in the Euro Series races, I had pole twice again.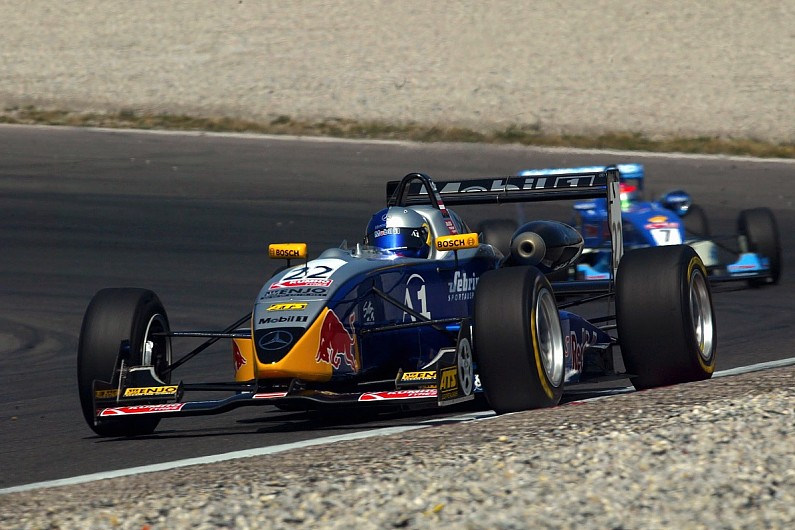 In the free practices, I thought 'OK, I'm up there at the front but maybe the others didn't put new tyres on or they're just playing'. And then came qualifying.
Probably in that year in F3, my strongest point was qualifying. I could handle my nerves very well so I would wait for 10 minutes until the first guys came in for another set of tyres and, when the track was free, I went out for one flying lap and hammered that one. I did the same at Zandvoort and it just worked out perfectly.
I had a very short run, I did my time, and finished first in my qualifying group. It was just amazing. That meant I was second on the grid behind Nelson Piquet Jr. The strength I had in me to do that was a big benefit, because F3 cars are very equal and if you're starting P10, it's very hard to overtake. Qualifying is everything, you have to be at the front.
I must say we had very good support from Mercedes as well. Not many people know but that year I was not only a Red Bull junior driver, I was also a Mercedes junior driver, so the budget for my season came 50% from Red Bull and 50% from Mercedes. Mercedes was in its second year of Formula 3 as an engine builder and we had good support from them with their experience from DTM, so it all worked nicely together.
In the race, I had a really good start and I went into the lead. Zandvoort is a track where you can make your car wide, but I had really good pace and I managed to stay in front of Piquet all the way through to the end. Even after a safety car, I managed to get back into my rhythm and won the race by three tenths.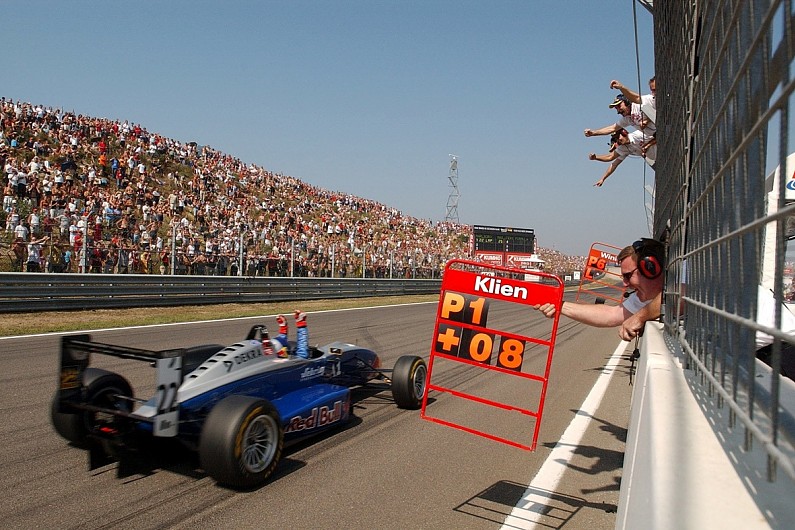 That race was just a breakthrough in my career basically. I don't think I would have made it to F1 without that result because it brought a lot of attention to myself. Afterwards, Norbert Haug from Mercedes called me and obviously Helmut [Marko] called me, so I thought, 'This might have a big impact'.
A lot of F1 teams usually watched it to see how the juniors were doing and pretty quickly afterwards there were talks with Jordan and obviously also with Jaguar, where I then got the test at the end of the year.
Self-belief is such a big factor in motorsport. If you win such a big race, it gives you a big confidence boost and I felt that straight away in the Euro Series races afterwards. I ended up finishing second in the championship because I had so much self-belief and I knew I could do it.
From one race weekend to the other it made a different driver out of me.
Interview by Alex Kalinauckas and James Newbold