Sebastien Buemi "realised quite early on" he could not beat Stoffel Vandoorne in the final race of the Formula E season following a set-up change to his Nissan e.dams car.
The 2015-16 champion was widely expected to win the season finale in Berlin after qualifying second behind eventual and first-time victor Stoffel Vandoorne.
This followed team-mate Oliver Rowland's controlled win the previous day, combined with Mercedes' often fragile race pace.
But Buemi never offered a genuine threat for victory, falling behind Nyck de Vries late on as Mercedes scored a 1-2 finish.
Buemi explained this stemmed from a change to his car's set-up, saying: "I realised quite early on that I just didn't have enough pace.
"We're not talking a lot, but it's just something like a tenth, 0.15s per lap. I was just a bit too slow.
"We tried a different set-up compared to a couple of days ago and I think that we made it slightly worse.
"It's always difficult to know how the tyres will behave over the 36 laps.
"It was a try and it didn't work out so well, unfortunately."
He added that it had been "hard to accept" starting second for the race on the extended Tempelhof Airport circuit after missing out to Vandoorne for pole by 0.059s.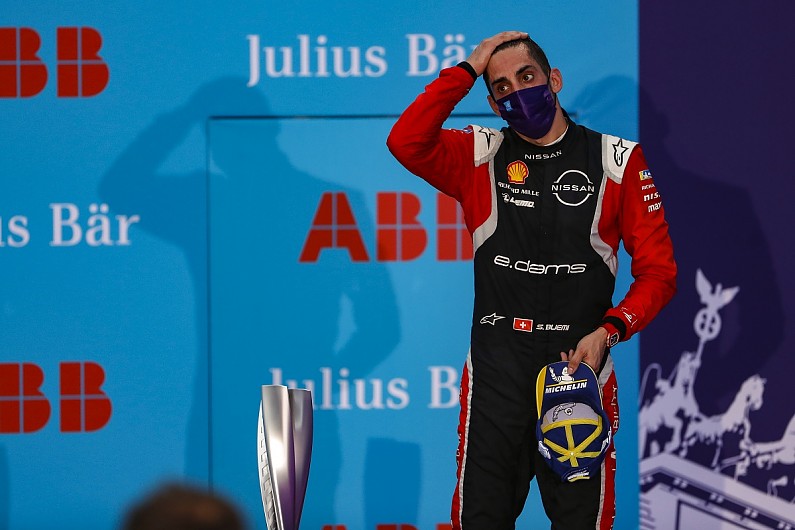 "I'm disappointed with qualifying," Buemi said.
"When you're just 50 thousandths of a second behind, it's always hard to accept.
"The most important thing is that we finished second in the teams' championship and for us, it's a big achievement, it's a big comeback."
Buemi cited how Nissan e.dams had been forced to change its powertrain for the 2019-20 season after the twin-motor configuration previously used was banned.
When asked how much the regulation changes had affected development, Buemi said: "Massively, because last year, just to get the twin motor to work, we used all our resources in trying to work on the software – nothing on the energy management or stuff like this.
"When we started the season, we were way back compared to the other guys and we've caught up massively in this five-month gap we've had since Marrakech.
"Clearly it paid off, but obviously we've been really unlucky with the fact that it got done and we have had to start from scratch."
Nissan powertrain project manager Vincent Gaillardot added: "Obviously, we all agreed to move to these rules for the stability of the championship [to reduce costs].
"We had to refocus on a different set-up to be competitive so we have had to work extremely hard to be ready at the beginning of the season.
"We have shown that we were there at the end of the season. For us, this is a big relief."