Two new winners claimed GT3 spoils on a gloomy day at Donington Park, as British GT introduced a new format of a two-hour race followed by a one-hour sprint.
Michael Igoe and new co-driver Andrea Caldarelli took the 37.5 points on offer in the first race in WPI Motorsport's Lamborghini, while 2018 GT4 Pro-Am champions Scott Malvern and Nick Jones took their maiden outright triumph with their Team Parker Racing Bentley in a race two decided by tyre strategy.
WPI hadn't appeared to be a factor in the first half of the opener – the grid set by aggregate qualifying times – as an entertaining three-way lead battle played out between poleman Michael O'Brien in the Rocket Team RJN McLaren, Rob Collard's Barwell Lamborghini and the RAM Mercedes of Sam De Haan.
After 24 laps of dogged pursuit, Collard took the lead when O'Brien ran wide at Coppice. De Haan followed through two laps later and O'Brien – whose first wet laps in the 720S had been in the warm-up – steadily dropped back to the extent that De Haan's team-mate Patrick Kujala was able to negate a 10s success pitstop penalty to emerge ahead of James Baldwin, in for O'Brien, after the stops.
Barwell kept Collard out until lap 45 in the hope that the track would be dry enough for a switch to slick tyres but, with 41 minutes to go, the team bailed on that strategy and plugged in Sandy Mitchell. The young Scot, who served a 15s success penalty in the pits, emerged 4.4s behind Kujala with eight-laps-fresher tyres, but the pressures were too high and that meant he was quickly swallowed up by factory Lambo gun Caldarelli and dropped to fifth.
Igoe and Caldarelli had only qualified ninth, but gained two places immediately when neither 2 Seas McLaren made it to the grid – a small fire in the warm-up meant one of them joined the race late, and a mechanical fault was discovered on the other, Jordan Witt arriving at the end of the pitlane 10s after it closed.
At the start, an opportunist Igoe passed Lewis Proctor when the Optimum McLaren botched a move on Ian Loggie (RAM Mercedes) at the Fogarty Esses, then he took Loggie and fellow Lambo man Adam Balon (Barwell) in quick succession. After Caldarelli took over on lap 36, the Italian made swift work first of Baldwin, then Mitchell, and set about catching the leading Mercedes of Kujala. There was an air of inevitability about the chase and, sure enough, he powered around the outside at Redgate into a lead he would never lose with six laps remaining.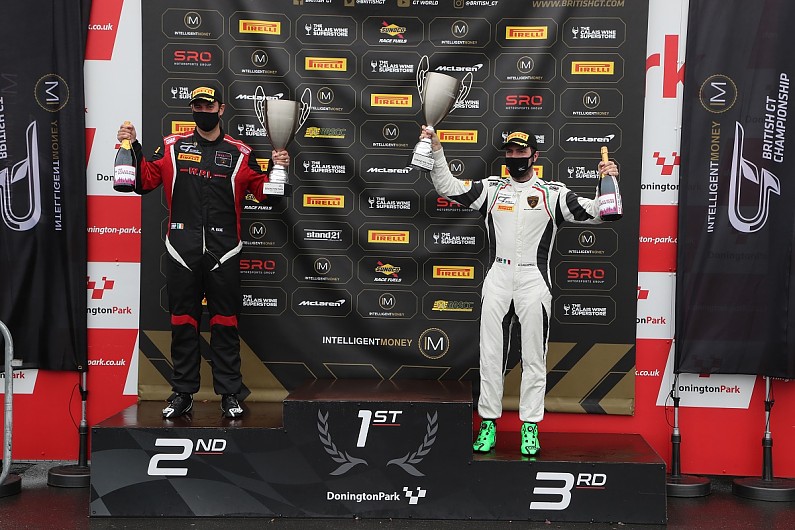 "In these conditions it's always tricky to do an overtake," said Caldarelli. "I knew that it was Patrick in the car and I know that he is a tough guy, so when I was two or three seconds away I was looking at where I was stronger and I knew that I had to try in the first corner. I'm happy and proud that we brought the first win to the team."
A "pissed off" Kujala admitted defeat was "hard to swallow", but still scored maximum points in the Silver classification. Behind, Loggie and Yelmer Buurman completed the podium in third, although RAM boss Dan Shufflebottom admitted they could have been in the lead battle without problems getting the fuel hose attached in the pits.
Balon and Phil Keen finished fourth, Keen setting the fastest lap on the final tour in a futile attempt to grab a podium place.
The race two grid was set by Pro times, with Joe Osborne (Balfe McLaren) and Malvern – both on slicks on a damp but drying track – sharing the front row. At the start, Malvern dived around the outside at Redgate as Osborne dropped briefly to fifth behind the fast-starting wet-shod trio of Jack Mitchell, Sandy Mitchell and Buurman. Malvern too was swallowed up on the following lap, but by lap six the Bentley and McLaren were in front and pulling away as fellow slick runners Keen and Caldarelli struggled to get heat into their tyres.
Osborne tracked Malvern to the stops, where GT3 rookie Stewart Proctor – Lewis's dad – and Jones respectively took over. As Proctor fell back into the clutches of Balon, Jones kept it on the island amid worsening conditions to take a memorable win.
"We rolled the dice and everything came in for us," said Jones, who had finished 11th in race one. "More than often it doesn't work, but it did for us today."
Balon had been coming under pressure from Igoe until the race one winner spun at the Esses, and he cleared Proctor Sr to take second and hold on to beat leading Silver combatants Witt (after taking over from Jack Mitchell) and Proctor Jr. That consistent scoring from Keen and Balon has therefore given them the points lead.
INSIGHT: Is this the year for national racing's nearly man?
GT4: HHC's tyre gamble pays off after Astons dominate opener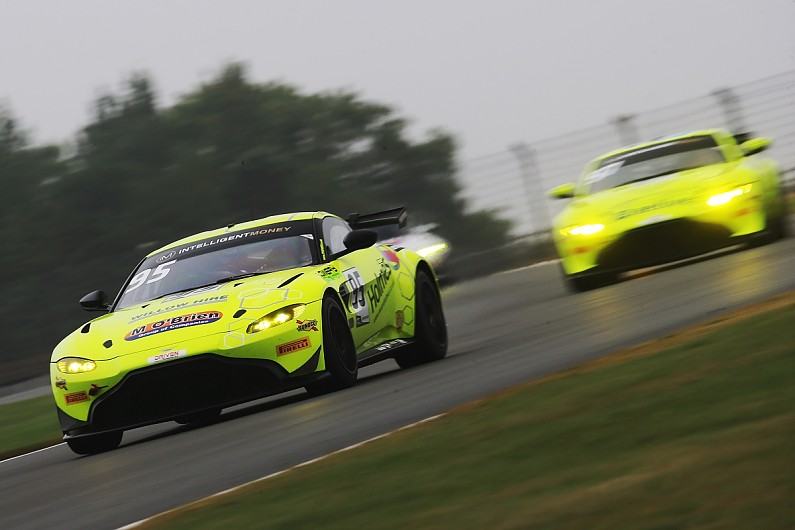 TF Sport may have withdrawn its GT3 entries this year, but it showed that it remains the team to beat in British GT's GT4 class with a comprehensive 1-2 in race one, before a McLaren tyre gamble paid dividends in race two.
The TF Aston Martin Vantage GT4 of Patrick Kibble and Connor O'Brien was outshone by the sister car driven by Jamie Caroline and Dan Vaughan in the opening race, but the latter pairing's 15s success pitstop penalty carried over from the previous race meant their team-mates took an uncontested win.
From fourth on the grid, Caroline quickly picked his way through to lead in the slippery conditions, and even pressured GT3 tailender Stewart Proctor as Patrik Matthiesen's polesitting HHC McLaren bottled up the pack behind, led by Kibble. After finally passing the Dane at Melbourne Hairpin on lap nine, Kibble promptly ran wide at the very next corner and dropped back behind the McLaren and James Kell's Toyota. It was another five laps before he had cleared them, by which time Caroline had around 18s in hand.
But Caroline's Aston had a damaged rear diffuser from being rear-ended by Ian Loggie's GT3 Mercedes at the Old Hairpin, and the team was unable to replace it in the pits. Combined with the success penalty, that meant Vaughan rejoined behind O'Brien. They held station to the finish, with Kell and Sam Smelt taking the Speedworks Toyota Supra's first podium in third.
As in the GT3 class, race two was decided by tyre choice, as Gus Bowers (HHC McLaren) and Euan Hankey (Balfe McLaren) pitted for slicks on their way to the dummy grid. Both had to start from the pitlane, as the rest of the field took the start on wets, but it was soon apparent that slicks were the way to go as first Hankey, then Bowers powered through.
TF gambled on the much-threatened rain arriving during the pitstop phase and stayed out a lap longer than its GT4 rivals, but it was already far too late to reverse the earlier time loss.
Hankey stayed out as long as possible before handing over to Mia Flewitt, who had 30s in hand over Bowers's team-mate, reigning RGB Sports 1000 champion Chris Wesemael, upon rejoining. But birthday boy Wesemael was charging and carved 5s per lap out of Flewitt as conditions worsened before making the winning pass with six minutes to go at the Melbourne Hairpin.
"We thought if there was any chance we could go for slicks we would, because we were starting last," the 25-year-old said. "It's incredible, the best present ever!"
BRDC British F3: More joy for Frederick as he extends points lead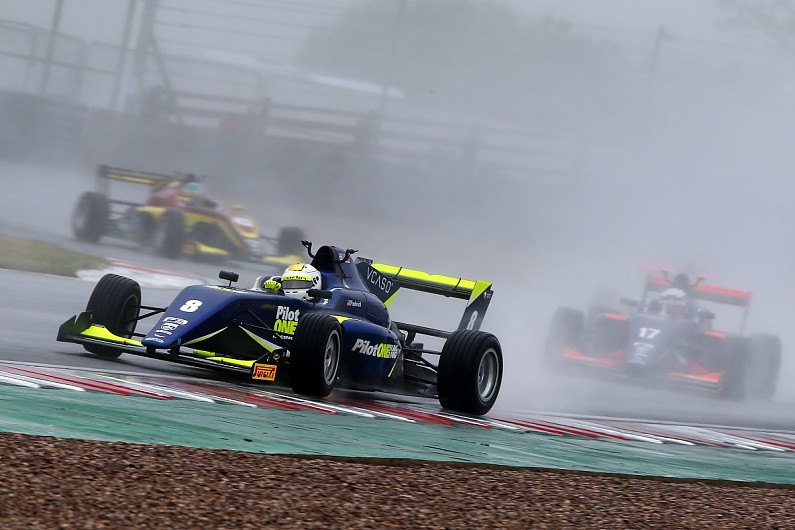 Kaylen Frederick extended his points lead in the BRDC British F3 Championship with an assertive performance at Donington Park in mixed conditions, while Brit Louis Foster secured his maiden win in the series.
With two victories to his name from the opening round at Oulton Park, Frederick carried on his impressive form by taking pole for the opening contest at Donington, and for half the opening lap it looked like being another masterclass from the Carlin-run American. But, exiting the Fogarty Esses, he ran wide across the grass and dropped behind fellow front-row starter Foster (Double R Racing) and Hitech GP duo Reece Ushijima and Kush Maini.
On the following lap, Nico Varrone found more than just grass on the exit of the Esses and the safety car was called to retrieve the stricken Chris Dittmann Racing entry.
While the front trio maintained station at the restart, championship leader Frederick began to lose positions due to a failing actuator, which meant changing up and down gears was becoming more difficult and unpredictable. He fell to sixth when he ran wide at the Melbourne Hairpin, dropped to seventh on the following tour due to the same error, and by the penultimate lap he was eighth.
On the final lap, Frederick was sent into the barriers at Coppice as he suffered a throttle blip when downshifting. Crucially, however, the race had run for a lap longer than scheduled, meaning the final result was taken from the lap before. Not only did it mean he kept 13 valuable points for an eighth-place finish, but he would start 11th instead of 18th for the full reversed-grid-second race.
Up front, Foster took his maiden win in the series ahead of Ushijima and Maini.
PLUS: The tech changes bringing new complexity to UK single-seaters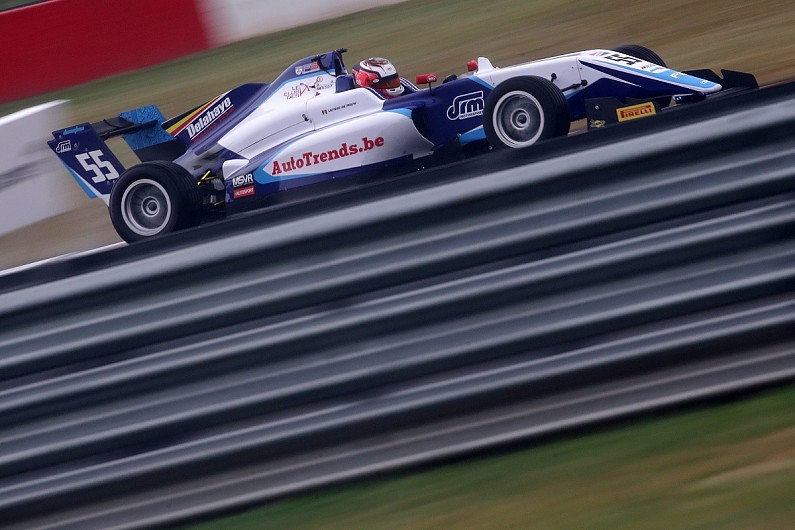 While Saturday's action had been in the dry, rain tyres were needed on Sunday. Douglas Motorsport driver Ulysse de Pauw led from pole in the reversed-grid race, while Carter Williams and then Oliver Clarke held second before Frederick carved his way through into the spot by lap seven.
The gap to de Pauw stood at 8.9s with five laps remaining, and Frederick whittled the margin down to just over two seconds by the flag as the Belgian took his first series win and Hillspeed driver Clarke claimed third for his maiden F3 podium.
Frederick's performance in the wet was an ominous sign for race three, where he would start third, behind Maini and Foster. After getting the jump on Foster off the line in drier but still damp conditions, Frederick showed why he is the driver to beat this year with a superb pass around the outside of Maini at Goddards on lap four.
As Frederick cantered to his third win of the season, there was a sensational scrap for second led by Maini, Josh Skelton, Kiern Jewiss and Foster.
For several laps each attacked and defended while sliding around trying to find grip, never more than inches apart in one of the best multi-car British F3 battles since the series was launched in 2016. Skelton managed to pip Maini on the line by just 0.101s, as Varrone finished an incredible fourth after a charge from 14th on the grid, ahead of Jewiss and Foster.
Frederick heads to the Brands Hatch round next week with a 29-point gap over Maini, who has to yet to confirm whether he will contest the remaining races.
Thruxton Historic BARC: Holme brings Healey back to life after 46 dormant years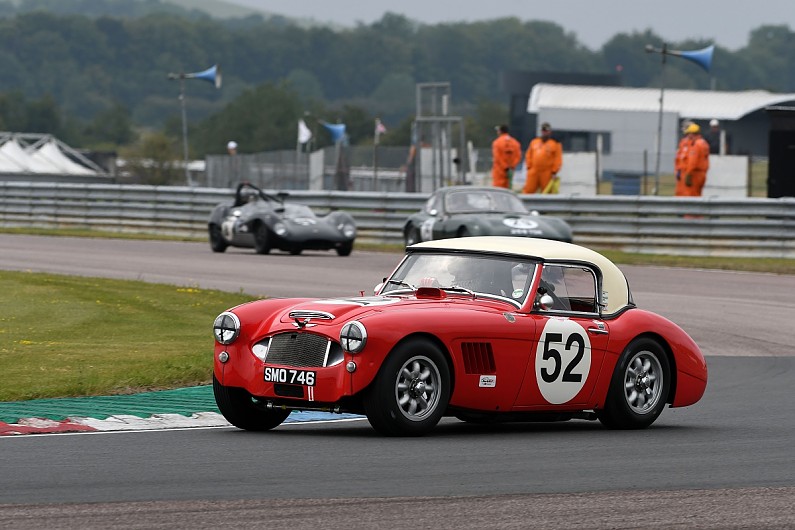 Sensational cars and superb driving characterised the postponed Thruxton Historic event and, joy of joys, spectators and car club members were welcomed back to the banks if not the paddock. Mark Holme's surprise GT & Sports Car Cup victory in the famous ex-John Gott Austin-Healey 3000, in which Jeremy Welch middle-stinted, was but one highlight of a weekend that featured British Touring Car star Rory Butcher and past master Dave Coyne among the winners.
Holme bought SMO 746 – dormant for 46 years following Gott's death – recently, but had not driven it until qualifying. Gearbox failure then prompted an overnight dash to Newmarket to remove his other race Healey's 'box. Keith Ahlers (Morgan +4 SLR), Holme and Crispin Harris (Healey) made the early running in the 90-minute two-stop feature, before James Hanson bustled Paul Pochciol's Jaguar E-type from last to the lead. Poleman Ben Adams, meanwhile, was conserving fuel in his little Lola Mk1, its tanks brimmed with 39 litres at the start.
Butcher (in William Paul's E-type) went ahead handsomely after the first round of pitstops, effectively presenting his car owner the lead when Adams made his second pit call. But there was a sting in the race's tail. Adams had hounded down Billy Bellinger (in Ahlers's Morgan) and repassed Paul on lap 49, with 11 minutes remaining. Two laps later the Jag was parked having drunk its 90 litres, and Adams appeared to be cruising for gold, almost a minute clear of Holme but, with three minutes until the chequer, the black Lola's engine ran dry. "We didn't even warm the engine up to save fuel, but it was fantastic fun," he said.
Holme thus led the final three laps for a remarkable success, 49 seconds clear of Ahlers. Third over the line was perennial double agent Welch, in Doug Muirhead's Healey, having robbed Nick Sleep/Joel Wykeham's GT4 class-winning Shelby Mustang GT350 at the chicane. But a three-second penalty for Muirhead's speeding in the pits reversed their order, with Harris/James Wilmoth a fine fifth, 2.473s adrift. Malcolm Paul/Rick Bourne (TVR Grantura) aced GT2 from Laurence and Tim Jacobsen's MGB.
Local man Adams had outrun the Lister-Jaguar Knobblies of Gary Pearson – racing at Thruxton for the first time in 20 years – and Jon Minshaw to win Saturday's one-hour RAC Woodcote/Stirling Moss Trophy 1950s sportscar showcase. Bellinger was in the hunt in Ahlers's Lola Mk1 Prototype until half-distance when a half-shaft let go at Allard.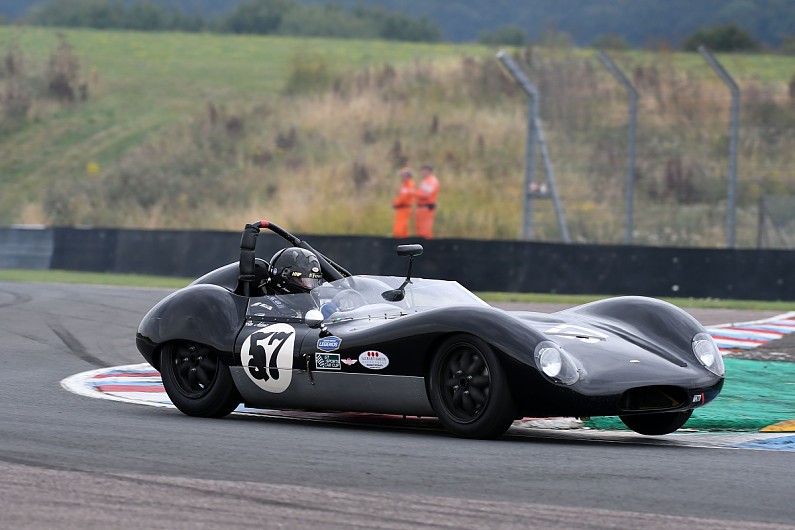 In the concurrent Pre-'56 set, Martin Stretton/Richard Wilson (Maserati 250S) narrowly beat Steve Boultbee Brooks, who piloted his Jaguar D-type through from the back, and Gordie Mutch/John Clark (Cooper T39 Bobtail) after the Mike Grant Peterkin/Patrick Blakeney-Edwards Cooper-Jaguar T38 expired. When his tow vehicle's ignition key snapped, preparer David Brazell drove the Maserati back to Northampton!
The Historic Racing Drivers Club Jack Sears Trophy encounter was fantastic. After a gearbox change, Coyne started Adrian Miles's immaculate Mustang – built by NASCAR legends the Wood Brothers to replicate their period racer – from sixth, but dived inside John Spiers's Lotus Cortina (planted on pole by Tiff Needell) to lead at Allard on lap two. A broken oil pump drive ended Spiers's challenge, but two other Cortinas joined the fight at the front before pit setbacks. Neil Brown traded the lead with Coyne, but fudged refastening his harness, while Fortec boss Richard Dutton knocked his ignition master switch off. The old pals later wagged their steeds' tails to lurid angles in their battle for second.
Four Jaguar E-types – two hooded roadsters and two fixed-head coupes – made the running in Saturday's Pre-'63 GT opener. James Cottingham's prowess in the ex-Merle Brennan US racer, newly restored by DK Engineering, was awesome to behold as he deftly drifted it through Allard, pulling ever further clear of Jon Minshaw, Olly Bryant and Hanson.
Hanson grabbed second, but both pacemakers hit trouble with their second drivers installed. Harvey Stanley retired Cottingham's E-type when its distributor's internals disintegrated, and Paul Pochciol his car when a brake seal popped. Butcher thus went ahead in Minshaw's machine and won by 48s from Bryant, whose engine occasionally went off-song. Blakeney-Edwards was third in Gregor Fisken's E.
A lap down, newcomer Muirhead led the 'Healey class' – an impressive first race without a novice cross – before relaying Welch. Karsten Le Blanc in DD300, started by fellow Dutchman Christiaen van Lanschot, made up almost a minute to shadow Harris/Wilmoth, but they were gifted fourth when their rivals were docked 23s for a short stop.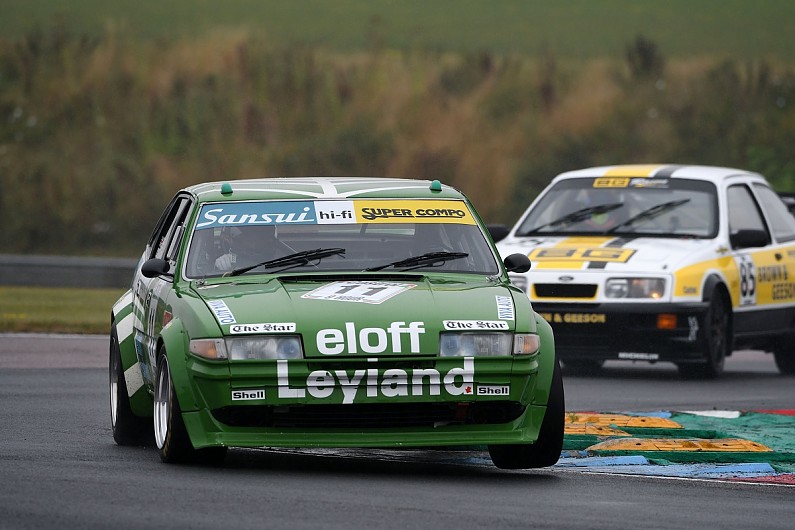 When the chasing Ford Sierra RS500s of Sean Brown (wiring loom) and David Tomlin (fuel fire) fell and rain intensified, Ric Wood was grateful for his Nissan Skyline's four-wheel drive in Saturday's Historic Touring Car Challenge leg. After a caution, the contrasting Rover V8s of Fisken/Blakeney-Edwards (Gp2, above) and Ken and Tim Clarke (GpA) put up one hell of a fight in his wake, power telling. Wood broke a wheel against a kerb while well ahead in Sunday's sequel, leaving PBE and Ken Clarke wrestling with gearbox issues out front.
Thruxton's first Pre-War race in decades rewarded the versatile Blakeney-Edwards in his Frazer Nash 'Spam'. He converted Grant Peterkin's start to victory over early leader Rudiger Friedrichs's Alvis Firefly. "It's scary out the back, it's got two thirds of a turn of steering lock and my arms are knackered from holding on," smiled Blakeney-Edwards.
Michael 'Rubinho' Birch (Talbot AV105) just staved off former World Endurance Championship racer Richard Bradley (Aston Martin Ulster) for third. Watched by Peter Morley (86), winner here in the Bentley-Napier in 1974, son Clive and grandsons Stuart (sharing with Richard Hudson) and James upheld family honour by heading the hallowed marque's finishers.
David Smithies blasted his AC Cobra Daytona Coupe evocation clear of Coyne's Mustang in HRDC Allstars, but driver of the race was James Colburn, who finished third from last on the grid after his Lenham's alternator packed up in practice. Richard Merrell won the Alfa Challenge, while Chris Snowdon – who arrived from Silverstone and qualified Richard Melvin's Napolina GTV6 out of session – reached second before its head gasket failed.
Snetterton CSCC: Griffin storms to win before the downpours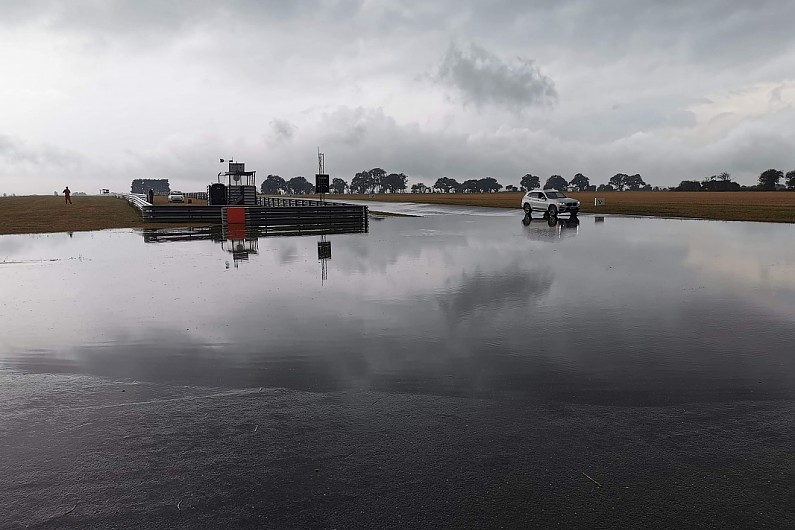 Rain stopped play at Snetterton for the second day of the Classic Sports Car Club's second meeting of the year, but there was plenty to enjoy before thunderous showers spoiled everyone's fun.
The only race to be held on Sunday was the combined Modern Classics/Turbo Tin Tops showdown, which featured a 40-car grid and a masterful win for Dave Griffin's Diet Coke-liveried BMW M3 E36. Griffin made short work of the Porsche 911 RSR of Tony and Aston Blake, which had pipped him for pole. He established an advantage over a tight leading group of four by the end of lap one, never looking back and winning the shortened race by over 23 seconds.
This could have been more, as the first rainstorm struck and slowed everyone down for the last couple of laps. The red flags then came out with five minutes to go, as the rain sent an array of cars skittering off the circuit at Oggies.
Karl Cattliff challenged the Blakes' Porsche early on in his BMW but lost ground in the pits and finished third. Jake and Andre Severs's VW Beetle ran as high as fourth, but dropped behind a string of Porsches and BMWs, finishing just behind leading Turbo Tin Top contender Charlie Newton-Darby (BMW Mini) in 11th.
PLUS: The catch-all racing club that proves nice guys don't finish last
Tin Tops looked to be a shootout between former British Touring Car driver Mike Bushell in a Ford Fiesta and regular CSCC winner Danny Cassar in his Honda Integra. The two younger drivers, plus their respective team-mates Richard Wheeler and Nigel Ainge, were first and third and had not been prepared for an attack from Andrew Windmill's Honda Civic.
Bushell and Cassar had been fastest in qualifying, but Windmill led after the first corner, leaving Ainge in fourth and Wheeler third. Solo driver Windmill had a lead of around a minute when he came into the pits, gambling on a tactical late stop, which almost paid off. He remained in the top three after pitting and it was only a charging Cassar, almost two seconds per lap faster than Windmill, who could stop him. When Bushell got in the Fiesta he was also quicker than Windmill and came within three seconds of the Civic, but had to settle for third.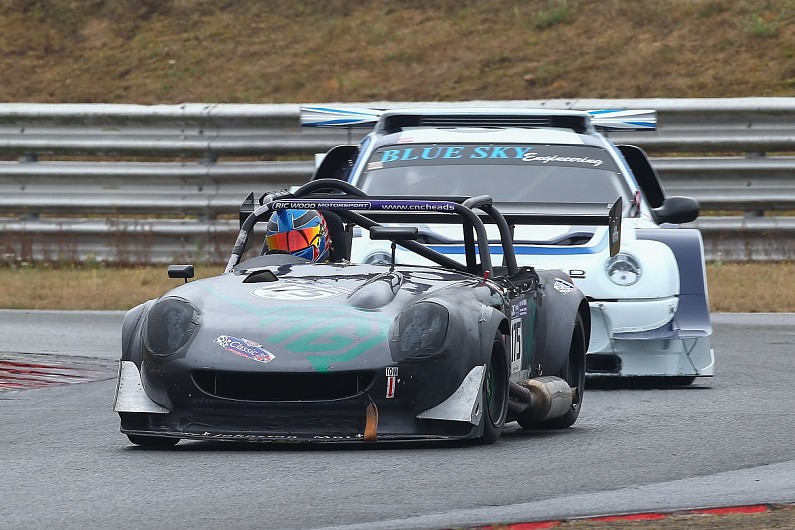 Andy Southcott was a familiar dominant force in Special Saloons & Modsports, although Wayne Crabtree's Ford RS200 almost got the better of Southcott's spaceframe MG. The fast Ford led from the first lap at Riches, but Southcott caught up in the latter part of the race and a last-lap struggle ensued, in which the MG prevailed.
Although he had to start from 11th in race two, Southcott wasted no time in stamping his authority over the rest, working his way to the front of the pack by the end of the first tour.
Mark Chilton also gave a masterclass in dominance in the Future Classics race, putting his Nissan Skyline's recurring gremlins behind him to win by over a minute from the Porsche 911 of the Blakes. The Porsche crew were promoted from third when fellow 911 driver Tim Bates was penalised for an incorrectly timed pitstop. This dropped him to fourth, behind Geoff Beale in a Talbot Sunbeam Lotus.
Miles Masarati won another Porsche duel with James Neal and Neil Harvey to finish fifth, with the second Sunbeam of Martyn and Matthew Ellis sneaking in between in sixth. The Ellis machine did not get a good start from fourth on the grid but made its way back up the order.
Classic K came down to a battle between the Marcos of Allen Tice and Chris Conoley and Mel Taylor's Lotus Elan. Taylor led for a lot of the race but was happy with second as he had spun "about 10 times". Wheeler and Bushell were third in Wheeler's Lotus Cortina, and Nigel Adams and Lyndon Griffin were fourth in their Elan, after starting 23rd and making their way to sixth in the opening two laps.
Swinging Sixties was not quite its usual sprightly self, with the race interrupted by a lengthy safety-car period due to a wheel coming off erstwhile leader Jamie Keevill's Lotus Elan. Mark Campbell drove a measured and tactical race to win in his smart Triumph TR5.
Photos by Jakob Ebrey Photographic, Steve Jones, Doug Woodrow and Richard Styles. Want the full picture on this week's national racing, including more reports and analysis? Subscribe today and never miss your weekly fix of motorsport with Autosport