TOCA supports were back in action over the weekend at Brands Hatch, with the Mini Miglias proving to be the stars of the show during a weekend of enthralling national racing
There has been plenty of despondency in recent months amid the coronavirus pandemic, but the sight of 46 Minis battling frenetically around the Brands Hatch Grand Prix circuit in glorious sunshine couldn't help but bring a smile.
The Mini 7 Racing Club was making a guest appearance on the British Touring Car Championship support bill in Kent, running three combined races for its Miglia and Se7ens grids.
There was no shortage of quality among the Miglia entry with champions Aaron Smith, Rupert Deeth and Kane Astin, along with regular frontrunners Nick Padmore and Lee Deegan. But the joker in the pack was British Touring Car refugee Andrew Jordan on his Miglia debut.
The opener looked to be going the way of Deeth, despite Smith being ever-present in his mirrors, as Padmore, Jordan and Deegan squabbled behind. That was until the last lap when Deeth carried too much speed into Surtees and Smith was through.
"It was such hard going – the whole 20 minutes were so full on," said Smith. "I couldn't believe it – I thought, 'this is the opportunity I've been waiting for in the 19 minutes before!'"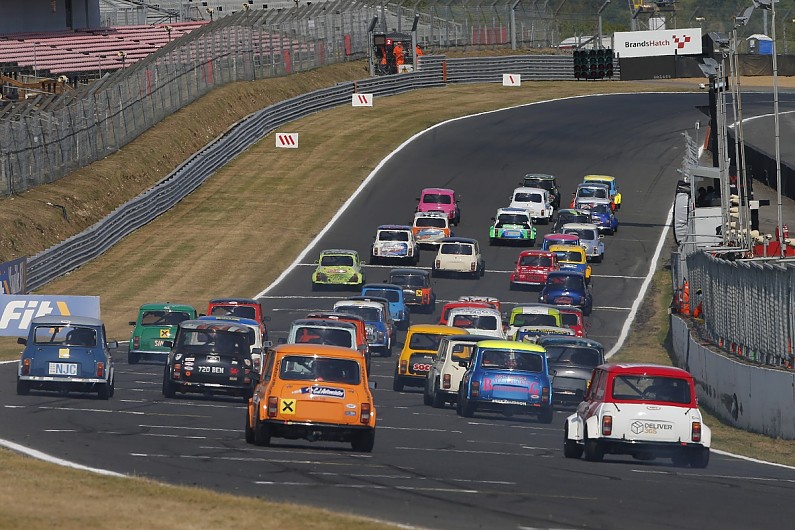 Smith added another win in race two, but it was a very different contest. Off the line, Jordan almost squeezed Padmore into the barriers, while Smith then grabbed the lead at Druids.
"I had a really good start and Andrew just kept coming over – that knocked me back," said Padmore, while Jordan admitted he did not realise how close his rival was. Jordan later reclaimed the lead before Deeth seemed set to make amends for his earlier error.
That was until Smith dived up the inside at Druids with three laps to go and Deeth was spun around as Jordan and Sam Summerhayes concertinaed up behind. Jordan held on to second, while Padmore recovered to third.
INSIGHT: The 50-year-old series set to shine on the BTCC bill
Jordan went one better to win the brilliant finale, passing early leader Endaf Owens around the outside of Hawthorns, then fending off a hard-charging Smith.
The concurrent Se7ens battles were just as intense. Max Hunter defended from Jeff Smith in the opener before eventually succumbing, but race two was the closest. Andrew Deviny was leading on the last lap, although Hunter had a better run out of Clearways, as a tenth of a second separated them. "I almost left the door open but just had a bit more speed!" enthused Deviny.
There were four cars locked together in the finale too, with Ross Billison just prevailing after another epic tussle.
There's no disputing which of the regular BTCC support series has the closest title fight after the opening rounds, as one point is all that separates Ginetta Junior racers Bailey Voisin and Tom Lebbon (above) after six races.
The pick of the Brands Hatch encounters, just like at Donington Park the week before, was the finale, and it featured a thrilling battle between Voisin and Lebbon.
Voisin led initially, while Ginetta scholar Lebbon briefly dropped behind Zak Taylor before an early safety car – a recurring weekend feature – neutralised the race.
Lebbon was right with Voisin on the restart and the Elite Motorsport driver soon pounced, diving down the inside of Voisin at Hawthorns.
But Voisin stayed with the leader, and on the penultimate lap he was darting one way and then the other in his attempts to get by. Voisin's chance of victory then appeared to be dashed as he ran wide at Sheene, but Lebbon did exactly the same thing at the very next corner, Stirlings.
Lebbon was able to just stay ahead and held on during the drag to the line to beat Voisin by 0.148 seconds, while Voisin's R Racing team-mate Josh Rattican completed the podium.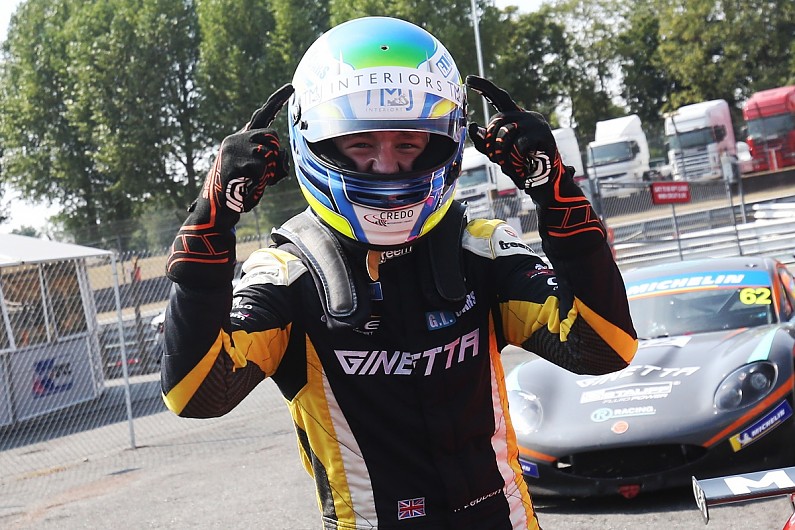 "I thought, after all the hard work and managing to keep a gap to Bailey, I had lost it at the end!" said Lebbon. "Luckily, I had gone off there before so I had experience of how [best] to get back on the track. It was a very good race."
The other two contests were not quite so enthralling. Voisin led the opener throughout and again had Lebbon on his tail. He did get very close at Druids but could not quite make the move, while Rattican was again third.
Rattican went one better in race two as he dived ahead of Lebbon on the inside at Paddock Hill Bend, but the race was red-flagged shortly afterwards with Will Jenkins in the Paddock gravel. It looked like Rattican might have missed out on the place on countback, but he had been fractionally ahead across the startline, so took second behind Voisin.
While that trio secured all the silverware, the stars of the Donington finale – Georgi Dimitrov and Joel Pearson – had a tough event where they never really had frontrunning pace. Dimitrov took fifth in the opener but got shuffled back in the other races, while Pearson's weekend ended in the barriers out of Druids after contact from Taylor.
Zak O'Sullivan (below) may have been leading the British Formula 4 standings when the field assembled at Brands Hatch, but his win from the opening round at Donington Park had been in the reversed-grid race. The rest was down to consistency, leaving the 15-year-old Carlin charge with a point to prove on the Grand Prix Circuit.
This he did, O'Sullivan mesmerising team boss Trevor Carlin with the smoothness of his onboard footage as he stroked to two pole positions in qualifying, converting both of them into race wins.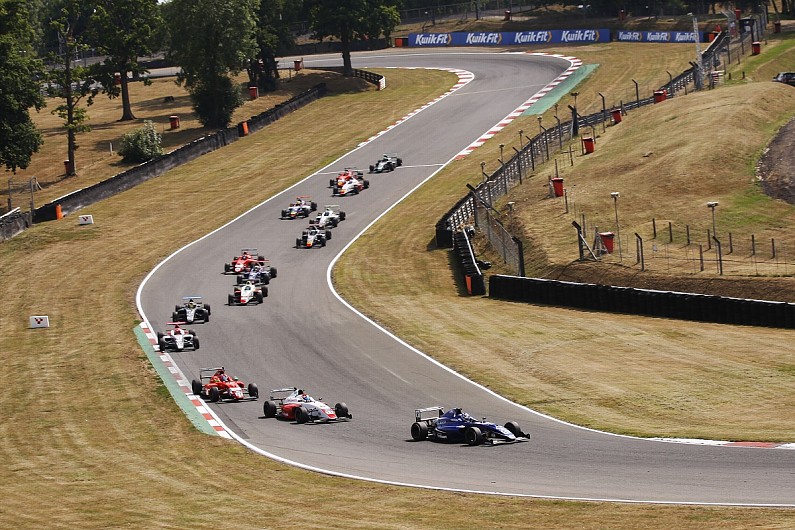 As well as O'Sullivan's driving, another key to his success was the frustrating qualifying form of Luke Browning. There's little doubt the Fortec Motorsport terrier is the best racer in British F4, but qualifying left him with work to do from third on the grid in race one and fifth in race three.
Browning went inside Alex Connor at Paddock just after the start of the opener to take second. He then began to chew into the advantage of O'Sullivan, who was losing grip at the rear, late in the race.
Browning began the finale by immediately dispatching Roberto Faria and Nico Pino, and a wobble for Connor at Clearways allowed the Fortec youngster into second on the drag to Paddock. He put pressure on O'Sullivan throughout, but the single-seater rookie drove a beautiful, unflustered race.
In between, Christian Mansell made it a Carlin clean sweep by leading Faria and Abbi Pulling throughout the reversed-grid race, as transmission failure sidelined O'Sullivan.
If Harry King's Porsche Carrera Cup GB debut at Donington Park was impressive, the Team Parker racer took his performance to another level at Brands Hatch, claiming two wins in an imperious display.
He has now beaten his Junior predecessor Dan Harper's start to his dominant 2019 and has matched the three wins and a second that Dan Cammish achieved at the beginning of his unstoppable campaigns.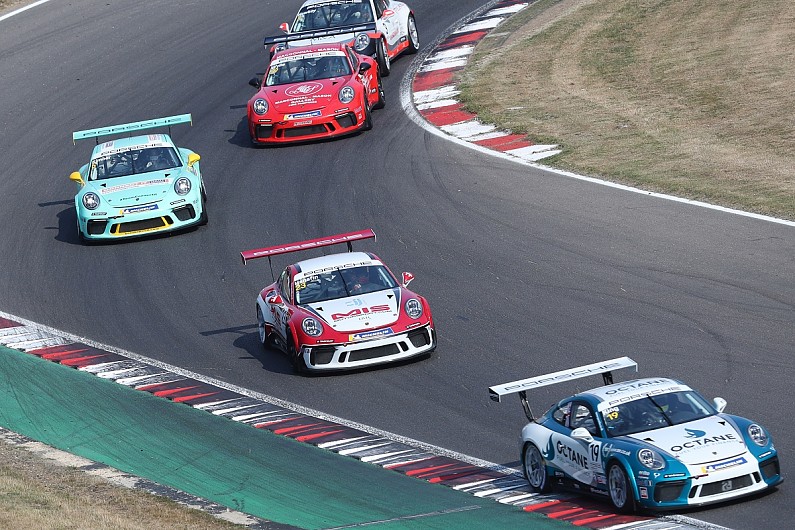 King laid down another marker in qualifying, lapping 0.358 seconds faster than the rest. And he went even quicker in two sectors on the next lap before pitting.
He did not quite have things all his own way, however, losing out to team-mate Josh Webster at race one's start. But, rather than settle for second, he pressurised Webster after a second safety car period. And, sure enough, he superbly grabbed the lead on the inside at Paddock two laps later.
King was also on a mission in the reversed-grid second race, as both he and Webster dispatched Lorcan Hanafin on the opening tour. Webster again had no answer to King's pace and succumbed at Paddock before King muscled ahead of polesitter Matthew Graham at Clark Curve just as a second safety car period was about to begin.
Will Burns, Gus Burton and Tom Hibbert completed a podium lockout in all three Ginetta GT4 Supercup races at Donington Park, and they very nearly did the same at Brands Hatch too, again highlighting their current superiority.
It was Hibbert, the only one of the three not to take a victory at Donington, who won the opening two races in Kent. The first race was decided on the opening lap when Burns attempted to pass polesitter Hibbert around the outside at Druids but was instead squeezed wide, allowing Burton to pounce. Burns was unable to retaliate, and the trio finished in the same order in an uneventful race two.
The only podium interloper was 2018 Ginetta Junior champion Adam Smalley, who started on pole for the reversed-grid finale. After an early safety car period, the top four were glued together. Druids again proved to be the decisive corner as Burns ran slightly wide, allowing Burton to barge through, followed by Hibbert, and Smalley to streak clear for his maiden win.
Just five points now separate the leading trio, suggesting the potential for a titanic battle for this year's crown.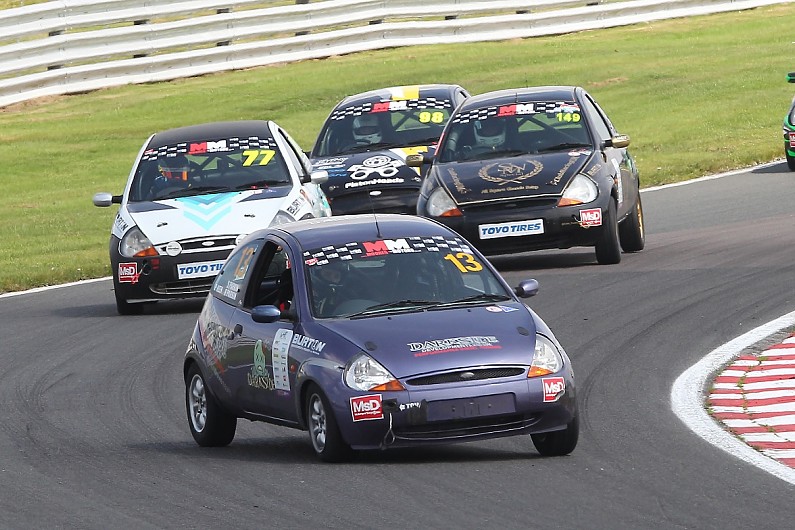 Oulton Park MSVR: Darkside Developments shine in EnduroKa, despite not leading a lap
Another bumper (to bumper) grid of 35 cars arrived at Oulton Park for the second race in the MotorSport Vision Trackdays EnduroKa series. After last month's 12 Heures de Norfolk, five hours round the Oulton Park International Circuit were on the agenda.
The lead changed hands between 14 drivers in 11 different Kas on track and then once in the scrutineering bay after the race when it was found that the IP Racing Ka, which had taken the chequered flag first, was 6kg underweight so, unsurprisingly, it was excluded.
The winners thus became the Parkins – Scott, Ryan and Stefan – joined by Pete Keen in the Darkside Developments Ka (above), which had not led a single lap, but a strong final stint by Keen brought it through to what would otherwise have been a worthy second place.
Runners up were Andy Burton, Kyle Sagar and Tom Valentine for Burton Power Racing, which had enjoyed a couple of laps in front mid-race, while the double act of Matthew Hibberd and Stefan Marsh in the smart JPS tribute-liveried Club Racing UK entry was rewarded with the final podium place, Hibberd reeling in Valentine over the last half-hour.
A notable performance was delivered by 17-year-old Ginetta Junior and Mazda MX-5 racer Ben O'Hare for LDR Performance Tuning, who set a series of fastest laps while leading early on.
Earlier in the day, Scott Parkin had also won the MSVT Trackday Championship race with his Volkswagen Golf TDI, while the MSVT Trackday Trophy went to the Honda Civic of Will Heslop and Paul McHugh.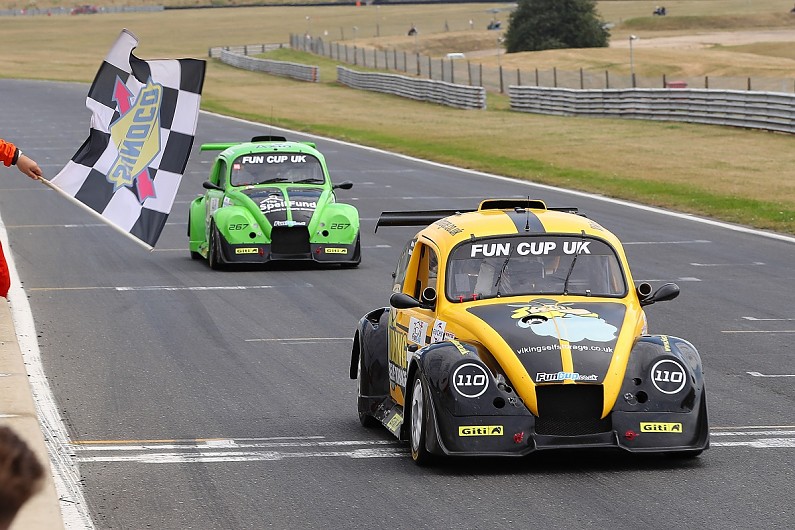 Snetterton BRSCC: Viking crew wins hard-fought Fun Cup battle
Team Viking (above) and UVio/Hofmann's Lotus shared the victory spoils in the Fun Cup at Snetterton.
The first one-hour race had a terrific early scrap, before Riley Phillips took charge for Axiametrics. Phillips handed over to Chris Dovell, who retained the lead, while Mark Holme moved into second for Team Viking.
When Dovell pitted, Holme stayed out for another four laps before handing over to Nick Nunn, who emerged in front of Axiametrics' Kristian Rose. It was a desperate fight to the finish, with Nunn just holding on, while the Team 7 WASPP car of Jay Shepherd and Ed Worthington snatched third a lap from home.
Rory Brown's Team 7 WASPP car emerged ahead from the initial skirmish in the four-hour race but, after the first stops, it was UVio/Hofmann's pair of Scott Fitzgerald and Fabio Randaccio in command. An impressive drive from Morgan Tillbrook and Chris Weatherill came to nought, when a late gear selection problem ended their hopes. Shepherd/Worthington therefore went one better than the earlier race with second.
A huge Classic and Modern Motorsport Club grid couldn't stop Gavin Dunn's BMW E36 (below) from taking a double win. Race one was restarted with various cars parked up, the Ford Escorts of Piers Grange and Paul Nevill following Dunn home after a close duel for second.
Marcus Bicknell powered his ASCAR Ford Mustang ahead of the Escorts of Malcolm Harding and Grange on the Bentley Straight to claim the runner-up spot early in the second race.
Pictures by Jakob Ebrey/LAT, Mick Walker and Richard Styles