Jack Miller admits he was "panicking" when Miguel Oliveira passed him at the last corner of the MotoGP Styrian Grand Prix as he thought more riders were coming through.
The Pramac rider led the early laps of the first part of the Styrian Grand Prix race before the red flag, and headed the pack for the first six laps of the restart.
Having been passed by KTM's Pol Espargaro on lap seven, Miller retook the lead on the final tour and engaged in a thrilling tussle for the win through the final two corners.
Coming up the inside of Espargaro at the last turn, both ran wide and allowed Tech3's Miguel Oliveira to come through to claim his maiden MotoGP win.
"We just tried to reset, refocus [for the] sprint race," Miller said.
"Kind of reminded me of the old days in Australian championship.
"12 laps went real quick, great little fight there at the end.
"I wasn't expecting Oliveira to come through, I thought it was between Pol and I, and if it was I'd got him.
"I did what I needed to do, and then I just came out and I looked at Pol and then I heard [makes engine noise] up the inside.
"It was Oliveira. I said, 'where did he come from?'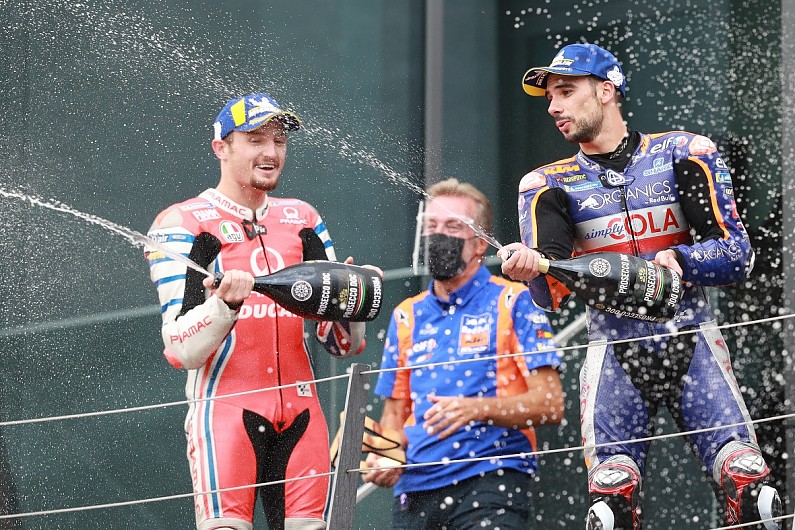 "I was honestly panicking then because I thought there was going to be a line of them [coming through]."
Miller hurt his right shoulder in a crash during FP3 and admits he was in "excruciating pain" on Saturday before undergoing an MRI at seven o'clock on Sunday morning.
Finishing second in the Styrian GP now moves him into third in the standings and only 14 points adrift of championship leader Fabio Quartararo, though refuses to categorically call himself a title contender.
"Last time I did that I crashed out, so no," he said when asked by Autosport if he sees himself as title contender now.
"I'm just going to keep taking it as it is. Even considering we struggled in Brno, we've been slowly clawing the points back and for sure Austria's been good to us.
"But Misano, we struggled there last year. So I don't want to get ahead of myself, but with the new asphalt I hope we can keep this ball rolling into there.
"Then I've got some great tracks coming up that I really enjoy: Aragon, Valencia, we'll see Portimao, looks like a motocross track."