Jack Miller is now taking his title tilt "race by race" again after a "nothing" crash in the MotoGP Andalusian Grand Prix a day after declaring himself a championship combatant.
The Pramac Ducati rider said on Saturday at the second Jerez round that reigning world champion Marc Marquez's absence through injury made him change his outlook on his title hopes and declared "as it stands, we're in this thing", having finished fourth in the previous week's Spanish GP.
On course for a repeat performance in Sunday's Andalusian GP after passing the struggling factory Yamaha of Maverick Vinales at the start of lap 11, Miller crashed just moments later at Turn 9.
Explaining the incident, the Australian said: "I had a few a moments, I seemed to struggle to get past the Yamaha.
"I had to have a few attempts to try and get past Vinales when his pace was dropping.
"I finally got past him, I was trying to avoid the slipstream and not get the front tyre too hot.
"But I had to take a few big lunges on the brakes and started getting the front a little bit hot.
"I tried to go calm through Turn 9 and pretty much as soon as I released the brakes I lost the front.
"It was kind of a nothing crash, but quite costly."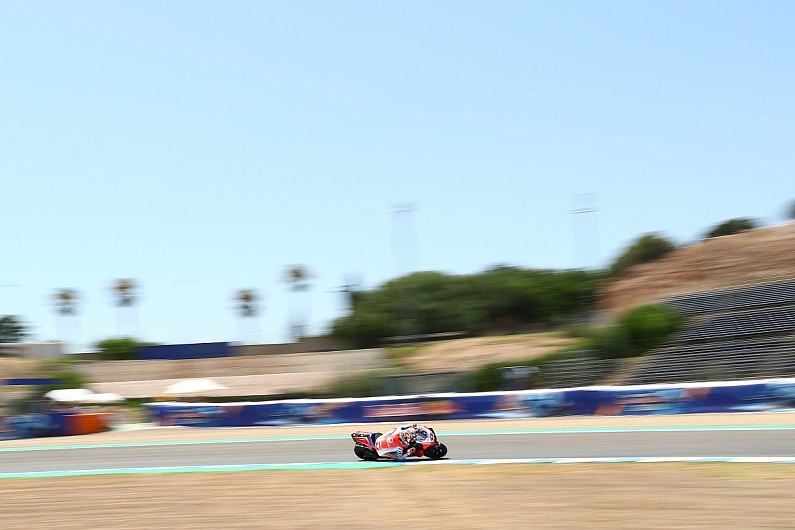 After Petronas SRT's Fabio Quartararo hammered home his second-successive victory in Sunday's second Jerez race, Miller now trails him by 37 points in seventh in the standings.
As a result, he has now backtracked somewhat on his comments about being a title contender.
"I think we'll just go back to taking race by race," when asked about how he viewed himself in the title fight after the Andalusian GP.
"As you saw, a lot of people made mistakes [in the race], I was fortunate with that.
"But Fabio also got another 25 points today.
"I just did the maths and I think we're about 13 points off third in the championship, so a solid result at Brno will bring that back down.
"But, we've just got to go home now and have a decent week and come back stronger at Brno.
"As I said last week, and I've said all along, this [Jerez] isn't particularly a great track for me or the Ducati, but it's done now, we can move on now thank God and got to pastures."