Mercedes chief race engineer Andrew Shovlin admits that there's an "element of urgency" in the team's need to address its tyre blistering problems ahead of Formula 1's Spanish Grand Prix.
Both Lewis Hamilton and polesitter Valtteri Bottas were hampered by tyre wear in the 70th Anniversary GP, won by Max Verstappen, with Shovlin explaining that the high-downforce Mercedes W11 was at the "very, very worst end" of the blistering spectrum relative to the Red Bull.
The reigning world championship-winning outfit now has days to resolve its issues ahead of this weekend's Spanish GP, where hot conditions are again expected, or it would risk looking "silly", Shovlin added.
"What was news to us this afternoon was we're kind of at the very, very worst end of that [blistering] problem," he said.
"Red Bull appears to be at the very best end of that spectrum and that's the thing that we need to understand.
PLUS: Why inflation left Mercedes poorer at Silverstone
"There's been other races where everyone's been in the same boat, but why are we an outlier? Right now, we haven't got the answer.
"There's an element of urgency here because we're in Barcelona, we're flying out there on Tuesday, running on Friday, it's forecast to be 30C, the track will be a bit like this. It's a high energy circuit.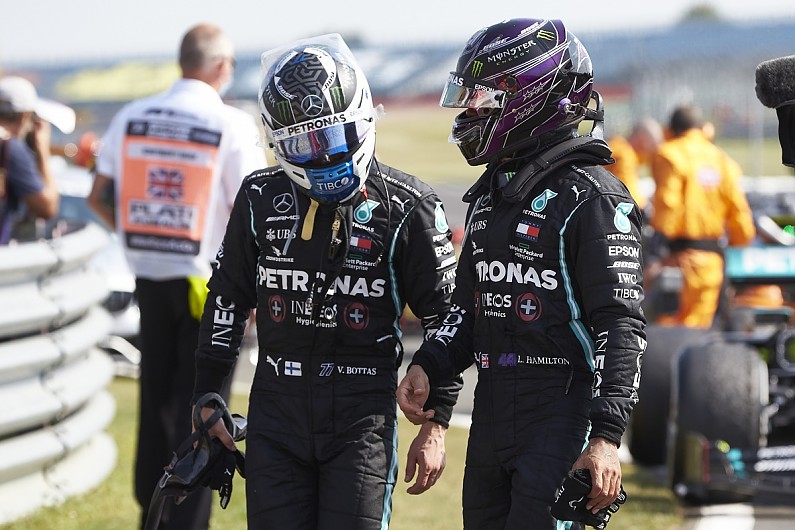 "We're kind of well aware that if we didn't get on top of it, we've got another Sunday of looking silly."
Shovlin conceded that the return to Pirelli's hardest C1 tyre in Spain could "probably hide from" the effects of the blistering, with Formula 1 using the C2 compound – which had been the medium at the previous week's British Grand Prix – as the hard in the 70th Anniversary GP.
"If we don't solve it, you can probably hide from it a little bit on that C1 tyre," he said.
"But we've still got to run the tyre that today was causing us grief, and that wasn't solving the problem for us.
"We've seen Red Bull, they're not that far off us in races, even when we're looking at our best.
"To be honest, if we don't make progress, we'll be in trouble [in Spain] as well, so that's kind of where this urgency to get a bit of a grip on it comes from."
Shovlin added that finding a fix would not be "straightforward" given that the blistering "wasn't something that last year's car suffered from".
"This year's car is, by and large, an evolution of last year's car," he said.
PLUS: How Verstappen exploited Mercedes' Silverstone strength-turned-weakness
"There's not any areas where we've really changed philosophy, we've just been pushing down the same paths for development.
"Right now, we don't understand what the problem is.
"We didn't really long run here, so it may have been something that was lurking in there all weekend.
"And it may have been something that we actually just sort of dodged last weekend with the early safety car, and being on the very hardest tyre for most of the race."