Reigning MotoGP world champion Marc Marquez has undergone a successful operation on the right arm he broke in a violent Spanish Grand Prix crash on Sunday.
The Honda rider was recovering from an earlier off at Jerez when he was flung from his machine at the Turn 3 left-hander on lap 22, with Marquez landing hard in the gravel and the bike clattering into him.
He was fitted with a neck brace and taken to the circuit's medical centre, where the Spaniard was diagnosed with a fracture to his right humerus bone.
He flew to Barcelona to have surgery on Tuesday, which Autosport can reveal was a success.
In the operation, carried out by Dr. Xavier Mir's team, the doctors were able to confirm that the radial nerve did not suffer any damage as a result of the impact with the motorcycle that broke his arm.
Doctors at Dexeus Hospital, where the operation was performed, fixed the complete fracture with a titanium plate and several screws.
Although it is still too early to know exactly the recovery time Marquez will require, Dr. Mir made it clear on Monday that if the nerve was not affected as it has been, the first objective of the Honda racer was to return to action at the Czech Grand Prix at the start of August.
PLUS: Why Marquez isn't out of the MotoGP title fight yet
Marquez will miss this week's Andalusian Grand Prix at Jerez, with Autosport revealing on Monday that Honda will not replace the stricken world champion.
That leaves his rookie brother Alex Marquez as the sole Repsol Honda representative on the grid.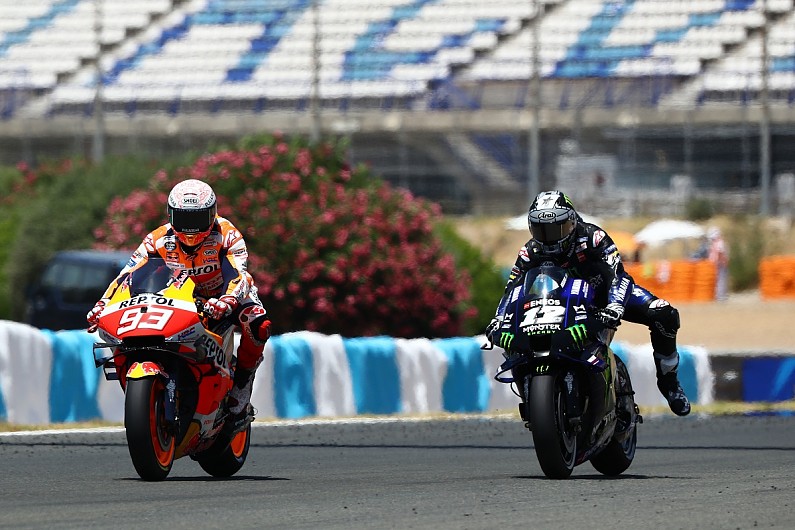 Honda boss Alberto Puig said of the surgery: "Marc will take some time to recover but we are happy with how everything has gone.
"Doctor Mir and his team have taken care of the entire situation since the fall and performed a successful operation.
"This gives the Repsol Honda Team a lot of motivation, knowing it went well, but now we have to be patient to see how Marc recovers and to understand when he can return."
Puig has also confirmed that LCR Honda rider Cal Crutchlow underwent an operation on a wrist fracture on Tuesday, and intends to try and ride on Friday.
"Cal Crutchlow also had an operation that went well and in principle, his intention is to test the wrist on Friday," Puig added.
"We are optimistic about his participation in the Grand Prix."
Crutchlow crashed during Sunday's warm-up session at Jerez and had to miss the race owing to a minor concussion, though it was later revealed that he had also damaged his wrist.
He flew to Barcelona on Monday to have his operation at the same Dexeus Hospital where Marquez was treated.