Haas Formula 1 driver Kevin Magnussen has explained his decision not to take a knee ahead of the British Grand Prix, saying he wants to "separate" himself from political messaging.
Following the example set by other sports around the world, F1 organised a pre-race kneel ahead of the season-opening Austrian Grand Prix as part of its anti-racism statement.
Fourteen drivers took a knee ahead of the national anthem while six opted to stand, with the same split occurring at the second and third races of the season.
F1 set time aside in the schedule for anti-racism messaging ahead of the British Grand Prix last weekend, allowing drivers to take a knee or make a gesture they felt comfortable with.
PLUS: The provocative questions posed by Hamilton's anti-racism push
Magnussen has previously knelt at each of the opening three races, but opted to stand with the other six drivers ahead of the Silverstone race.
The Dane has previously expressed concerns about the connotations with kneeling and its links to the Black Lives Matter organisation, saying the gesture would be open to interpretation.
Magnussen explained on Thursday that he want to separate himself from supporting a political organisation, but stressed his support for the anti-racism messaging.
"l I think in terms of standing or kneeling, I want to make sure that I'm with the messaging of ending racism," Magnussen said.
"I support that movement, and not any sort of political organisation that I think the Black Lives Matter movement is.
"I kind of just want to separate myself from that, and then push on with ending racism and that messaging, which I think is great that Formula 1 is doing and that all of the drivers are supporting.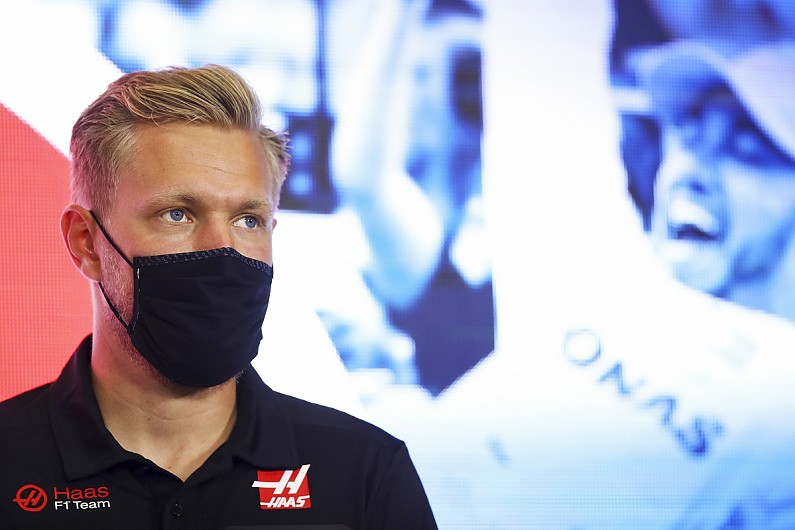 "I'm just trying to do that, and that's what I said before the second Austrian Grand Prix, let's do what we continue to do."
Reigning world champion Lewis Hamilton has been the leading figure in F1's anti-racism messaging, and has expressed his hope that all drivers will kneel together in the future.
But FIA president Jean Todt said last week it would be "completely inappropriate" to force drivers into gestures they did not feel comfortable with.
A number of F1 drivers have raised concerns about continuing to take a knee beyond the opening race of the season, prompting the matter to be raised by Grand Prix Drivers' Association director Romain Grosjean in Hungary last month.
The FIA guidance ahead of the race at Silverstone last Sunday suggested actions to drivers as part of the anti-racism messaging that included "taking the knee, standing on carpet with arms crossed in front or behind them, standing on carpet and bow head, standing on carpet and pointing to the words 'End Racism' on their t-shirts, standing on carpet and place their hand on the heart", or "anything else a driver may feel comfortable to do".