Ferrari Formula 1 driver Charles Leclerc says the team has to find answers for a "weird" situation at Silverstone as the SF1000 struggled more than rivals on the medium tyres.
Most drivers found that the medium and soft produced similar lap times during Friday practice for the 70th Anniversary Grand Prix, and the significance of that is that they will now try to stay away from the soft in Q2, with a view to qualifying and starting on the medium.
However Ferrari found that its car underperformed on the medium, meaning the team could be in trouble in Q2 if it cannot address the issue.
The team's drivers could therefore have to try to qualify on the soft, which is the less favourable tyre for the start.
Adding to the confusion at Ferrari is the fact the car usually struggles to get more out of the softer compound on a given weekend.
"It was a bit more difficult than last Friday, to be honest," said Leclerc, who was only seventh in FP2.
"We we are still working quite hard to try and understand a bit more these tyres.
"We had quite a big step of grip in between the medium and the soft, which is not the case for the others, so we need to understand why we're a bit too slow on the medium.
"That's what's a bit weird today for us, because normally we struggle to use the softer tyres with our car, but today was a bit different, and we struggled to use the medium tyre more than the others, and we had quite a big step from medium to the soft."
Leclerc downplayed the significance of the higher pressures mandated by Pirelli after last weekend's failures.
"Well, it hasn't changed much, obviously the tyre pressure has changed for everyone, now we need to understand," he said.
"The car balance feels actually pretty good, it's just the overall performance that is not as good as I would have hoped on the medium, which to be honest I don't have any answers to it for now.
"I think the lack of performance on the medium I think is where we need to work the most because it's going to be important.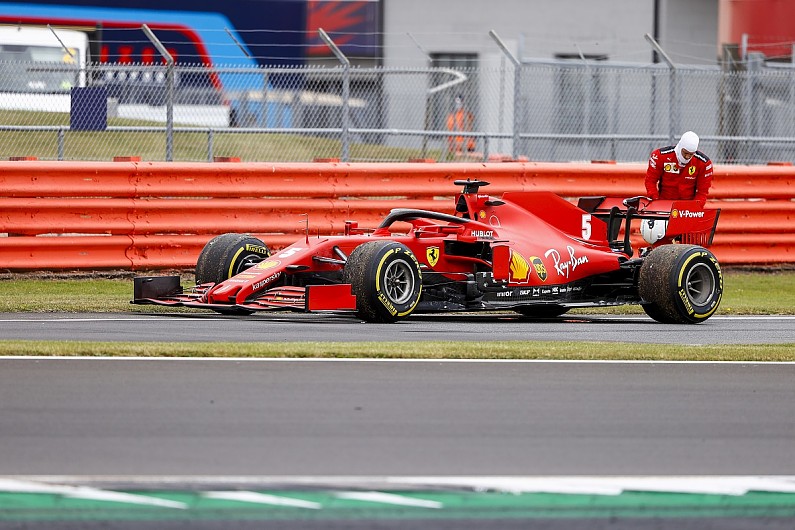 "I think many guys will try to go through on Q2 with a medium tyre, and we need to be competitive on these tyres to have a chance, so we need to put our effort onto that.
"I think it will be very interesting to see tomorrow after qualifying, which will be the compound for everyone to start on, but it will be an interesting race with many different strategies. And let's see if it pays off, if we are taking a gamble."
Leclerc's team-mate Sebastian Vettel once again struggled for pace, and his day ended earlier with a spectacular engine failure (above).
"We tried a couple of things," said the German.
"I think overall we were a little bit happier, but obviously not really any more competitive, so we have to have a look.
"I think we can still try and improve the car from where it is now, but probably small things, and then hopefully it will be a bit more competitive."
Regarding the power unit issue, he added: "No warning, it was very sudden, and obviously a failure.
"So now we have to see what it is, but it will probably take a couple of days because the engine will get shipped back and then analysed."