Two-time Formula 1 world champion Fernando Alonso said "we could not achieve anything more" than a lapped 21st place in the Indianapolis 500 after losing his clutch in the pits.
The Arrow McLaren SP driver started a lowly 26th after a crash in practice and went off-strategy early in the race following a caution for James Davison's exploded right-front brake, but soon went back on schedule with the rest of the field under the second caution for Marcus Ericsson's Turn 1 crash.
Alonso struggled with oversteer in the opening phase of the race and was trailing at the end of the lead lap, just ahead of leader Scott Dixon, prior to another caution for Dalton Kellett's Turn 3 crash.
But clutch problems in his pitstops meant he was unable to take advantage of his reprieve and was trapped one lap down for the remainder of the race, which was won by ex-F1 driver Takuma Sato.
The Spaniard's hopes of completing the triple crown, following his victories in the Monaco Grand Prix and Le Mans 24 Hours, will now have to wait until 2023 at the earliest, as his contractual ties with the Renault F1 team will preclude his participation in the next two editions of the 500.
Alonso explained: "We were struggling from the very beginning with the balance of the car with a lot of oversteer.
"We kept changing that balance in the pitstops, reducing the front flap, doing tyre adjustments, and then we started to be happy with the car.
"We were up to P15 around lap 110, which is where we wanted to be…
"Then we had a clutch problem on the car that we didn't know how to solve.
"We finished the race without the clutch, so from that point on, every pitstop we had to push the car, engage the gear and go.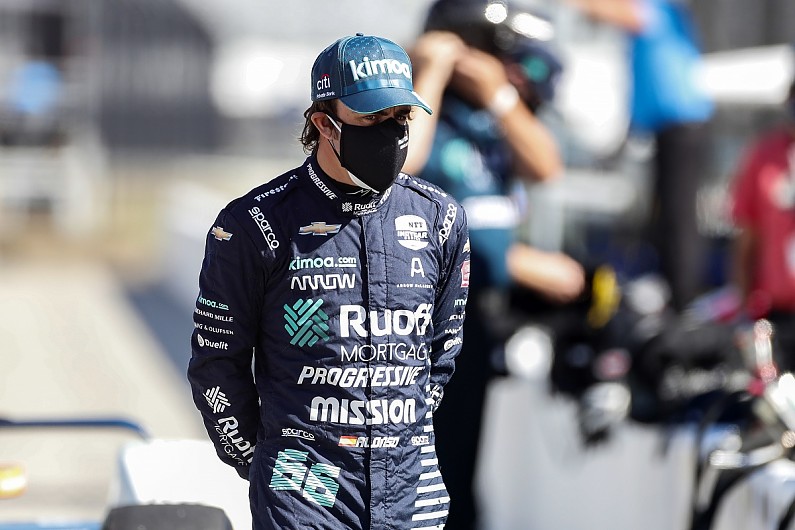 "That cost us a lap and unfortunately, we kept that lap down until the end and we could not achieve anything more.
"I'm happy to finish the race, cross the line and have one 500 miles in the pocket, that's the positive thing. The negative is that we were out of contention very quickly with the clutch problem.
"We tried to race, but luck was not with us today, but I'm proud of the effort from everyone in the team."
Alonso's team-mate Patricio O'Ward, who also failed to qualify last year, finished sixth to earn Rookie of the Year honours and move up to third in the IndyCar points standings.
The third McLaren entry of Oliver Askew led three laps by running off-strategy early on, but suffered a heavy crash on a lap 92 restart when unsighted in smoke caused by a spin for Conor Daly.
As Askew braked, his car speared left and struck the inside wall's SAFER barrier hard, leaving him winded but unhurt.