KTM boss Pit Beirer says the Austrian marque's debut MotoGP win courtesy of Brad Binder at the Czech Grand Prix "didn't come by accident".
Binder dominated the Brno race on Sunday by 5.2 seconds to take a sensational debut victory for himself and KTM in MotoGP.
The Austrian manufacturer came into the premier class in 2017, scoring a podium in a wet Valencia race in 2018, and started the 2020 campaign aiming for dry rostrum results on its improved RC16.
PLUS: Why a MotoGP rookie's Czech GP win wasn't a total shock
Last year KTM signed ex-Honda rider Dani Pedrosa as official test rider, and Beirer says everything it has learned through its test programme brought it to this point.
"The goal we set ourselves was to get on the podium in a dry race," KTM's motorsport boss said.
"If we did it on a bumpy track with little grip like this one, there is no reason that leads me to think that our bike cannot work on other circuits as well.
"We knew that this year our bike had improved a lot, so this victory didn't come by accident, but as a result of everything we have been learning in recent years.
"We have been working with Dani Pedrosa, Mika Kallio and the entire test structure in the development of the RC16 for more than a year."
KTM becomes the fifth of MotoGP's current six manufacturers to have won a grand prix in the dry, with only Aprilia yet to stand on the podium in the premier class.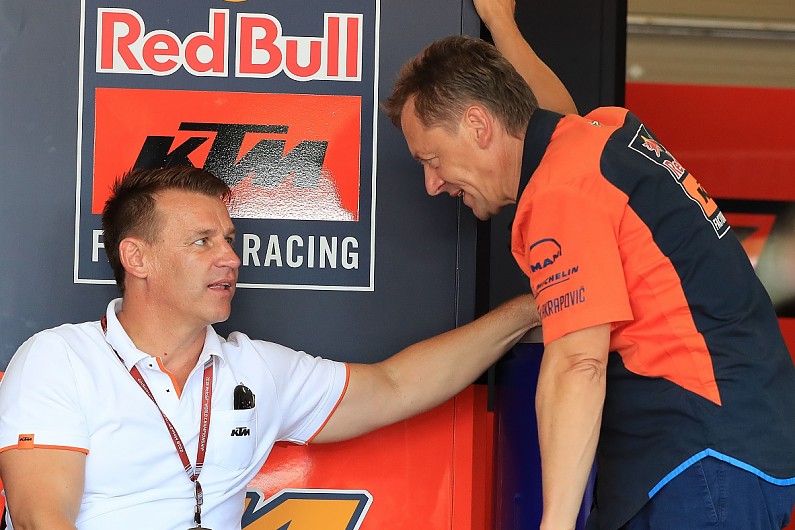 Binder's win was also the first for WP as a suspension supplier – which KTM has persevered with against a grid running Ohlins.
KTM CEO Stefan Pierer also praised the "work ethic" of KTM's engineering team for this win, and says Binder's victory – having won with KTM in Moto3 and Moto2 – has "achieved" its "vision" of creating a clear path to MotoGP with the marque.
"To win a race in our fourth year in MotoGP is testament to the work ethic and knowhow of our KTM Motorsports department and R&D engineers," Pierer said.
"I would like to offer our special thanks to Pit Beirer and Mike Leitner for their lead in the project, and tireless work in making this program a success.
"Our vision is to create a clear pathway with our riders to the top, and this has been achieved with Brad following his success with KTM in the Red Bull MotoGP Rookies Cup, Moto3 and Moto2.
"We now look forward to our home races at the Red Bull Ring where we can celebrate this huge milestone in KTM's story."