The spate of COVID-related withdrawals from the British GT Championship leaves a clear favourite on paper ahead of this weekend's opening round. But as JAMES NEWBOLD explains, it's not as simple as that
Joe Osborne describes Phil Keen as "weird". In the most endearing way possible, of course.
The McLaren factory driver spent last year commentating on Keen's latest British GT championship near-miss with GT3 rookie Adam Balon. He has also been a fierce competitor of Keen's over the years – witness their battle at Snetterton in 2016 – and a team-mate too, having finished third in the Pro-Am class at the 2016 Spa 24 Hours with Keen, Oliver Gavin and Jon Minshaw.
Osborne is therefore well-placed to judge the merits of a driver many are tipping to win this year's British GT title after so many close calls in recent years, particularly in the wake of the withdrawal of several expected contenders – including both Aston Martins of defending champions TF Sport and the Shaun Balfe/Rob Bell McLaren that outscored everybody in the second half of last season – amid the COVID-19 pandemic.
"He's wicked, there's nothing you can't like about Phil," Osborne tells Autosport. "I've always been super conscious to portray this self-assured image and Phil is the opposite.
"That's why I think he's weird in my eyes but also why he's so easy to get on with, because he doesn't have that front of something that he's not. He lets his driving do the talking."
After winning both Snetterton races, Keen (below right) and Balon (below left) led the 2019 standings virtually all year, but a few small mistakes from smoothie drink entrepreneur Balon – hitting team-mate Sam De Haan at Silverstone, crashing out at Spa and a tangle with a GT4 car at Donington – ultimately dropped them to an unrepresentative fourth in the points.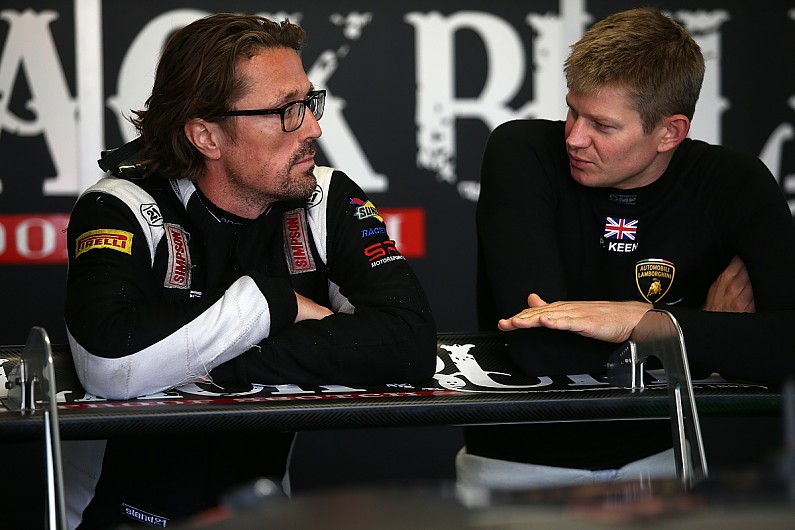 Ominously, Osborne reasons that Keen – who set fastest lap at each of the first four races of last year across Oulton Park and Snetterton – could be quicker still this year as Balon will "massively benefit" from the continuity of a second year in the familiar environment of the Barwell Motorsport Lamborghini Huracan.
"That's going to be worth a lot to him," says Osborne, who will return to British GT in a part-time entry this year run by Balfe Motorsport. "Even Phil probably will be a bit better, because in Adam's first year Phil would have been having to give him as much track time as possible over a weekend for the greater good."
With fewer cars up against them – just 12 confirmed GT3 cars feature on the entry list for Oulton, down from the 19 that were announced at the media day in March – the expected Pro-Am challenge will come from last year's Oulton R1 poleman Ian Loggie and Yelmer Buurman in the new RAM Mercedes. Fellow Lamborghini entrant Michael Igoe and Dennis Lind, fresh from dominating the GT Cup season opener at Snetterton earlier this month, will also likely pose a threat.
"There are a lot of fast Silver cars this year and I'll be surprised if we can beat them" Phil Keen
"Yelmer is rapid and Ian Loggie has made some big improvements, he drives the car very well so they'll definitely be one of our strong competitors," says Keen. "I was at Snetterton the other day and Michael was only a second off Dennis around there. Michael has made some big steps forward over the winter in testing, so he'll definitely be fast.
"There's no pairings I feel that are easy pickings as they say, it's going to be a tough year."
But Keen isn't just spouting empty platitudes. It's not just the absence of serial champion Jonny Adam that means this year will have a different feel to it, and that's down to the proliferation of Silver Cup entries into the series.
OPINION: Why a sidelined champion points to an unpredictable British GT season
From two full-season entrants last year, this year there will be five, equating to almost half the field. As Osborne points out, this means Silver crews will have more clout than ever this year.
"It's something that's going to be super different this year in British GT," he says. "There's going to be a different tactic needed to get in front of those cars at the end of the race."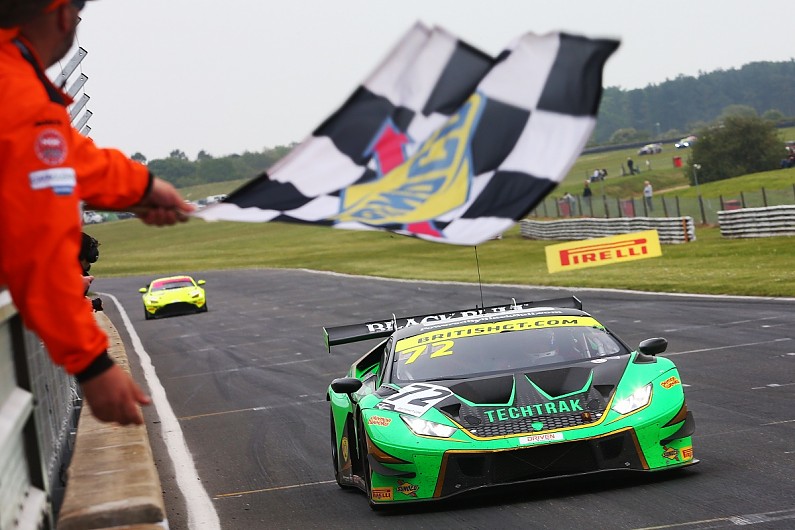 Keen describes battling Silver cars as "a pain in the arse" which, as Osborne explains, is because the extra ballast they carry means a steeper drop-off in tyre performance over a stint and can make them unpredictable to race.
"It doesn't have a natural drop-off like you would in a Pro-Am car, and it's quite hard in a Pro-Am car to know exactly what the Silver car is doing pace-wise over a stint," he says.
But if Barwell is to win its first overall drivers' title since 2014, it will also have to beat them, and Keen – ever modest – is quick to downplay his prospects.
"There are a lot of fast Silver cars this year and I'll be surprised if we can beat them," he says. "Most good Silver drivers like Patrick Kujala (sharing with De Haan) and Sandy Mitchell (sharing with British Touring Car Championship veteran Rob Collard), they're only ever going to be a couple of tenths slower than me if not at the same pace.
"In reality I think they're going to out-qualify us and a lot of the British circuits are difficult to overtake around. If you're only three or four tenths quicker than the car in front then it's very difficult. Obviously the goal is to win overall, but I think we'll just be concentrating on winning the Pro-Am championship."
Keen reckons that the reduced GT4 field – down from around 20 cars last year to nine this – will also play to the Silver crews' advantage as they will afford the Pros fewer opportunities to pass them. Five of the nine races on this year's calendar are one-hour contests, which will also offset the disadvantage the extra weight Silver cars carry on the tyres.
"I personally prefer to have more GT4 cars because it helps I think to generate overtaking opportunities," he says. "It will help [the amateurs], but you'll end up with more of a procession rather than more action."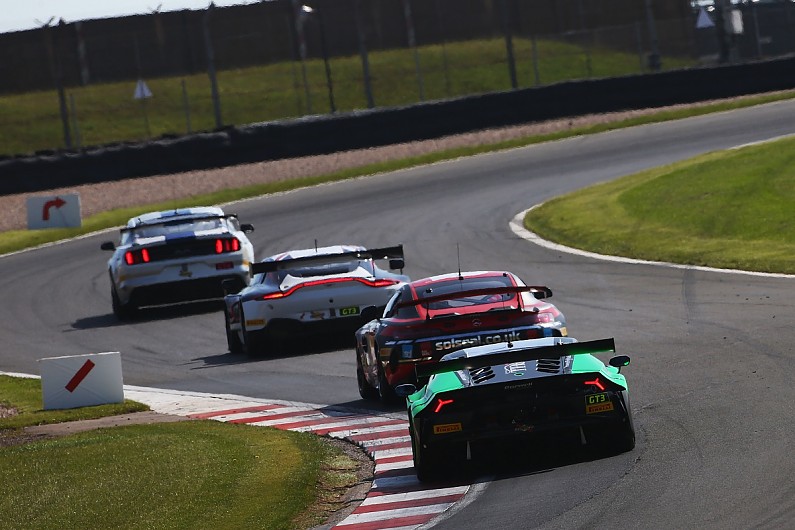 Osborne helpfully points out that the carbon tub McLaren 720S – three (at the time of writing) of which are entered for Silver crews – "does carry its weight pretty well", although the Jenson Team Rocket RJN car of Michael O'Brien and Esports convert James Baldwin and the 2 Seas Motorsport car of Angus Fender and Dean MacDonald are both set to carry 40kg, 10kg more than the other Silver entries from Optimum (McLaren), RAM and Barwell.
It's hard to picture many other drivers from the ultra-serious pro ranks of GT3 racing larking about in the EnduroKa opener at Brands Hatch on the resumption of club motorsport after lockdown
But Keen knows all he can do is focus on his own job and to that end feels "as prepared as we can be for the season", having done plenty of testing to get Balon comfortable in the car. His Barwell team also won the Silver class in the opening round of the GT World Challenge Europe Endurance Cup at Imola last weekend, with British championship rival Kujala as part of its line-up.
"Barwell has done a good job developing the car around the new [construction] tyre too," he says, "so I feel like we have the equipment underneath us to do the job."
For most drivers in the GT arena, reaching works driver status – which Keen achieved with Lamborghini in 2019 – is the holy grail. That he is not an officially-endorsed factory driver in 2020, because of his desire to race an ERC Sport Mercedes with Lee Mowle in the Pro-Am class of the GTWCE Sprint Cup, is typical of the man. And it's hard to picture many other drivers from the ultra-serious pro ranks of GT3 racing larking about in the EnduroKa opener at Brands Hatch on the resumption of club motorsport after lockdown.
Keen simply loves his racing and, while he probably wouldn't say so himself, getting that long-overdue British GT title in 2020 would mean an awful lot to a man who, at 36, calls himself an "old napper".