Lewis Hamilton was determined he "just wanted clean air" to blitz Formula 1 qualifying at the Belgian Grand Prix, despite acknowledging a "small gain" from getting a tow at Spa.
Hamilton ran at the head of the pack on both of the Q3 flying efforts, setting a new lap record each time as he stormed to his sixth pole at the track, with Valtteri Bottas second ahead of Max Verstappen.
Other teams opted to position their cars in the pack to try and gain the advantage of a tow – with Verstappen explaining, "for us it was all about trying to get a little bit of a tow to have a bit of top speed," – which led to drivers backing up heavily before starting their timed laps.
Hamilton explained that avoiding that chaos, which had an impact on tyre temperature at the start of the lap, was an important consideration ahead of his run to a 93rd career F1 pole.
"From weekend to weekend, Valtteri and I have a choice – one weekend it's his choice to go first or second and others it's mine – and this weekend it was my choice," he said, when asked about his decision to run clear of the pack by Autosport.
"I decided to go first and I just wanted to be out in the clear and not have to back up behind people in the last corner. And I just wanted clean air in front of me – I think it worked.
"There's a potentially a small gain from being in the tow, but then there's equally a potential danger of being caught behind someone, someone making a mistake and causing a yellow flag ahead of you – all sorts.
"I just made sure I was clear of that so I could pull out the best lap I could do."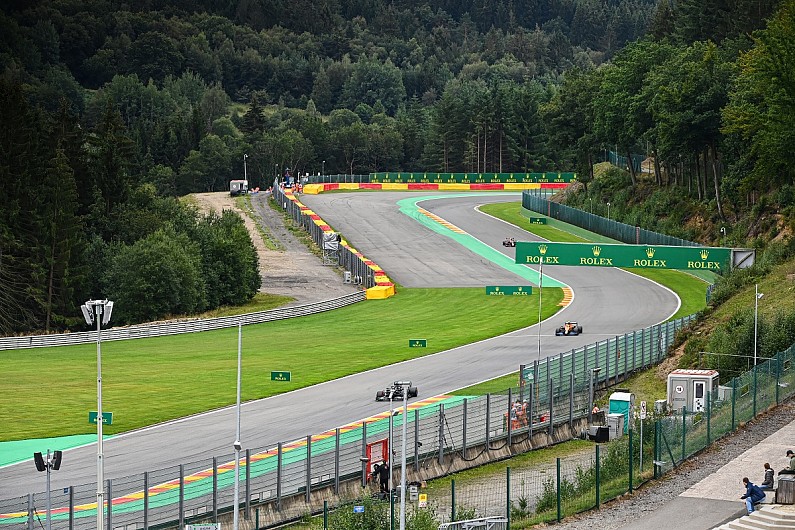 Hamilton told the TV cameras after he climbed from his W11 after qualifying that he had "studied" the option of getting a tow but decided against trying to get one.
"I wanted to be out in clean air, not having to worry about people up ahead of me giving the gap in the last corner, wondering where there's more than eight seconds," he said.
"Because you are still getting a tow from someone at seven seconds behind and I didn't want anything coming in my way so it worked out."
Hamilton also said his efforts against the clock on Saturday resulted in "one of the cleanest qualifying sessions I think I've ever had".
"Just every lap was bang on the dot and no mistakes, no real issues," he added.
"Q3 is always a hard one because you want to get the first lap, and the first lap was great.
"I thought it was pretty much a perfect lap and the I managed to go out and find a little bit more in a couple of other areas.
"It was nice to have that gap – six tenths I think [over Bottas, who lost time at the exit of La Source] – in the first laps [as] then I could really explore in that next run to try and take even more of a risk.
"[A] phenomenal feeling driving round this track because it's incredible how fast it's become."