Lewis Hamilton hopes Formula 1 drivers can become "more united" in taking a knee before races, saying it has not been an issue for athletes in other sports.
F1 staged a more formal pre-race display condemning racism ahead of Sunday's British Grand Prix after criticism from drivers over arrangements for the previous two races.
F1 showed a montage of all 20 drivers condemning racism before inviting them to make a gesture on the grid ahead of the national anthem.
Thirteen drivers took a knee, while seven opted to stand, with all wearing t-shirts expressing their support for the ongoing anti-racism activism around the world.
Six drivers who previously stood instead of taking a knee did so again, with Kevin Magnussen joining them standing for the first time. Many have cited concerns over the connotations of taking a knee in their own cultures as their reason for standing.
PLUS: The provocative questions posed by Hamilton's anti-racism push
Speaking after the race, Hamilton praised F1 for doing a "much better job" in organising the pre-race display, calling it "a lot more professional".
Hamilton expressed his hope that drivers would be more united when it came to taking a knee, pointing to the universal support seen in other sports, such as Premier League football, despite a mix of nationalities among players and personnel.
"I'm not going to tell you my opinion on whether everyone needs to [take a knee] or not," Hamilton said.
"But if you look at all the other sports – look at basketball, look at football, Spanish teams, Italian teams, teams all over the world – no matter what nationality or mixture, they are all doing it united.
"You've got players from Russia, players from Spain. So I think it is a work in progress.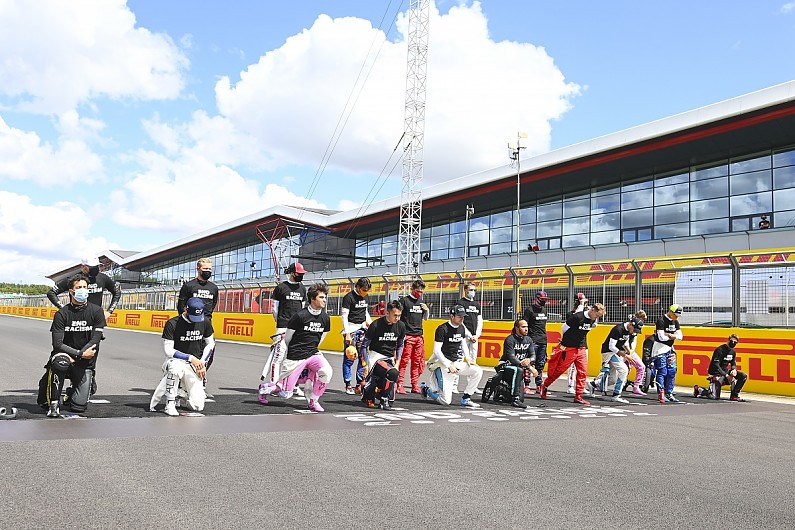 "But when the reason for perhaps not doing it is how you think it would be perceived in your country, all you have to do is look at the other sports, because they are doing it.
"So I do hope that bit by bit we can come more and more together and more united."
Hamilton said he was yet to speak to Magnussen about why he did not take a knee, but said the wider focus was on helping improve the understanding of the matter among the drivers.
"I am really proud of all the drivers wearing the end racism t-shirts and I think there is progression," Hamilton said.
"I don't know why Magnussen hadn't done it, I've not spoken to him. But I think we will just try to improve each other's understanding, and I think the most important thing is that the drivers continue to have respect for each other.
"Maybe there needs to be more conversations. I know Formula 1 hasn't spoken to any of the drivers, and nobody else has probably spoken to them individually."
FIA president Jean Todt said on Sunday it would be "inappropriate" to force drivers into making gestures they did not feel comfortable with, but said he admired Hamilton for his leadership in the current conversation to improve diversity in motorsport.