Lewis Hamilton fears there will be a repeat of the traffic "nightmare" from 2019 in qualifying at Monza tomorrow, with drivers bunching up in an effort to get a tow.
Last year the top 10 runners slowed each other to such an extent that only McLaren driver Carlos Sainz was able to get round in time to start his final lap in Q3.
Today FIA race director Michael Masi issued a warning about drivers running too slowly, and indicated that there would be a minimum out lap time in FP3 and qualifying in an effort to encourage drivers to get a move on.
"It was difficult in the past, and obviously we didn't even get to do the last lap last year," said Hamilton.
"It's going to be interesting – I heard they might put in a minimum time that we have to do an out lap, maybe that will help.
"But I think it's going to be a nightmare on the last corner still, with everyone trying to get a gap. It's definitely going to be hard work."
During practice today Lando Norris was one of several drivers to complain on the radio about slow moving cars.
"I think it's going to be very similar to last year with a lot of cars not wanting to go into first place," said the McLaren driver.
"So it's going to be tricky. It's going to be exciting to watch. It's going to be similar to last year. We already have seen in the F3 and F2, it's a similar story.
'It's going to be tricky to make sure you're in the right spot, because you want a slipstream because it helps a lot around here, but at the same time, you don't want to be too close and have too much understeer or problems in the middle sector in the corners.
"It's not easy, especially in the F1 cars this year, it's even worse than last year, so we'll have to wait and find out."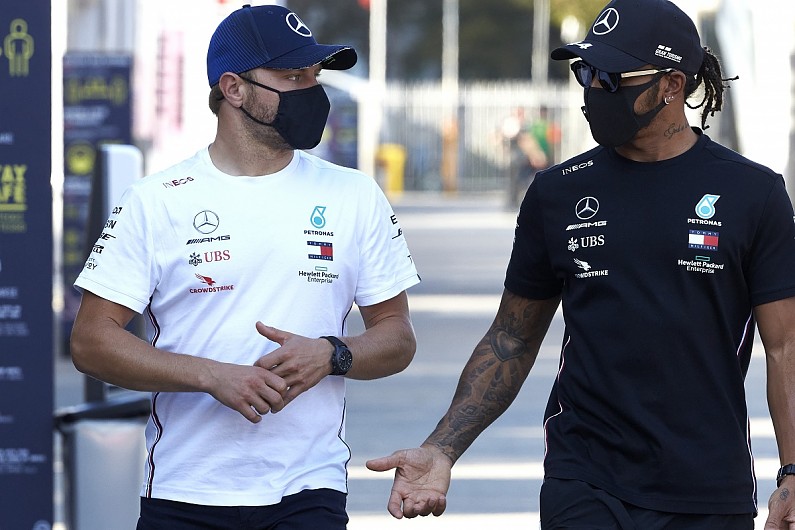 Hamilton finished Friday at the top of the times, 0.262s ahead of Mercedes team-mate Valtteri Bottas.
"It felt like we made some improvement from P1 to P2," said the world champion. "P1 it didn't feel great, because it's all low downforce here obviously, so a lot of sliding around. I think in P2 we made some steps in the right direction. It's going to be close between a bunch of people, I think.
"It's quite a bumpy track, so it's really about trying to get the right balance with the bumps, and that balance between high and low speed.
"I think we have a few more steps to make, and I think it will be where I need it to be. Valtteri's quick round here, there's not a huge amount of corners, so it's often a lot closer than a place like Spa.
"I'm just trying to make sure I get the right balance for a single lap, because it's very hard to overtake here, and then just figure out how to get the balance right for the race."