Haas Formula 1 team drivers Romain Grosjean and Kevin Magnussen have welcomed the FIA's planned review of formation lap radio restrictions.
Both drivers were docked 10 seconds at the Hungarian Grand Prix after they discussed a change to slick tyres with their respective engineers, before pitting at the end of the formation lap.
To the surprise of the team after the race they were penalised on the basis of a 2017 FIA technical directive that restricts pre-race radio conversations to matters of safety.
That was designed to stop discussion of start procedures, such as clutch bite points.
Haas team boss Guenther Steiner was adamant that it shouldn't be applied to matters of tyre choice, especially when the driver concerned pits and doesn't actually take the start.
FIA race director Michael Masi confirmed at Silverstone that the rule is now under review, indicating that it could be modified to take account of circumstances such as those in Hungary.
"I think that's the right action to take," said Magnussen when asked by Autosport.
"I think it was pretty clear that there was a situation that hadn't really been thought about in terms of how the regulations were, and I think it'd be good if that stuff was allowed."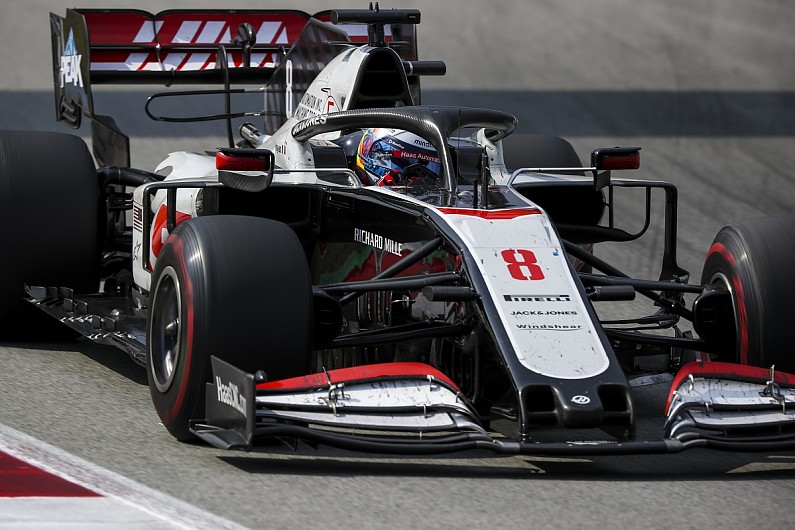 Grosjean also acknowledged that sometimes rules have unintended consequences.
"You always implement new rules for looking after one thing and trying to resolve a problem," said the Frenchman.
"But you may create some others, and that was seen in Hungary, where we actually made a good move, a strategic move, pitting on the formation lap.
"Obviously today we'd do things a little bit differently, knowing that rule, but we didn't really think it was there for that.
"So I guess it's a good thing in a good direction, even though it's quite cool to only have the driver have the rights to make the call or not.
"If it was happening again, I would be very happy just take the radio and say, 'Guys, I'm coming in.'
"Just at the time we didn't think of it, and we got penalised.
"It didn't change anything for me, obviously a point for Kev, which in the constructor championship race for us is a big thing, but I guess we just we're gonna read it carefully when it comes out."