Alfa Romeo Formula 1 driver Antonio Giovinazzi is set to start from the back of the grid due to gearbox penalty after the team made a change after qualifying.
In a wet qualifying for the Styrian Grand Prix, the Italian driver went off the road entering the final corner in Q1 and tapped the barrier which left him in 19th place and last of the drivers who set a time, ahead of only Romain Grosjean.
Given the possible consequences of the contact with the barrier and the fact that he had little to lose, the Hinwil team has opted for a replacement gearbox. The penalty will drop Giovinazzi behind Grosjean on the back row of the grid.
Alfa Romeo team principal Frederic Vasseur described the team's qualifying performance as "disappointing" having been confident of improvements following last weekend's Austrian Grand Prix.
"We seem to have made a step forward in terms of performance, at least compared to last week, so to have both cars out in Q1 is a disappointment," Vasseur said. "We looked strong enough for Q2 but unfortunately we fell short with Antonio spinning on a very good lap and Kimi having his best lap ruined by the red flag.
"The conditions were very difficult, but we have to be ready for whatever Sunday is going to bring. We think we have the pace to fight for a place in the top ten, so we will need to be ready to show it come the race."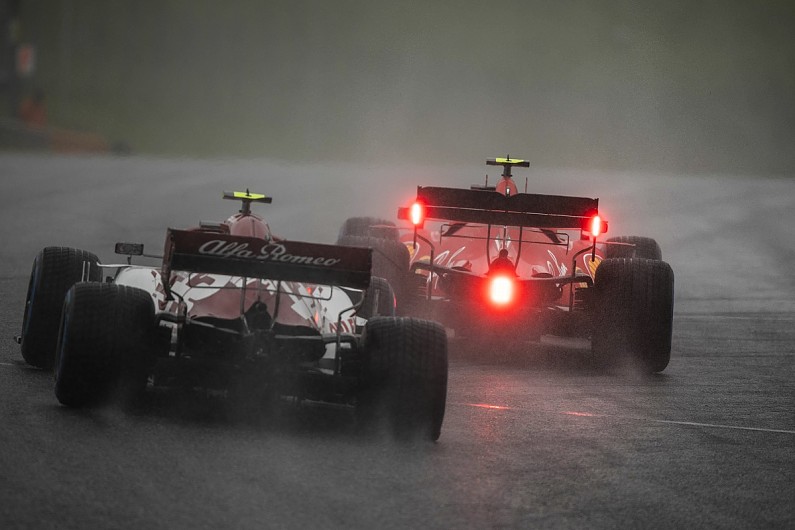 Giovinazzi blamed his Q1 crash on losing grip on the wet kerb at the penultimate corner having been pushing to find the limits at the end of the session.
"It's been a difficult session, even though at the beginning of the session we were really strong," Giovinazzi said. "We needed something special on the final lap, I tried to push as much as I could to get the position but unfortunately I went onto the kerb at the second last corner, lost the rear a little bit and that was it.
"It's a shame as I was improving my time by nearly a second and I think I would have made it to Q2.
"We start from the back, like last week, but just as we did last Sunday we will need to make the race work for us. We know we have the pace to recover so we won't give up."
In last weekend's F1 opener at the Red Bull Ring, Giovinazzi charged from 18th on the grid to finish in ninth place in a race of high attrition, as only 11 drivers reached the chequered flag.
Ferrari's Charles Leclerc and McLaren's Lando Norris also have grid penalties going into the Styrian GP, with Leclerc pushed back three places to 14th after impeding Daniil Kvyat in Q2 while Norris is also serving a three-place grid drop for overtaking under yellow flags during FP1 meaning he will start in ninth place.