DAMS FIA Formula 2 driver Sean Gelael has suffered a back fracture after a heavy impact with a kerb in Saturday's feature race in Barcelona.
Gelael will miss the F2 sprint race after being taken to hospital last night for precautionary checks after he appeared unable to get out of his car unaided following a last-lap incident in the feature race.
The Indonesian driver, who was later released from hospital, has sustained a broken D4 vertebra and has been ruled out of today's sprint race.
"Following an MRI scan yesterday evening, a small fracture of a vertebra was identified," an FIA statement said.
"He was released from the hospital last night and is expected to make a full recovery, however as a precaution, has been declared unfit to race today by the FIA medical delegate."
Gelael, who reportedly suffered a 45g impact when he hit the kerb, provided an update on his Instagram account to confirm he was "all OK".
He wrote: "Hi guys, thanks for all the kind messages. I'm all OK, I have a D4 mid-spine fracture. We will wait and see what the future will bring. Thank you."
It remains uncertain if Gelael will be able to return to action for the next F2 round at Spa on 2-30 August, but DAMS confirmed Dan Ticktum will be its sole entry for today's sprint race in Barcelona.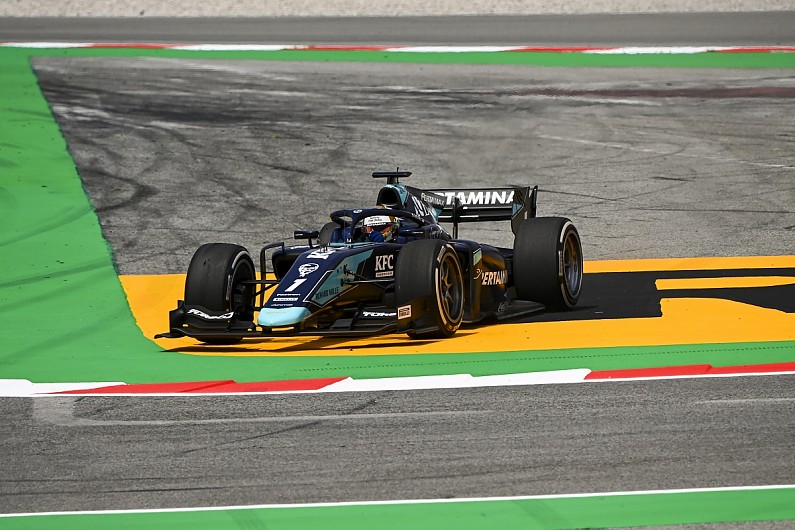 "During an incident on the final lap of the Barcelona F2 feature race with Jack Aitken, Sean Gelael's car went airborne and landed hard," a DAMS statement said.
"The Medical Car was deployed to extract Sean as he was experiencing back pain and was taken to Barcelona Hospital for a precautionary X-ray and MRI.
"Sean was diagnosed with a broken D4 vertebra and consequently will not compete in today's sprint race.
"It is unclear at this time if he will be able to race at the next round at Spa-Francorchamps on August 28-30, but he is expected to make a full recovery.
"Sean went back to his hotel last night and is in good spirits."
Gelael has secured two points finishes so far in the 2020 F2 campaign – both coming at the second Red Bull Ring round – and is currently in 17th place in the drivers' standings.