Four days before the 70th anniversary of the venue's inaugural race meeting, the Castle Combe Racing Club brought sanctioned racing back to life in one of the UK's first post-COVID-19 lockdown events.
Pioneering new protocols in miserable conditions, which triggered a number of incidents to test them, officials passed with flying colours as seven happy winners emerged from a very strange eight-race programme in which the four resident grids each ran twice with no presence of spectators.
Six thousandths of a second split Formula Ford poleman Luke Cooper (above right) and Felix Fisher (above left) as an encouraging 23-strong entry tackled a drying track. It took 2018 champion Cooper four laps to depose fast-starter Fisher in the dry opener and the Swift driver held on as they finished comfortably clear. Fisher was imperious in the contrasting sequel, walking on water as he drove his Tom Margetson-prepared Ray GR06 away from Cooper.
American visitors Bryce Aron and Grant Palmer (Low Dempsey Racing Rays) impressed, acclimatising for their National Formula Ford Championship outings, which begin later this month. Aron finished third in the opener, but a superbly judged last-lap dive into Tower allowed David Vivian (Kevin Mills Racing Spectrum 011) to demote Palmer and grab the last podium in race two. Class B standout James Tucker shaded fellow Swift SC92 pilot Paul Barnes in race one, then doubled up more easily.
Four-time Combe FF1600 champion Bob Higgins's exhaust came adrift in the first stanza, then he threw his Van Diemen RF88 off at Quarry in the second. Marc de Rozarieux thus snared top class points both times.
The GT pack harboured a fine mix of cars, although opening-lap shenanigans sidelined Chris Everill's Ginetta G55 and Keith Butcher's Audi R8 LMS Ultra with suspension damage following contact. Poleman Lucky Khera – in the magnificent Ferrari 488 he debuted at Brands Hatch's Britcar night race last November – powered clear of Oliver Bull in Jeremy Irwin's Ford EcoBoost-engined Vauxhall Tigra clone at the reshuffled restart. Kevin Jones (Noble M12), recovering from a moment, chased down Lee Frost's old-school BMW M3 for third, albeit embedded in the Recticel barriers after the timing line!
Khera withdrew from race two, not wishing to sacrifice new wets, which set Bull free. Buoyed by a 1m05.5s personal best in Thursday testing, which proved the winter's turbo, cylinder head and cam upgrades, the outright lap record was under threat but conditions precluded a shot last weekend. Nonetheless Bull lapped all but Tony Bennett (Caterham R300) and Jamie Sturges (SEAT Leon Eurocup).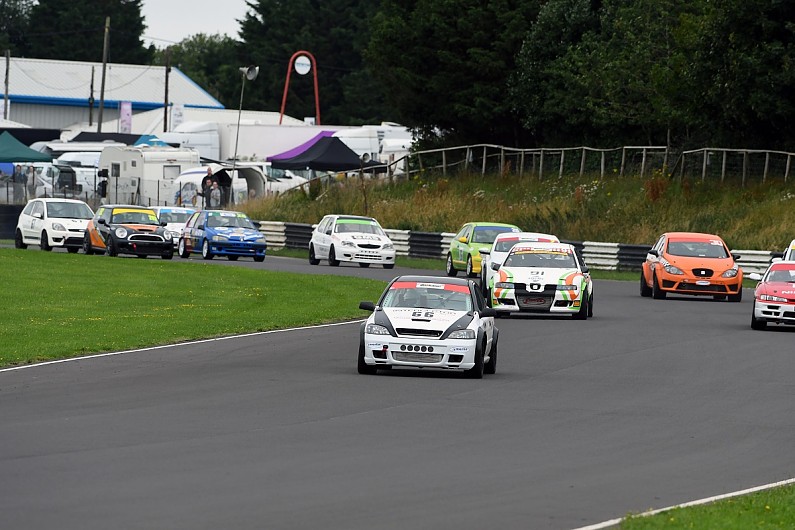 The Castle Combe Saloon Championship's 25th year began with 0.347s covering the top four after a damp qualifying session. Second qualifier Rob Ballard (VW Scirocco, broken timing chain), British Touring Car Championship racer Josh Cook (Renault Sport Megane, gearbox failure) and Jon Lannon (Citroen Saxo) were all sidelined though, leaving 12 starters.
The attrition did not stop there as poleman Gary Prebble's SEAT Leon Cupra suffered turbo failure off the line, leaving younger brother Adam (above) to take a comfortable win. Simon Thornton-Norris's Mitsubishi Colt's oil filter came adrift and Terry Thorne's Ford Fiesta clobbered the Esses tyre wall as spinner Kevin Bird (Nissan 200SX), the misfiring Dave Scaramanga (VW Scirocco) and Tony Dolley (SEAT Leon) followed Prebble minor's Vauxhall Astra turbo at a distance.
The younger Prebble and Scaramanga missed race two with transmission problems and a broken front strut mount, respectively, leaving Thornton-Norris's repaired Colt to sizzle to the win. Double spinner Bird, on dry tyres, and Dolley – sideswiped at Quarry on lap one – completed the top three as only six finished.
Quickest qualifier Chris Southcott was the afternoon's only double race winner in the Hot Hatch series. But he had to drive his Peugeot 205 through from row four of the second race – ordered by second best qualifying times – and worked hard to demote demon debutant Dan Brown, his closest practice rival, who started his Honda Civic from pole. Tony Cooper and Shaun Goverd (Peugeot 106 GTis) landed thirds, as double Class C victor Goverd delighted with a maiden podium in his Will di Claudio-fettled car. Best of the Minis was ex-FF1600 driver Steven Jensen's zebra-striped example.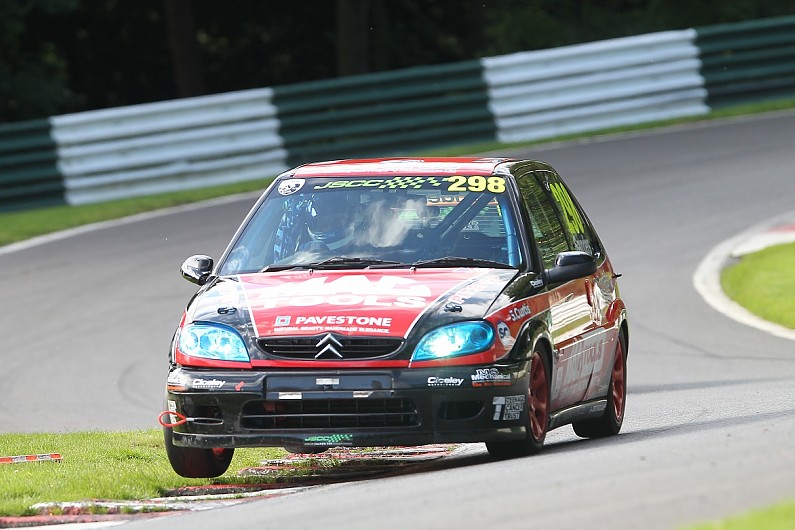 Cadwell Park BARC: Saunders returns to title-winning form
Lewis Saunders (above), the 2018 Junior Saloon Car champion, was in dominant form when the season finally got under way at Cadwell Park as he replicated his title-winning performances with a double victory.
Charlie Hand and polesitter Alex Solley had the initial duel for the lead, before Solley ran wide at the Gooseneck, leaving Saunders free to challenge Hand. Ciceley Motorsport-backed Saunders went ahead through Charlies on the penultimate lap to seal the win, with Hand a solid second from Ben Greenhill. It was a lights-to-flag triumph for Saunders in race two, with Hand and Solley a race-long second and third.
After an early battle with Paul Dobson's Mazda-powered Locost, Paul Rose was a comfortable CNC Heads Sports/Saloons winner in his Saker. Dobson managed to hold onto second, but the twin Spires of Jon Woolfitt and Danny Bird remained a constant threat.
Rose managed to lead from the start of race two, but a gear-selection problem put him out after five laps. That left Dobson, Woolfitt and Bird to fight it out again. Dobson just held on to take the spoils, with Woolfitt holding off Bird for second.
Alec Graham was in charge for most of the opening 2CV race. Lien Davies nipped ahead briefly mid-race, before they were joined by Sandro Proietti to make it a three-way battle. Proietti led a lap from home, but Graham made the decisive move into Coppice, forcing Davies to settle for a lonely third, well clear of a duelling Mick Storey and Brian Heerey.
For a while it was a seven-car lead train in race two, with Graham still the driver to beat. But Luca Proietti went one better than dad Sandro, pouncing on a rare mistake from Graham at the Gooseneck to steal a last-lap win, while Storey held off Davies to complete the podium.
Le Mans 24 Hours victor Guy Smith (below) was a double winner on his Pre '66 Touring Car debut. His Lotus Cortina was pursued in both races by Roger Stanford, while Smith's father Peter made it an all-Cortina top three. Smith Sr had his hands full of James Everard's Alfa Romeo Sprint GT in race one, but was on his own second time out.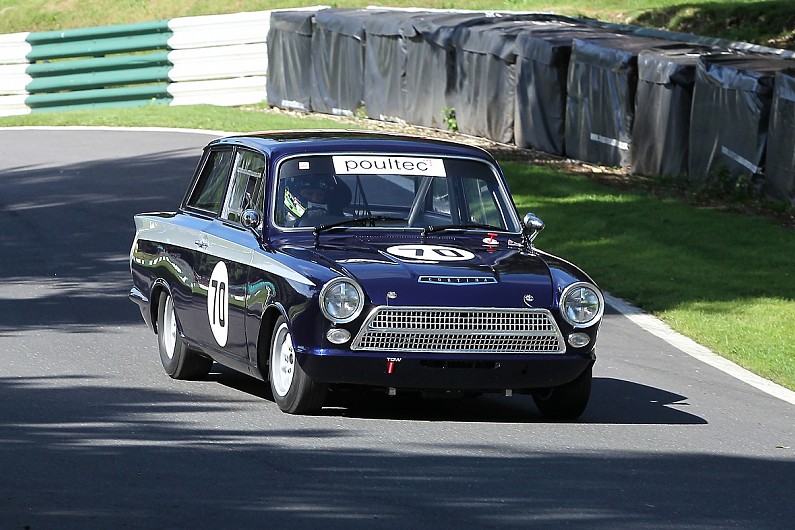 Michael Pensavalle's BMW M3 E46 took a dubious Classic Thunder win, after diving past the Ford Falcon of Andy Robinson with all four wheels on the grass at the Hairpin on the last lap. Robinson's avoidance spin still gave him second, with Adie Hawkins (Alfa Romeo 33) third after Andy Wilson (Holden Monaro) clashed with a backmarker.
Although Pensavalle ousted Robinson on the opening lap of race two, his jumped-start penalty gave Robinson the victory, with Hawkins third again after an early duel with Stephen Sawley's Honda Civic.
The Honda Civic Type R of Alexander Owen was never seriously troubled on its way to a Pre '93 and Pre '03 Touring Car double. When Ian Bower's BMW departed on lap three, the Civic of Ben Griffiths was clear in second. Griffiths then followed Owen home again in the second race.
Liam Morley was a triple Superkart winner, but didn't have it all his own way. After a dominant race-one win over Ross Allen, it took until lap five of 11 to hit the front in race two, when a piston seized in Allen's engine, leaving Carl Hulme second. Hulme led the finale initially, finally settling in third behind Morley and Lee Harpham.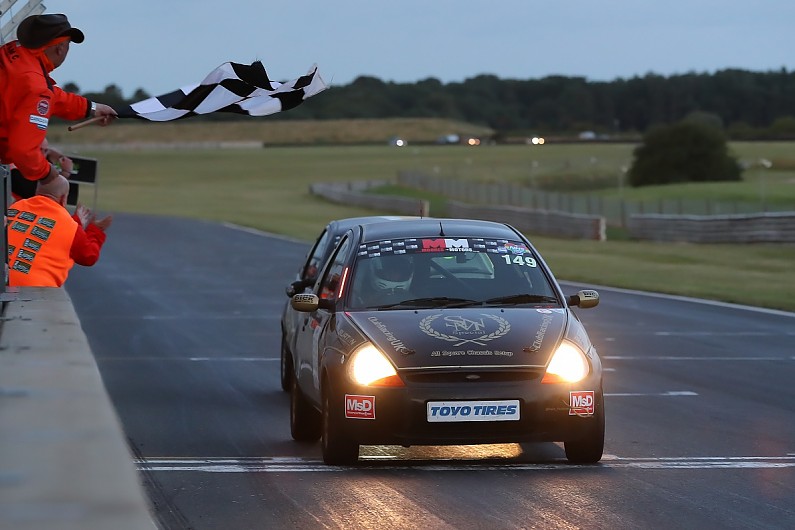 Snetterton MSVR: EnduroKa marathon provides a demanding start
For the 36 crews, the 12 Heures du Norfolk round of the EnduroKa series at Snetterton last weekend proved to be a demanding start to the delayed season, and it was the Club Racing UK squad that secured victory.
The eventual winner fell down the order from fourth on the grid at the start, and it was Frugal Racing that took an early lead with Jim McDougall at the wheel. He settled in for a battle with the Peak Performance Reviews car of TCR UK frontrunner Lewis Kent for the opening hour, with the pair regularly swapping the lead position, but both cars fell away during the opening stops.
The order was then changed up considerably when the safety car was sent out with nine hours remaining after the Al-Most Racers car spectacularly rolled at Murrays after clipping a kerb.
Another frontrunner that failed to finish was the IP Racing machine. It took the lead six hours into the race but its engine expired two and a half hours later, while running seventh.
With IP Racing out of action, the lead swapped between Frugal Racing and Club Racing UK, but it was the latter that took control in the final two hours after a pitstop, when the safety car was sent out with 90 minutes remaining, was timed perfectly. That gave enough time for the squad to re-emerge with its lead intact, and it was extended further when Mike Marais in the Frugal Racing Ka spun out of the race with 45 minutes left.
That incident promoted S&N Racing to second place, with Barwell Autosport moving up to round out the top three. The positions at the front remained the same from then on, with Club Racing UK drivers Stefan Marsh, Matthew Hibberd and Nick Holmes finishing almost a lap ahead of Reece Jones, Nathan Dew and Scott Kirwan in the S&N Racing Ka.
Peak Performance Reviews ended up crossing the line down in 13th, while the second Al-Most Racers car, featuring ex-Lotus and McLaren Formula 1 team boss Eric Boullier, finished 15th.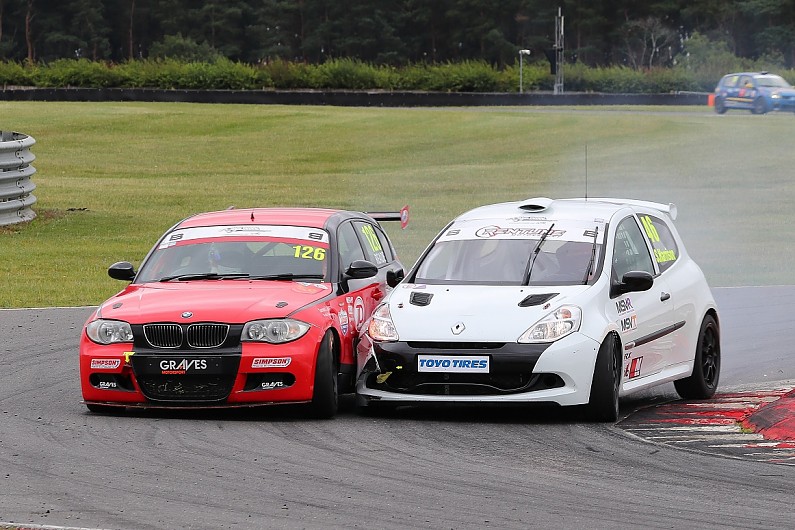 The BMW 130i of Luke Reade inherited victory in the Trackday Championship round on Saturday after finishing third on the road, once the BMW Z4 of James Foard and Callum Tuckett and the Renault Clio of Simon Harrison had been penalised after the race.
The Z4 had started seventh, but pitted early and moved into the lead following a safety car period and the rest of the field pitting. But on-the-road winners Foard and Tuckett had stopped too early and were given a 30-second penalty, dropping them to third position on corrected time.
Harrison was the biggest loser from the safety-car period, dropping from the lead to 16th. But once the pit window had closed, he was back up to third and battled Reade hard. Harrison eventually managed to pass Reade at Murrays on the penultimate lap, but the contact (above) involved in doing so meant he was given a two-second penalty, dropping him to second.
James Pinkerton won the opening Radical SR1 Cup race in commanding style, completing a lights-to-flag victory, but failed to repeat that feat in the second race thanks to making a mistake at the midway point. Pinkerton recovered to fifth, and it was Dean Warriner who was the eventual victor. Warriner passed Nick Zapolski – struggling for pace when the rain began to fall – for the lead in the closing stages of the race.
Pictures by Steve Jones, Mick Walker and Richard Styles