Ferrari sporting director Laurent Mekies says it's the team's "duty" to support Sebastian Vettel as the four-time Formula 1 world champion struggles to find speed in the SF1000.
The Frenchman says the team would be willing to take risks on strategy in today's 70th Anniversary Grand Prix to help propel Vettel and his team-mate Charles Leclerc up the order after a poor qualifying session.
After finishing 10th in the British GP, Vettel has endured another difficult race weekend at Silverstone, failing to progress from Q2 in 11th, and while Leclerc did make it through to Q3 he starts from eighth, four slots behind his starting position from last weekend, which he has admitted is a "realistic picture" for where Ferrari is.
But with Vettel struggling with the SF1000, he told Italian TV reporters that he was "up against a wall" and couldn't extract any more from the car.
Mekies insisted that recent work has improved the feel of the car, but that hadn't translated into lap time gains.
"I think Sebastian is second to none when it comes to fighting spirit and to try everything he can and be as constructive as one can be in trying to understand how to move the next limit," Mekies said.
"I think what he expressed in saying we hit the wall is we have been trying so many different things in the last two weeks here with him which somehow made the car feel better, but didn't seem to be any breakthrough in terms of lap time.
"And I think it's our duty now trying to do anything we can to support him, and to make sure that we convert the better car thing into lap time, because he's a massive asset for the team and he's not an asset that we can leave behind. And therefore we are together with him on that search for that missing batch of lap time that we are after.
"I think as he expressed last week he was very uncomfortable with the car, and you know from experience as soon as one is losing the confidence in the car it's very to have the lap time disappear.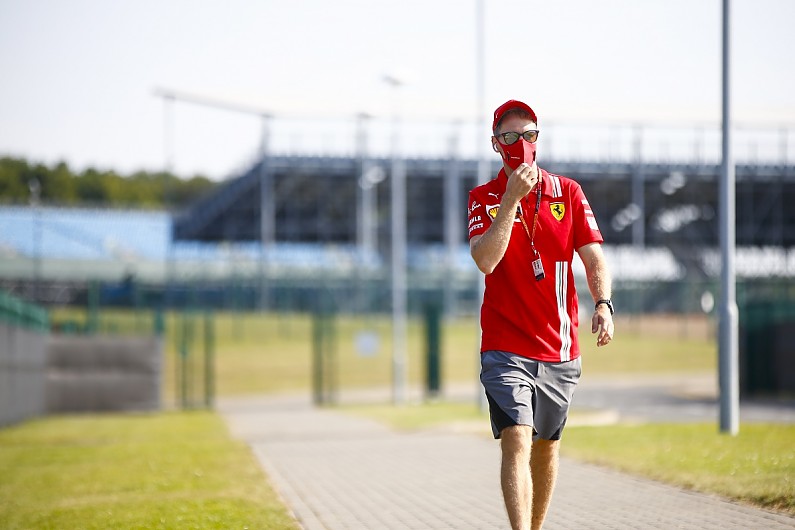 "Nonetheless he kept the right spirit, and with his group they looked at many different ways to set up the car. We somehow arrived at something he was much happier with in terms of balance, but he didn't unlock the lap time we're after, and that's the concern that we now have to analyse and to try to unlock."
Mekies said that Ferrari will take strategy risks in an effort to make up ground, hinting that the team might pursue long stints that will push the tyres to the limit. Leclerc is committed to the medium for the start, while Vettel has a free choice.
"Because the compounds are softer I think we'll see different strategies, we will see one-stoppers, we will see two-stoppers. You have seen how on the edge a one-stopper was last week, it's going to be twice as hard this week," he said.
"Starting from behind the pack in Silverstone is complicated. Because you get all the dirty air in high-speed corners and so on, so it's something that will be a step back compared to last week. So we'll try to play with this opportunity, with this risk-taking, to see if we gain some ground back."
Ferrari's progress this weekend was not helped by an engine failure for Vettel on Friday that led to a precautionary change for both drivers.
"After the issue we had on Sebastian's PU I think it's fair to say that you have no time to analyse overnight and to understand the root cause, and to be able to guarantee that root cause whatever that may be would not affect the other car," Mekies said.
"And from that analysis the decision we made is until we understand there is no penalty in also changing the PU of Charles, and it will give us time to do our homework and get to the bottom of what caused Sebastian's issue."