Lewis Hamilton believes he "got everything and more" out of his Mercedes W11 this weekend on his way to winning the Styrian Grand Prix in dominant fashion.
Hamilton started the second race held at the Red Bull Ring in as many weeks from pole and scored a commanding victory, having initially pulled away from Red Bull's Max Verstappen before his team-mate Valtteri Bottas moved up to second in the final laps.
His imperious performance this weekend, which included a dominant display in a wet qualifying, contrasted dramatically with last weekend's Austrian GP when he started fifth after getting a grid penalty.
His chase of Bottas was compromised by radio calls for him to avoid the kerbs and protect the gearbox, and his day ended with another penalty for a collision with Alex Albon.
When asked by Autosport if he was more in the zone this weekend, Hamilton replied: "When you're doing a good job and you're doing it to the way you know you can do it, it's definitely a much better feeling.
"I honestly feel like I prepared the best I could for last week, but ultimately there were some scenarios or choices that could have been better made, or better circumstances or a position I could put myself in, and there was just a domino effect of these things that often tends to happen.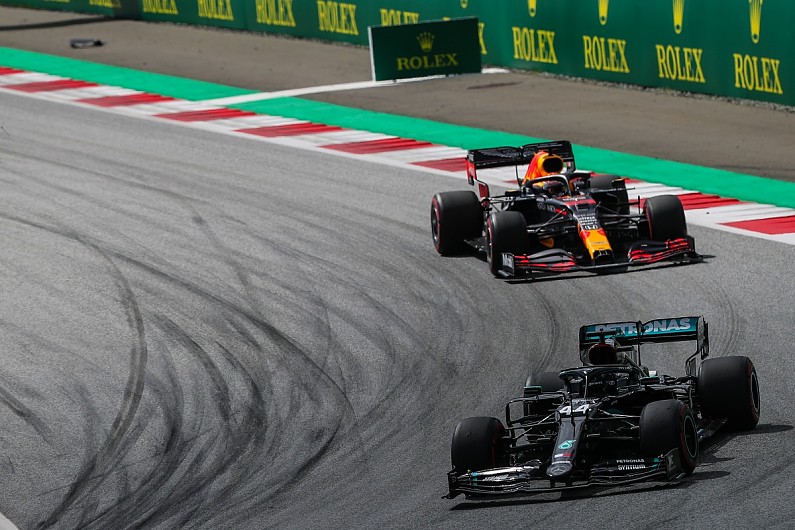 "This weekend started off in a positive frame of mind. Obviously FP1 was good, FP2 was a bit of a disaster, but I sat with the guys afterwards. We didn't throw any toys out of the pram, we sit there and dissect the data, try to understand, we pull together. It felt positive going into the Saturday.
"It rained out, and I was just hopeful we could get out and qualify. I was actually quite happy that we didn't have FP3, because that gives everyone else less time to practice, and I knew what I'd be able to do if qualifying started.
"That's what I did I just kept my head down, didn't make any mistakes. And then obviously today with the same mind frame as yesterday of course it's much different starting from first than fifth.
"Leading from the front is a different scenario, but I'll definitely take it. It's a different type of management, a different type of race.
"Perhaps not fun for you or the fans to watch. I wouldn't say any less challenging for myself, just different, and I try to perfect it the best way I could today, and I think I got everything and more from it."
Hamilton said leading from the front – with Verstappen keeping him on his toes in the first part of the race – was far from straightforward.
"At the beginning of the race it wasn't very easy to get past a two second gap, but I think maybe his tyres dropped off a little bit, or I got a better groove and I just managed to eke that gap out a little more," said Hamilton.
"I was more comfortable in the second stint with my understanding and feeling with the tyres, and maybe he had more degradation than me. That honestly has been a real strength of mine, managing these tyres, and I was able to continue extending that gap."