DTM driver Philipp Eng says he is "100% interested" and "wishing" for the BMW Andretti seat in Formula E, now vacant after Alexander Sims signed for Mahindra Racing.
Although Sims will continue his association with the German manufacturer as a GT driver, he left BMW's FE squad after two seasons in which he scored three pole positions and a race win.
With two-time E-Prix victor Maximilian Guenther extending his deal at the team for the 2020-21 term, Austrian racer Eng – who drives for BMW Team RBM in the DTM – has emerged as a favourite for the seat after his recent test in the iFE.20 car.
When asked by Autosport if he was interested in an all-electric move, Eng said: "Yes, 100%.
"It's a great championship with many, many great drivers in there.
"I was obviously following Formula E anyway because BMW is heavily involved, and they had a successful season as well [fifth in the teams' championship]. So, it would be very cool for me to drive a single-seater again.
"I've never made secret of my opinions on Formula E – I'm a big fan. I like the racing, I like the technology behind it and I'm really impressed by the engineering. As a racing driver, you always have to prepare for anything.
"Is it an option for next year? I'm wishing so, yes.
"But there is no confirmation whatsoever, so I cannot say yes or no yet because basically I don't know."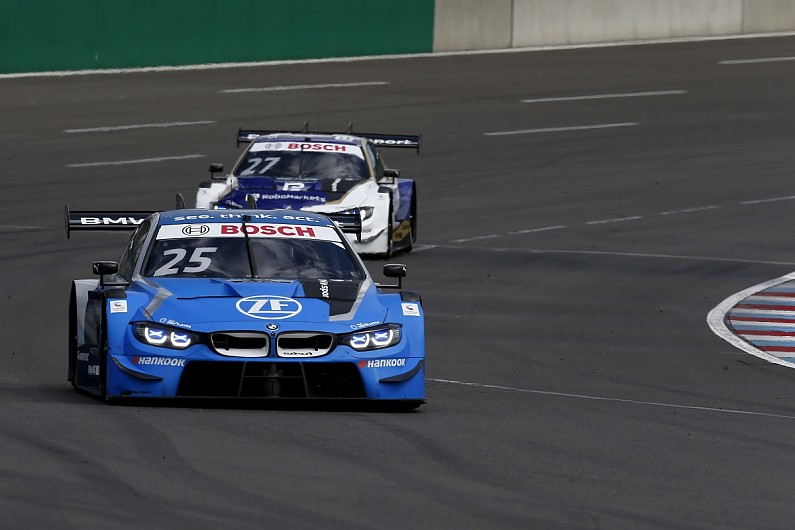 Eng's last open-wheel campaign was a 2010 run in the MotorSport Vision Formula 2 series, in which he scored three wins to finish sixth in the standings to champion Dean Stoneman and Jolyon Palmer.
Speaking about his recent FE test, Eng added: "It's very different [compared to DTM].
"Sitting in the middle of a car was even strange again, because I haven't driven a single-seater since 2010.
"Then you have those [all-weather Michelin] tyres suitable for every condition. Those tyres are very special; you have to treat them in a very unique way.
"How much brain capacity you need [as a driver] to cope with all scenarios and all the settings is very impressive.
"I can imagine [driving in Formula E] very well in the future. But, like I said, I don't know if it will happen or not."
In the post-Marrakech E-Prix rookie FE test, BMW Andretti fielded drivers Lucas Auer and Kyle Kirkwood.
DTM driver and Super Formula podium-finisher Auer ran to eighth fastest in the combined times, while reigning Indy Pro 2000 champion Kirkwood was fifth.
However, 21-year-old Kirkwood told Autosport after the test that "I'm going to keep on the path towards IndyCar… that's where my focus is at the moment".