The penultimate corner of the Autodromo do Algarve (recently announced as joining the Formula 1 calendar for 2020) is a harmless enough long, double apex right-hander – think Silverstone's Luffield but with a downhill exit. In such corners, usually drivers find themselves twiddling their toes, trying desperately to summon the patience required to avoid over-driving the turn and messing up the all-important exit. Rarely, if ever, do they find themselves so physically exhausted from the effort of driving they simply can't turn the steering wheel enough to negotiate the corner at decent speed.
But that's the situation I found myself in after driving Phil Abbott's new Revolution sportscar around this deceptively punishing Portuguese track. Having separated from the Radical Sportscars company he co-founded in the late-1990s, Abbott was determined to bring his own vision of a 21st Century Radical, using 21st Century technology, to life. He wanted to drag steel spaceframe sports-prototype racing into the carbon composite modern era; Radical co-management saw things differently; Abbott went his own way, and the result is the Revolution.
Developed using a wealth of high-level automotive and motorsport expertise, the Revolution's cutting-edge CFD-developed aerodynamics are capable of producing 6000 Newtons (600kg) of downforce at 110mph. To put that in perspective, modern F1 cars are capable of producing roughly 750kg at 100mph…
Perhaps it's no wonder then that I have never had such a physical contest with a racing car in all my life. I drove fewer than 30 laps in total and couldn't do much more than six or seven at a time without spending myself entirely. The next day, waking in my dad's villa a few miles from the Algarve circuit, I ached in my arms, hands and left (braking) leg. I needed a masseuse but there wasn't one to hand – and I know my dad wouldn't fancy the job.
F1 drivers are forever having their muscles massaged – after races or between sessions. To the uninitiated it must seem among the most frivolous perks of this rich man's world. But no, this muscular manipulation is almost as essential as breathing. And now I have a lower-resolution first-hand insight as to why.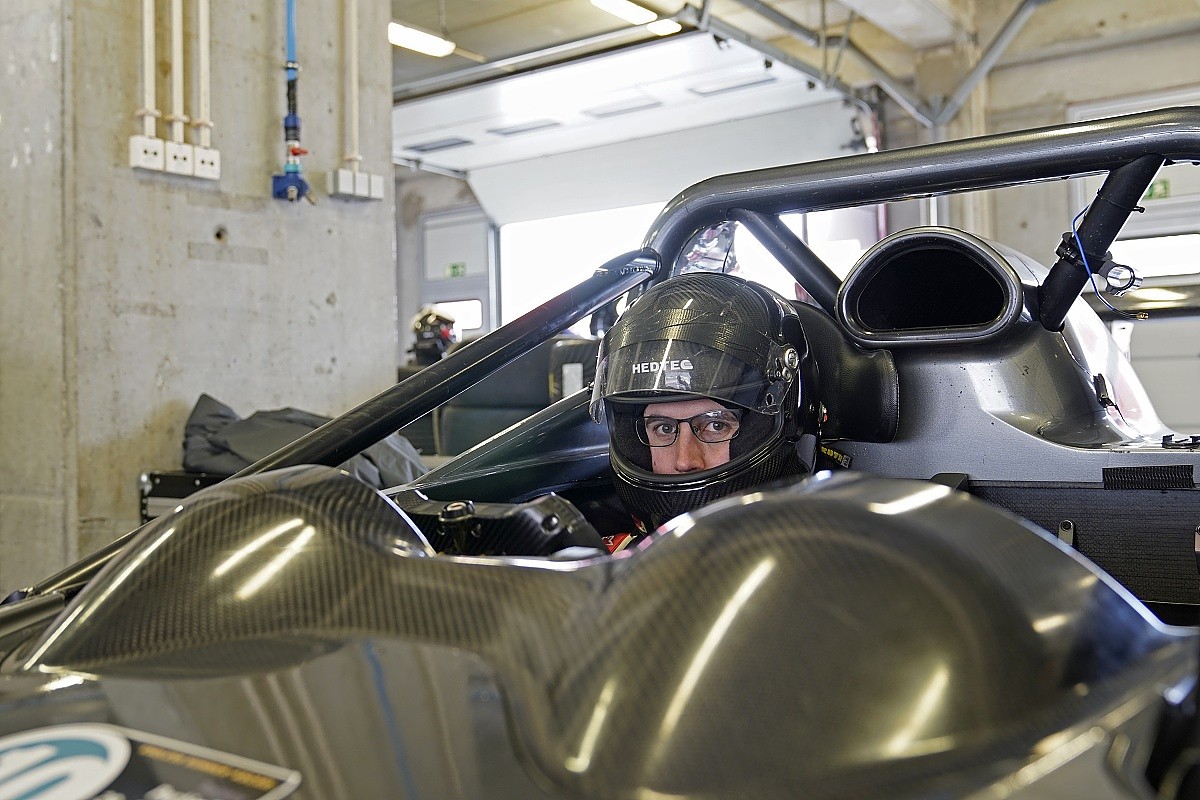 I now understand completely why F1 cars are fitted with power steering; why drivers of the previous generation F2 cars (which didn't have it) described them as brutal machines to handle; and why Abbott and his crack team have spent the intervening months since our Portimao outing developing a £6000 system (in conjunction with Dan Gibson) for their Revolution too.
The alternative is to train your body by driving and/or with dedicated physical exercise – as development driver, triathlete and all-around muscular freak of nature James Abbott clearly has. Even backing off the castor settings (which affects the stiffness of response through the steering) doesn't really help me. F1-style engineering equals F1-style downforce equals a need for F1-style steering. It's a logical progression, unless you are the Incredible Hulk.
The aim is to pitch this car as a stepping-stone from high-level club sportscar racing, such as Radicals, to LMP3. When development first started, it was lapping the Algarve circuit in 1m53s. At the start of 2020, thanks to reconfiguring the aerodynamics, upping the output of the 3.7-litre Ford V6 engine from 300 to 360bhp (the aim is to reach at least 400bhp for a car that weighs less than 800kg), and generally understanding the car better, Abbott Jr has that time down to 1m46s (I don't make it out of the 1m50s, incidentally).
Whatever you think of the way Phil Abbott approaches motor racing, his boyish enthusiasm for engineering and the attention to detail he puts into his projects is wonderful to see
The LMP3 pole time in 2019 was in the 1m39s, so the Revolution has pretty much nailed its performance mark already, though that gap is expected to narrow further – Phil Abbott predicts a 2s gain by the start of 2021, pointing out his Radical SR3 design gained seven seconds through four incarnations. Meanwhile, the latest generation of LMP3 racers has just come on stream, so we can expect the benchmark to shift as well. Racing the Revolution regularly with teams in the UK Sports Prototype Cup and the France-based Ultimate Cup Series will no doubt aid development.
Styling is always a matter of personal taste – to me, this car looks like a cross between a Radical and a KTM X-Bow – but up close you can clearly see the sort of cleverly sculpted bodywork that F1 expertise would naturally gravitate towards, designed to make the car perform better above all else.
As you'd expect for such a potent cornering force, this car is incredibly well poised, balanced and responsive; power steering (now complete and running on the cars since my test) would complete the picture for me. Experienced Radical and now LMP3 racer Rob Wheldon confirms he wouldn't expect to complete more than a 20-minute race at Snetterton without it, such is the physicality of driving the car in non-power steering configuration.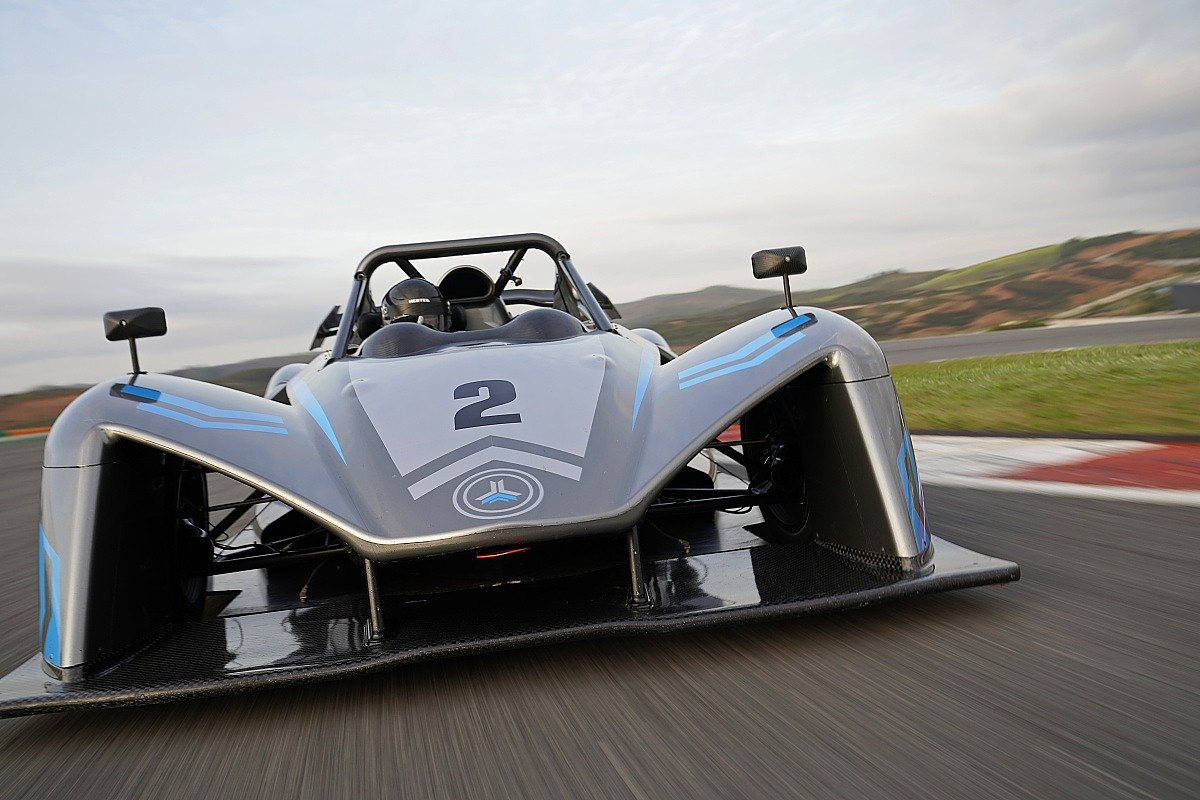 Apart from a feeling on the Algarve's long front straight that the car is slightly underpowered, there is very little else to offer up by way of criticism. A later test at Donington Park (engine output now 380bhp) in the wet meant the power steering system (then still in development) wasn't needed, and I took immense pleasure from lapping consistently and overtaking BRDC British F3 cars without too much effort, before over-eagerly slithering off into the Coppice gravel towards day's end.
The SR3 was always Radical's quintessential modern 'drivers' car', in that it possesses a surfeit of grip over power that makes its ideal operating window quite narrow and thus requires real focus, discipline and precision from the driver to get it to go quickly. No big V8 grunt to get you out of trouble on the straight if you mess up a corner… The Revolution is in a similar bracket, except with an overall performance level (running on the same specification of Dunlop tyres Radical uses) beyond what the SR3 is capable of.
Whatever you think of the way Phil Abbott approaches motor racing, his boyish enthusiasm for engineering and the attention to detail he puts into his projects is wonderful to see. The danger is always that he might try too hard, or over-engineer the car, but Abbott thinks about everything – and he's clearly left no stone unturned in pursuit of clever ways to derive performance from this car while determinedly working to avoid adding unnecessary cost.
Abbott tells me the Ferrita exhausts (a Swedish specialist manufacturer) used on the Revolution, for example, come in at half the cost of the equivalent UK product (the prototype unfortunately fails during our test, but the problem is since fixed). Also, complete assemblies are interchangeable on all four corners of the car, so you don't have to stock different components front versus rear and potentially waste money and materials if you never break certain ends of your pride and joy.
The crack team involved in bringing the Revolution to the people includes Rob Lewis at TotalSim (Lewis is an Adrian Reynard-schooled CFD expert whose organisation has worked with Gordon Murray Design, Aston Martin Racing and on Prodrive's WRC Mini – as well as with UK Sport's cycling, snowboarding and swimming teams); Dominik Dierkes (who developed the ingenious composites process through which the car is constructed); Simon Cox (automotive car designer and stylist who worked with McLaren and Infiniti); Pete Watts (ex-BAR and Honda F1 who brought Cox's design to life); and Richard Hurdwell (a veteran Lotus suspension and vehicle dynamics genius).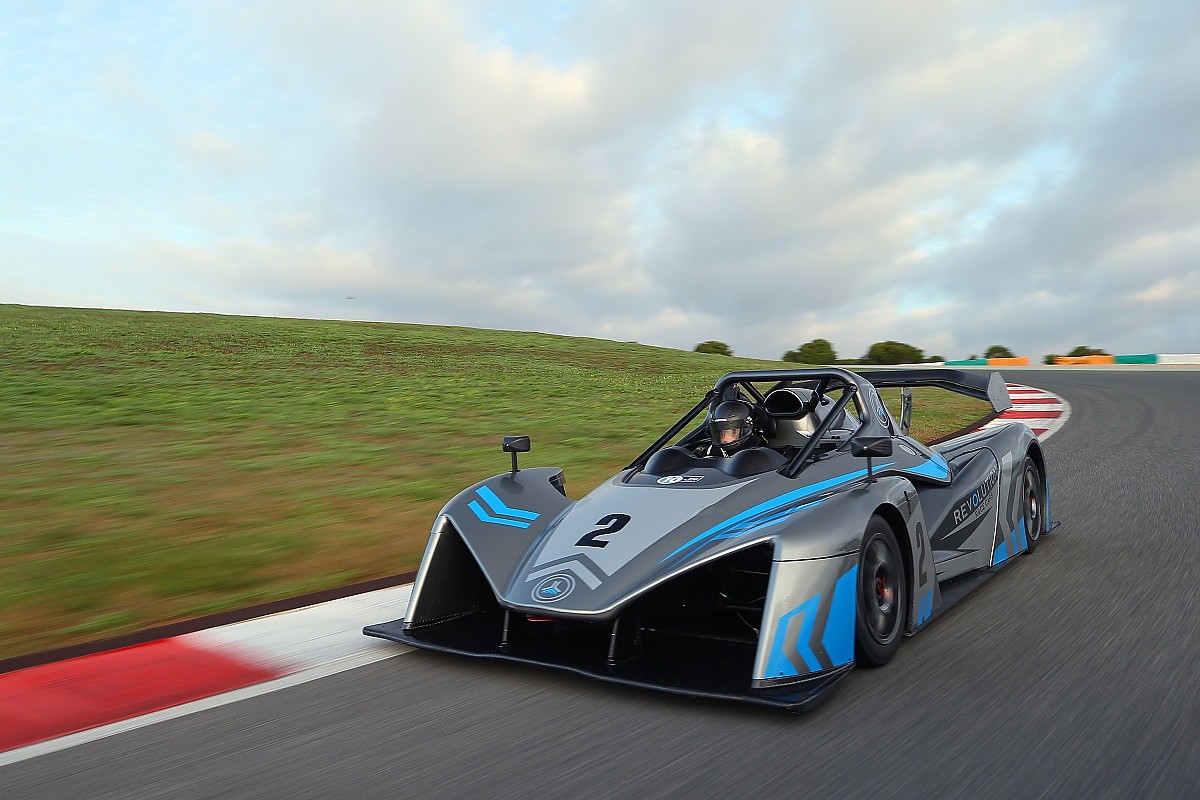 These are seriously clever people. Abbott describes Lewis as "a big driving force in proving CFD works" and says Dierkes' carbon composite process, which is utilised by McLaren's Automotive arm and requires 80% less energy to produce components, was key to turning the Revolution vision into reality. This high-tech but cost-effective engineering allows the car to be made to higher safety standards than existing club racers – a halo is also in the pipeline – while retailing for £139,000+VAT. It also makes for a super-stiff platform, reminiscent of the sort of thing seen in F3 or CN and LMP prototype categories – basically an SR3 on steroids.
"You can't keep making yesterday's technology and ask for today's money" is Abbott's central argument for his Revolution. At the same time, he doesn't wish to overcomplicate matters too much, so the set-up sheets James Abbott is writing for customers will run to similar lengths as the Radical ones did. Abbott Jr has also learned CFD simulation through this process, so is helping to refine the car's design further as he drives it.
I imagine racing one of these would prepare you pretty well for the Le Mans Cup, for example, or be a highly effective way to scare yourself witless on various trackdays
All told, this is a proper prototype racing car capable of serious levels of performance, and it is seriously impressive too – a fascinating glimpse into the future of amateur-level motorsport from a design and technology perspective.
Of course, unsurprisingly it's not on the level of Ginetta's latest LMP3 offering, which I sampled recently. The Revolution naturally lacks the power and technological refinement of that particular piece of engineering genius, but it certainly has much untapped potential, and with proper refinement it should easily sit squarely in the 'no man's land' between club racing and the lower rung of the professional Le Mans racing ladder.
I imagine racing one of these would prepare you pretty well for the Le Mans Cup, for example, or be a highly effective way to scare yourself witless on various trackdays, if that's the way you prefer your motorsport fix.
The Revolution's motto is, 'We're not challenging the status quo, it's already been left in the dust', which is a pretty bold statement. Like everything, this will need time to establish itself on the UK and European racing scenes, and to prove the concept's effectiveness on track, both in terms of driveability but also the quality of the racing in an endurance context.
Whether the Revolution is before its time or of its time remains to be seen, but the baseline is truly impressive – and with Phil Abbott's drive, determination, enthusiasm and vision powering it, this Revolution surely stands more than a fighting chance of becoming British motorsport's next success story.
Technical specification
Chassis: Full carbonfibre monocoque
Engine: 3.7-litre Ford V6 (dry sump)
Power: 380bhp Fuel capacity: 80 litres
Dry weight: 795kg Distribution: 45% front; 55% rear
Suspension: Ddouble wishbone – pushrods and rockers; cast aluminium uprights, Nitron 3-way adjustable dampers
Gearbox: 3MO 6-speed sequential with paddleshift
Brakes: 280mm floating discs, four-piston calipers front and rear
Tyres: Dunlop slick and wet
Length: 4353mm
Width: 2000mm
Height: 1125mm
Wheelbase: 2660mm
Aerodynamics: 3:1 efficiency; 7000N @ Vmax
G-force:Max 2.5G braking; 1G acceleration; 2.2G lateral