Ducati MotoGP rider Andrea Dovizioso says it's "difficult" to understand the strong and weak points of the KTM as its riders are all extracting performance differently.
The RC16 has been one of the strongest bikes on the 2020 grid, with rookie Brad Binder guiding the KTM to its – and his – maiden MotoGP win at the Czech Republic Grand Prix, a race in which the Austrian marque could have scored a 1-2 had Pol Espargaro not collided with Johann Zarco.
Espargaro was also the strongest rider in the first part of last weekend's Austrian Grand Prix and was leading when it was red-flagged – but failed to replicate that form in the restart owing to being forced into running the soft rear tyre having run out of his preferred medium option.
Having followed the KTM in the first part of the Austrian GP, Dovizioso noticed the RC16 is "a bit of a strange bike".
"Yes, they made a really important improvement," Dovizioso said on Thursday ahead of the Styrian Grand Prix about the KTM.
"It's not easy in MotoGP to make that kind of step.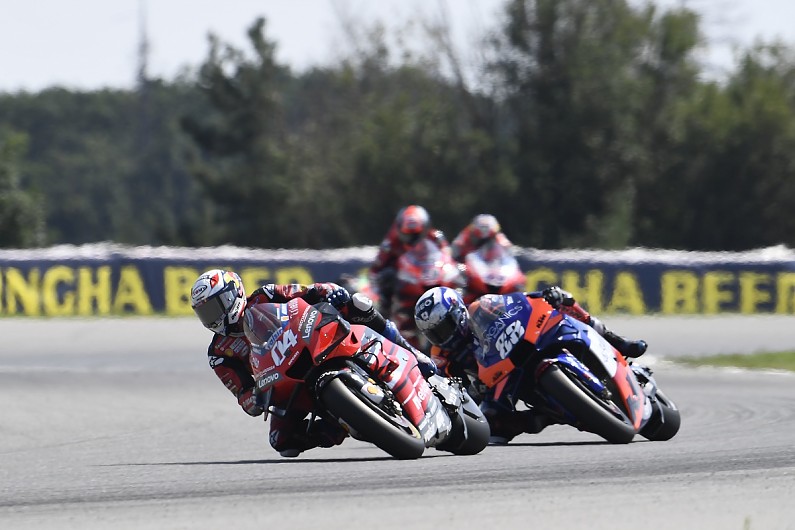 "But from outside it's just a bit of a strange bike because they have a very different characteristic, they can accelerate very well – the first part of the acceleration.
"I don't know why, it's very strange and different than all other bikes.
"But it's also difficult to understand that bike because Binder is riding like Moto2 at the moment and he's so fast, it's very strange.
"Pol is riding so aggressive and sometimes he's so fast, sometimes like in the last race he was losing speed lap by lap.
"[Miguel] Oliveira most of the time is really fast and is riding in a different way, so it's a bit difficult from the outside to understand the good and bad points of the bike.
"But for sure they made a big step."
Dovizioso comes into this weekend's second race at the Red Bull Ring second in the riders' standings after his Austrian GP victory, while Ducati move up to second in the manufacturers' table – 10 points clear of KTM.