Scott Dixon expressed doubt that 2020 Indianapolis 500 race winner Takuma Sato had enough fuel to go the distance if the race had run green until the finish.
Rahal Letterman Lanigan driver Sato, who previously won the 500 in 2017, claimed his second victory under caution after Spencer Pigot crashed heavily into the pitwall attenuator exiting Turn 4 with five laps remaining.
Sato had passed long-time leader Dixon in the final stint, and repeatedly defended his position before pulling away in the closing stages.
He had a one-second advantage when the yellow flags flew for Pigot's crash, but despite expectations of a red flag, race officials decided to allow the race to play out under caution.
Having led over half the race, Dixon admitted that defeat was "a hard one to swallow" as his long wait for a second 500 win to add to his solitary triumph in 2008 continues.
"I really can't see how they were going to make it," Dixon told NBC.
"We pitted a lap later and the numbers we had to get were going to be extremely difficult.
"I think he even hesitated one of the times on the straight when I pulled out beside him, I think they were trying to figure out whether to save fuel or get to the end.
"I think they just decided to go and run it [flat out].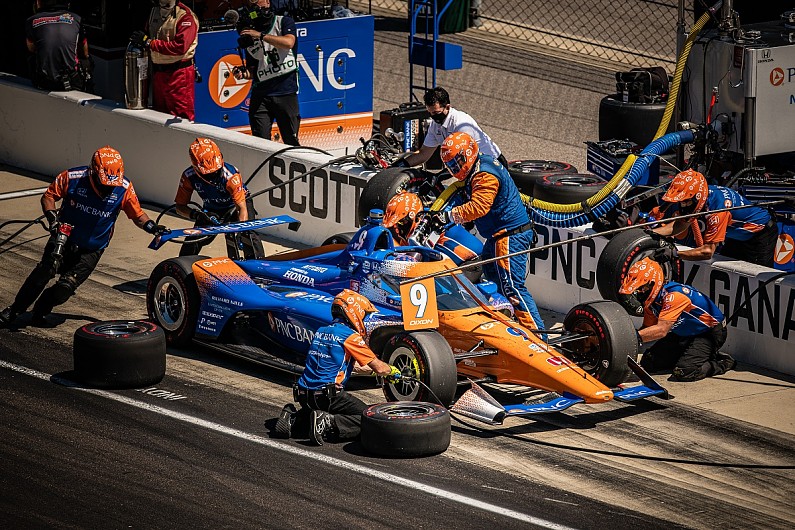 "First time I've seen them [the race stewards] let it run out like that, I thought they were definitely going to throw a red flag, which would have been interesting for the last four or five laps."
Despite his reservations about how the final moments played out, Dixon was magnanimous in defeat as fellow Honda-powered squad RLL claimed first and third spots, with Graham Rahal completing the top three.
He said: "Huge hats off to Sato, he drove his pants off today, and to Rahal Letterman Lanigan – they were super fast and a one-three [finish].
"But it's hard when it slips away like that.
"We were definitely in the right seat, I think we had the mindset and fuel to get to the end but if you hesitate, that's what happens."