Helio Castroneves is targeting a full-time ride in the IndyCar Series next season, but expects this month's Indianapolis 500 to be his final drive for Team Penske in single-seaters.
With Acura and Team Penske having announced that their partnership will dissolve following November's final round of the IMSA SportsCar Championship – and with the latter having no replacement sportscar programme for 2021 – drivers Castroneves, Juan Pablo Montoya, Dane Cameron and Ricky Taylor have been informed they're free to chase rides elsewhere.
On the back of an excellent victory with Taylor in last weekend's IMSA race at Road America, Castroneves, who had made a reluctant switch from Team Penske's IndyCar programme to its revived sportscar squad at the end of 2017, said he is seeking the chance to re-establish himself in single-seaters.
"I'll be honest, I'm looking for it, I wanna go back," the three-time Indy 500 winner and four-time IndyCar Series runner-up told Autosport. "I'm hustling, I'm open for business.
"I know I've been so connected with Penske for over 20 years, and I'm so grateful for all these years together, but they gave us the green flag to go look for drives in other places and that's what I'm doing."
The 45-year-old will aim to become only the fourth driver in IndyCar history – along with A.J. Foyt, Al Unser and Rick Mears – to earn four Indianapolis 500 triumphs. Despite having secured all his previous wins with Penske, Castroneves believes this will be his final race with the team.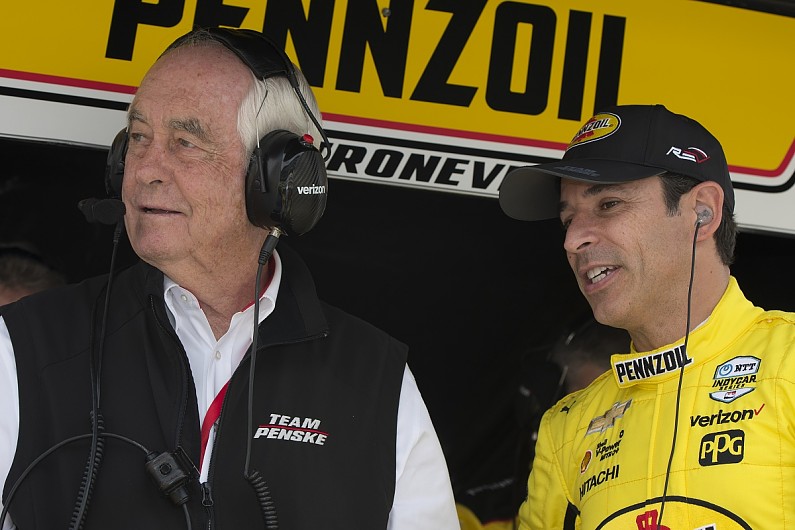 "I don't think I'll be back again with this team, no," he said.
"Our partnership has been great, we won a lot of races together, and obviously I thank RP and Tim [Cindric, team president] for all these years, for all this success and opportunity. And friendship, too, because we have a relationship not only inside the team but also outside, with car dealerships. I can't thank them enough and so this is not easy.
"We will still have car dealerships together, so we will still be in contact. Me and Roger, we sometimes see each other and don't even mention racing, we talk about dealerships – and I learn as much as I can from him and Geoff Penske [Roger's nephew].
"But there is no continuation of Penske's sportscar program, so I have to move on, and I'm going to try and go back to IndyCar because it's a type of racing I love a lot.
"If I get another Indy win with Roger in two weeks well, I'd like to make it difficult for him not to run me again next year! That would be a good problem for all of us to have, right? But let's try and get there first."