First it was Jamie Caroline. Then it was Zane Maloney. And now Luke Browning can add his name to the very short list of British Formula 4 drivers to have won all three races in a weekend.
Considering the partially reversed-grid middle race makes perfection so hard to achieve, it was a special performance. Both of the other two drivers to have completed the hat-trick went on to become champion and Browning's has propelled him to the top of the standings.
Each of his three Oulton Park triumphs relied upon a different key skill and, if he continues to display these for the rest of the season, he will be very tough to beat.
Race one: a fast start. the Fortec man's getaways are often good and that was the case in the opener. From second, he powered alongside polesitter James Hedley and grabbed the lead around the outside at Old Hall. Browning was untroubled thereafter, as a brief mid-race shower only extended his advantage.
"I got a good start – we've been good at starts all year," he said. "It's one of the advantages of being a second-year driver."
Race two: wet-weather prowess. Browning is simply masterful as soon as the track gets wet. Whether it was going from almost a lap down to fourth in Ginetta Junior at Knockhill in 2018 or a brilliant three laps to rise from 10th to second in F4 at Brands Hatch last year, Browning has regularly shone when the skies have been grey. It was the same in a wet race two at Oulton.
Starting sixth, he was second by the end of the first tour. First it was Zak O'Sullivan and Hedley off the line, then Casper Stevenson at Island hairpin, before grabbing second from polesitter Frederick Lubin out of Lodge. That just left Alex Connor – who had grabbed the lead at Old Hall when rookie Lubin ran slightly too deep.
Browning got closer and closer before going for the move around the outside at Old Hall on the final tour. He ran side-by-side with Connor out of the corner before the Arden driver squeezed Browning slightly, the pair touched and Connor was sent spearing into the barriers.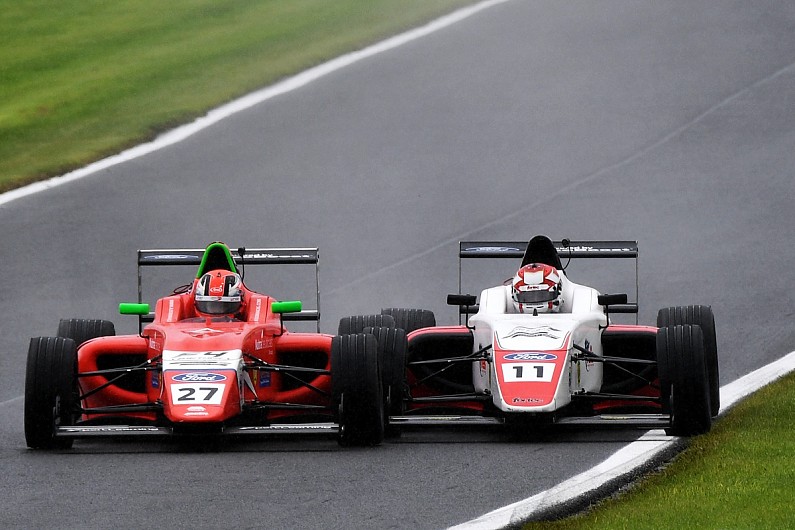 "I was alongside him and he just left me no room," Browning explained. "I feel bad for him but it was one of those things."
Race three: single-lap pace. This was the area that had let Browning down slightly in the opening two events. But in a drying qualifying session – which O'Sullivan, Hedley, Stevenson and Connor had all topped in the closing stages – Browning was top on second-best times and had pole for the finale.
This was a straightforward win as, despite Hedley dramatically closing on a couple of laps, Browning was in control after maintaining the lead at the start.
"It's so hard to overtake around here so I could drive at a relatively slow pace and he wasn't going to get past," he said. "The car was amazing and it's great to do it [take all three wins] at my home track!"
As for O'Sullivan, who entered the weekend 18 points clear, it was a mixed three races. He was pleased with second in the opener, after passing Hedley at Cascades. But he made a terrible getaway in race two, admitting the revs were too low, and compounded his misery by spinning after slight contact when attempting to pass Abbi Pulling at Island. He was then third in the finale.
"Race two was a bit scrappy but at least I made those mistakes in a race I wasn't at the front," O'Sullivan concluded.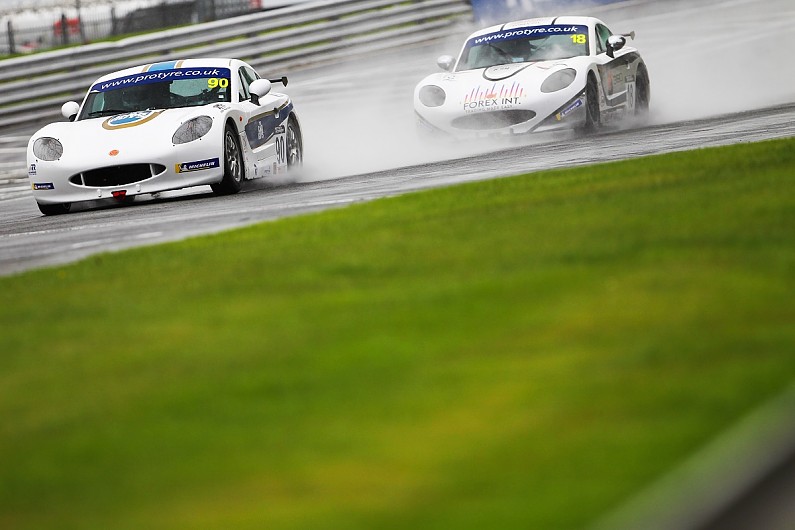 For the second time in three weeks, Josh Malin took two Ginetta GT5 Challenge wins at Oulton Park. But, unlike the first time around, he got to keep both of them last weekend – a penalty for contact previously denying him.
It was far from simple for Malin, as he described the second contest as "probably the hardest I've ever worked for a podium, let alone a win". In ever-intensifying rain, Malin kept the lead at the start but was coming under increasing pressure from Jonny Wilkinson – the beneficiary of Malin's penalty in the earlier event.
On lap seven of nine, Wilkinson dived down the inside at Old Hall but Malin was not going to give the place up with a fight, braving it around the outside to then have the optimum line for Cascades. The duo remained side-by-side down to the Island hairpin, where Wilkinson was back on the inner part of the track to finally take the place. It did not stay that way for long, however, Wilkinson straight-lining the chicane so Malin pounced once more. Despite Wilkinson's best efforts, Malin clung on to win.
"It was one of the best races I've ever had," enthused Wilkinson. "Basically, the bonnet pin broke and I locked up [at the chicane]."
Both drivers enjoyed the battle and Malin admitted the conditions played a part. "I aquaplaned at the first corner a couple of times and that allowed Jonny to get alongside me," he said.
Malin had not faced quite the same pressure in the opening race. He did have to contend with the fast-starting David Ellesley initially before Ellesley clipped Malin at the chicane and spun.
"There was one thing in the back of my mind this weekend to get a double win, but that's easier said than done," Malin added. "I'm Type 1 diabetic and at one point was told I would never be a racing driver, so it's great to get results like this."
Ginetta Junior Winter Series champion James Taylor was second in the opening race, after making matching moves on Gordie Mutch and Wilkinson.
"I didn't think I would recover that well from sixth place!" said Taylor. "I got a good start and then picked them off in the same place, diving up the inside in the second part of the chicane."
He again started sixth in race two before grabbing another podium behind the squabbling leaders.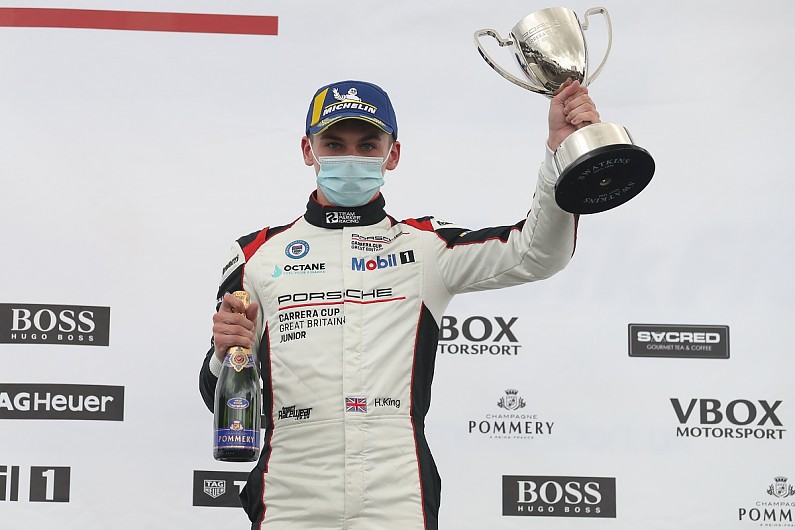 Harry King's standout season in the Porsche Carrera Cup GB continued at Oulton Park with two more perfectly executed wins.
In Saturday's opener, King converted pole position into an immediate lead, chased by Team Parker Racing stablemate Josh Webster. King edged away and built a gap of over six seconds by flagfall, the Porsche GB Junior bagging fastest lap as well as the two points for pole. Once King had edged out of striking distance, there was little that 2014 champion Webster could do, but he was well clear of Rookie winner Lorcan Hanafin (JTR).
Sunday's race was a stormer as Webster and King lined up fifth and sixth on the semi-reversed grid. Webster made the best of the start and, on a drying circuit, snatched the lead away from Scott McKenna (Redline Racing) on lap two. King had a tougher fight to get through the traffic with just one racing line available, but he was up with Webster by lap five of 15.
He made a bold effort on the outside at Old Hall that came to nought but, after a safety car period, he replicated his Brands Hatch heroics to charge up the inside of Webster at Cascades on the restart, making slight contact in the process, to take the lead and win number five from six races.
Bridesmaid Webster secured second from McKenna, while Ryan Ratcliffe (Team Parker) took a second Pro-Am win of the weekend and the sole slick-shod car, that of John Ferguson (Team Redline Racing), won the Am class.
One hundred was a popular landmark at Oulton Park in the Ginetta GT4 Supercup. Series veteran Colin White took his 100th podium. Century Motorsport scored its 100th overall podium in the category. But the number that mattered most was 21 as Gus Burton took the championship lead, two wins moving him 21 points clear.
The Century driver overcame polesitter Will Burns at the start of the opener and was untroubled after that as it was another Burton/Burns/Tom Hibbert podium lockout – a track limits penalty for Hibbert not enough to deny him third.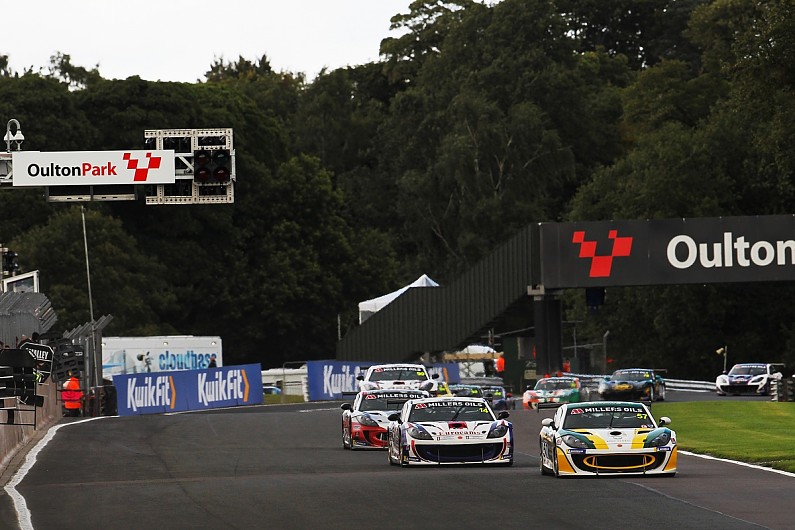 Burton was again unstoppable in race two, although his task was made easier by Hibbert sending Burns onto the Old Hall grass as they ran side-by-side off the line. Hibbert dropped to fourth while Burns ended up sixth in class after pitting during a safety car period to remove grass from the front of his car.
That meant some different drivers on the podium and former Caterham ace Jamie Falvey held off Adam Smalley throughout to take second.
"I had a really difficult start to the season, struggling with car set-up, so went with Century Motorsport for this weekend and it made a big difference," said Falvey, who began the campaign running with Caterham squad DW Motorsport. "This result is a dream come true."
Oulton Park marked the third weekend of the revised British Touring Car schedule, and it also featured a third different set of Minis on the support bill. This time around it was the Mini Challenge's second-tier Cooper class that had the opportunity to shine on the big stage.
Sadly, the first race featured two safety car periods, severely limiting the green-flag action. But, when racing could take place, it was dramatic. Race leader Lydia Walmsley crossed the line with 12 seconds of the 20 minutes to spare after the second caution and that set up a one-lap showdown. Dominic Wheatley pounced on the restart, grabbing the lead out of Old Hall and he took the spoils, despite Walmsley closing significantly on the run to the line.
Reversed-grid front row drivers Ben Kasperczak and Archie O'Brien had a close fight in race two. Ex-Ginetta Junior and Junior Saloons racer Kasperczak lost out at the start but he then dived down the inside of O'Brien on lap three to reclaim top spot. He held that to the flag, but a charging Harry Nunn and Leonardo Panayiotou both passed O'Brien at Lodge late on to relegate him to fourth.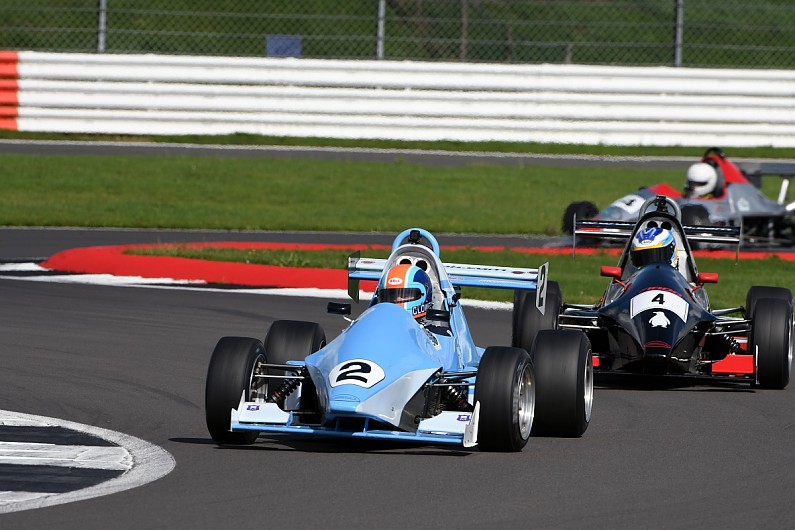 Silverstone 750MC: Clowes wows as F1000 season begins

Pole position, three wins and fastest lap was the perfect start to Dan Clowes' F1000 championship campaign as the spectacular motorcycle-engined Jedi Mk6/7 showcase opened with a 24-car field on the 750 Motor Club's belated annual International Circuit visit.
Sunday's second stanza, in which JFK Racing's driver shot from P8 on the partially reversed grid to rob Paul Butcher into Stowe on the final lap, rewarded patience. "Half-way through I thought third or fourth [would be it], but it came to me over the last couple of laps – one of the best races I've had," he enthused.
With the top four averaging 103mph in qualifying the stage was set, but a cracked piston sidelined Clowes' closest rival Lee Morgan. Dan Gore led Saturday's opener for a lap, then chased Clowes until a broken gear linkage stopped him. Kart graduate Jack Tomalin grabbed second on his car debut, with privateer Adam Walker a popular third.
Clowes pipped Gore in race three, with Tomalin third and promising Clio 182 convert Eddie Falkingham staving off Walker, Butcher and Elliott Mitchell for another fourth. Engine dramas in Friday testing left champion Matthew Booth's family team facing a long night. A fourth, third and a DNF were poor reward.
The affordable production sportscar features, Alyn Robson's 5Club Racing-promoted MX-5 Cup initiative and the Patrick Mortell-inspired Toyota MR2 perennial, filled the Hangar Straight and battled throughout.
The MX-5 opener was the weekend's best, polesitter Richard Baxter, Jason Greatrex, reigning champion Ben Hancy and emerging talent Courtney Milnes all leading the cliffhanger. Welshman Greatrex prevailed by 0.16 seconds from Hancy, with Milnes in his draft. From the reversed top nine sequel, Baxter, Steve Foden and Tom Smith carved a different podium. Callum Greatrex was fourth, with Hancy between him and his dad.
With a new cylinder head since Snetterton, multiple MR2 champion Shaun Traynor took his first win of the year in race one, pressured by Nick Williamson and Ali Topley. Traynor's maiden 1800cc Roadster victory erased Jim Davies' class and outright (two-litre Mk2) lap records. Spots of rain left The Link slippery for race two, but Traynor lapped quicker still, deposing Topley in the final seconds.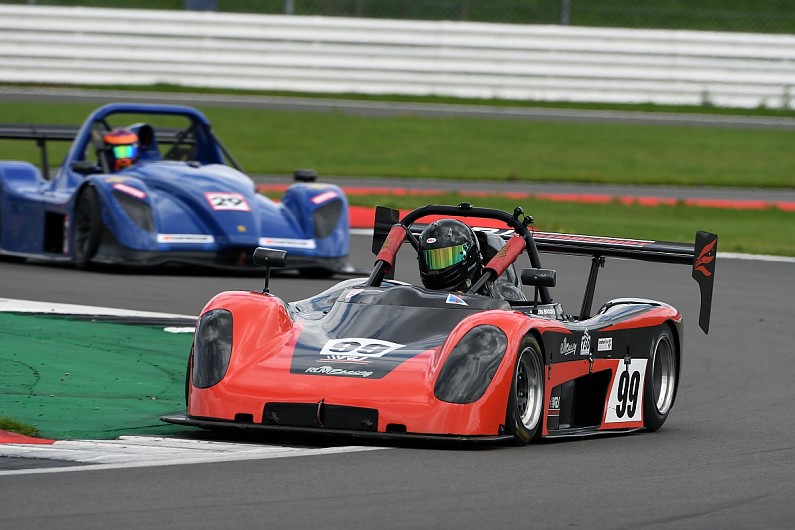 Bikesports blitzed the 1.85-mile track with a superb 31-car field. Centre-seat Radical PR6s ruled, polesitter Martin Brooks taking the first race with a 1m02.51s (106.54mph) record lap. Joe Stables and Charles Hall (Spire) kept him honest. In the second, Stables won from Scott Mittell – his eponymous lightweight's 1000cc motor outgunned by heavier rivals' 1340cc Suzuki Hayabusas – and Brooks. Michael Chen's Radical SR3 twice beat Chris Preen's similar machine in the standard engine class.
Spire dicers Ryan Yarrow and Richard Morris earned a Sports 1000 win apiece. Morris came from the back to second in the opener, then resisted Yarrow's challenges in the later race. Coached by last year's champion Chippy Wesemael, Mittell duo Michael Roots and Victor Neumann took third and fourth.
The top 750 Formula quartet put on two tremendous races. Although his Darvi was not the quickest in a straight line, Peter Bove used his guile to fend off Chris Gough (CGR) and Mark Glover (Racekits Falcon) in Sunday's outings.
Warren Allen's Porsche Cayman received the chequer in Saturday's 45-minute Roadsports race, but pursuer Bradley Philpot saw him overtake under yellow flags, an indiscretion that brought exclusion. Philpot was awarded the win, with David Vincent's Honda Civic Type R on his Lotus Elise's tail. Jamie Sturges (SEAT Leon Eurocup) claimed third, pursued by Nick Vaughan debuting an unusual Audi A3.
Sunday's Club Enduro championship opener was contested over 100 minutes – with mandatory COVID-19 extended 3m30s pitstops for greater social distancing – but the result was familiar, Carl Swift/Rob Baker winning their fourth on the trot in Area Motorsport's SEAT.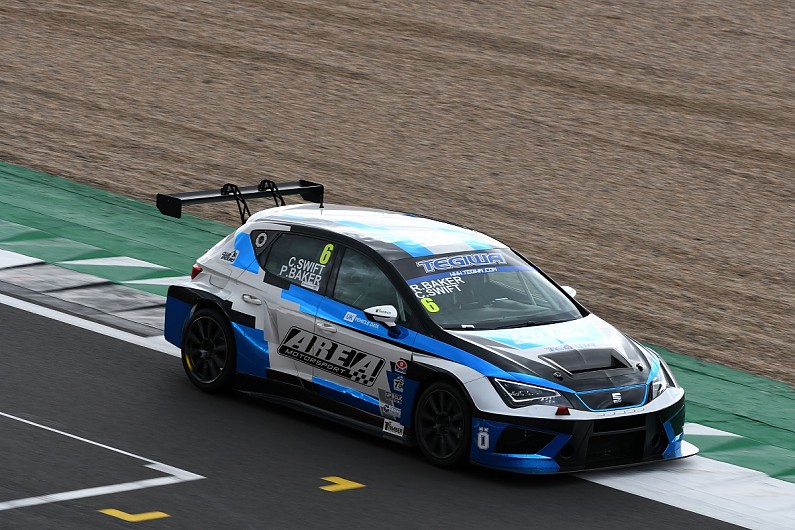 Series debutant Leo Loucas had a torrid one-lap race. Having suffered a left-rear tyre blowout in his Valluga Racing Cayman GT4 approaching Stowe in the Roadsports event, he started from coach Bradley Ellis's P2. Continuing after an excursion in The Link, he spun over the timing line into the pitwall, triggering a seven-lap safety car hiatus, during which Darren Ball's BMW E92 M3 caught fire. Several teams made tactical stops at once, while others conserved fuel.
At the green, Swift set the pace as invitee Martin Byford (banished to the back of the 44-car grid for a rideheight infringement) sizzled his SEAT to second ahead of the BMWs of Owen Fitzgerald (E36 M3), Andy Schulz (E46 M3) and Charlie Dark (M235i).
Swift led for 63 laps, relaying team chief Baker for the final 10 minutes after a splash of fuel, with a six-second lead over Rory Hinde (in for Fitzgerald) in the M3, which had recovered the three laps lost during its stop at half-distance. As Hinde closed to within four seconds, Baker "saw a train of about 15 cars in front of me" with one lap to go, but was 6.19s clear at the finish.
Third and fourth were Kevin Dengate (E46 M3) and Steve Cheetham (Porsche Boxster), ahead of Class B victor Kevin Gillespie's three-litre BMW 130i and the Byford/Ashley Woodman SEAT after a penalty stop. On a great day for Area Motorsport, Andy Baylie (Civic) won Class C by three laps.
Highlight of the Sport Specials races, in which Andy Hiley's unique Chronos put Paul Collingwood's sleek Eclipse in the shade at unprecedented pace, was the separate 16-strong Ma7da field's progress. Double winner Matt Cherrington pared its lap record back to 1m17.39s (85.06mph) as the pack squabbled behind.
Extending his unbeaten Hot Hatch run, Gary Prebble was the sole competitive Class A runner. Having graduated to the Honda Civic-dominated B ranks, chaser Ian Williamson was delighted to land a double over Philip Wright and Tony Perfect respectively. The pace of Dan Gibbs (VW Golf Mk2) focused C standout David Drinkwater (BMW Compact).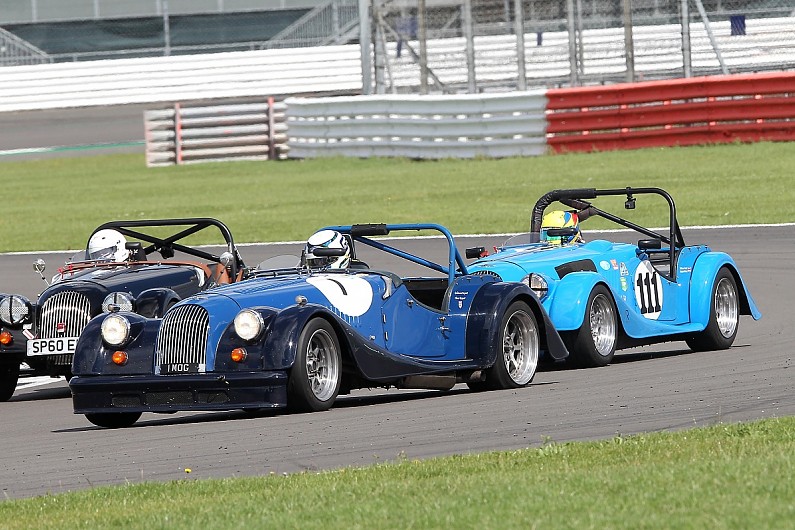 Silverstone BDC: Bryant storms through from the back as Morgans star at Bentley event

Victory from the back of the Morgan grid for Oliver Bryant was the standout result as the Bentley Drivers Club continued its glorious run of unbroken Silverstone race meetings that started in 1949.
The pair of Morgan contests complemented a typical mix of races, several dedicated to the home marque. In the first Morgan counter, Bill Lancashire and Grahame Bryant set the pace in their V8s but had the impudent Will Plant harrying them as he drove the doors off his four-cylinder 4/4. Bryant chased hard but was out with three laps to run when a piece of debris punctured a rear tyre.
With son former British GT ace Oliver due to take over their +8 for the second race, the Bryants had no choice but to fit a set of 2008-vintage Dunlop tyres for the later contest when Olly would start on the back row of the 28-car grid.
His progress up the order was always going to be meteoric and he duly passed 14 cars on the first lap. By lap four of 19, Bryant was fourth and hunting down Lancashire, Plant and Roger Whiteside before he then swept into the lead on lap eight. "I saw him coming," said Plant, who traded places with Lancashire and duly took over second after Lancashire retired late in the race with an oil leak. "That was a bit of a challenge, but great fun," said Bryant.
Michael Higginbotham honoured the work of renowned Bentley special constructor Alan Padgett by topping the opening Bentley race in his ex-Padgett MkIV Special, which was easily able to outpace the less-developed special of Paul Forty. Best of the more standard Bentleys was the 3 Litre driven with typical brio by Ewen Getley.
Getley was the scratch man in the later Bentley Handicap race and lapped five seconds faster than anyone else as he scythed up the order to third on the final lap. However, the handicapper had been generous to the TT 3 Litre of Richard Frankel and the 3 Litre Speed of David Ratcliffe, which were a lap away from falling to the flying Getley.
An excellent grid of 1950s sportscars lined up for the half-hour FISCAR race although the result was rather shaken up when nearly half of the finishers were penalised up to 40 seconds for short pitstops. Among them was Stephen Bond's Lister Bristol, which made the early pace once ahead of the fast-starting Lotus Elite of Brian Arculus.
However, it was Oliver Llewellyn who kept his nose the cleanest in his Allard J2 to take victory from Bond as Arculus was penalised back to fourth behind the Jaguar XK120 of Paul de Havilland. Out mid-race went the remarkable Bristol 450 recreation of Andrew Mitchell when it shed a wheel at Luffield.
While son Will had to be content with two second places in the Morgan Challenge, Richard Plant was a resounding winner in the Classic Challenge in their rapid +8. Plant was quickly well down the road, while the four-cylinder Morgan of Craig Hamilton-Smith led the pursuit as Morgans packed out the top four places.
Patrick Blakeney-Edwards was nicely on target for his third win in a week when his Frazer Nash Super Sport coughed and expired with two laps of the Pre-War race left to run. When Ewen Getley non-started his Bentley, Blakeney-Edwards was always in control before cruising into the pits and leaving victory to the Morgan three-wheeler of Chas Reynolds from the glorious Alfa Romeo 8C Monza of Christopher Mann.
One of the Allcomers races included the TVR Challenge, and Darren Dowling was fastest in qualifying by a big margin. He started his TVR Sagaris from the pitlane but was still able to romp through the varied field to win comfortably. Alan Davenport's Classic Clubmans Centaur Mk14B was the best non-TVR in the race in fifth.
Veteran racer Eike Wellhausen was an unstoppable force in the Aston Martin Owners Club race in his Lister Knobbly replica and was close to lapping the entire field by the end of half an hour. Only the Jaguar Mk1 of John Young avoided going a lap down, while the similar Mk1s of Glenn Pearson and Nigel Webb battled over third for much of the race.
David Moorhouse (Mini) held his nerve to win the final handicap race as more potent machinery hunted him down.
Brands Hatch MSVR Masters: Brundle shines on historic racing debut
Brands Hatch once more reverberated with the minor-key roars of Lolas and Chevrons as Masters Historic Sports Cars visited last weekend.
Historic racing debutant Alex Brundle and Gary Pearson were the victors in Pearson's Lola T70, having quickly overcome polesitter Jonathan Mitchell's Chevron B19, despite his rapid initial getaway. The leaders were never seriously challenged thereafter, although Mitchell set a string of fast laps towards the end.
The race's main drama instead revolved around Gary Culver's T70. He had leapfrogged from fifth to third on the first lap but was judged to have jumped the start. He received a penalty, which he took too late and was therefore disqualified.
Rob Fenn took the win in Pre-'66 Touring Cars after a fraught last lap. Steve Soper had a dramatic accident in the Ford Mustang he shared with Henry Mann, which brought the red flags out a minute before the hour was up. The Mustang's throttle stuck open at Stirlings, pitching it into the bushes.
Soper was leading at the time but, as he had caused the red flag, the win was awarded to Fenn. It was a deserved win for the Mustang driver, who was without his regular sidekick Jake Hill, on British Touring Car duty at Oulton Park, and demonstrated he is a fine driver in his own right.
He had built up a lead in the early laps over Lotus Cortina drivers Ollie Taylor and Geoff and Alan Letts, as well as Mann. The polesitting Cortina of Andrew Jordan and Michael Cullen was slow off the start, slipping to fifth, before retiring at mid-distance, just as it had set its fastest lap with Jordan at the wheel. Theirs was far from the only car to drop out in a real race of attrition, however, as 13 of the 30 cars didn't make it to the finish.
Martin O'Connell was in imperious form in his Tyrrell 011B in the Masters Historic Formula 1 opener, crossing the line four seconds ahead of Steve Hartley's McLaren MP4/1. Hartley had been fighting his own battle with Greg Thornton's Lotus 91/5, overhauling the champion early on. Thornton tried endlessly to retake second but Hartley took a tighter line on the dash to the flag and prevailed. Mike Cantillon (Tyrrell 010) was fourth, ahead of Johnny Herbert's Ensign, which didn't actually get to see the chequered flag after a fuel feed problem on the final lap.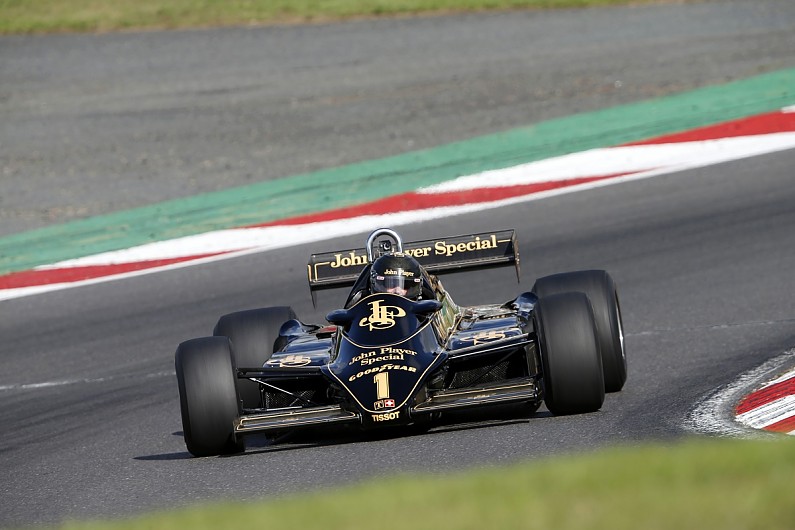 On Sunday, Thornton was on a mission and soon passed polesitter Cantillon for the win. Thornton was joined by an advancing O'Connell, who loomed increasingly large in his mirrors as Thornton became tangled among the backmarkers. Hartley was third, ahead of Steve Brooks (Lotus 81), who came through from the back of the pack.
The first Historic Grand Prix Cars Association race ended with a five-minute sprint after a safety car period. Jon Fairley (Brabham BT11/19) was already firmly in the lead, followed by Will Nuthall's Cooper. This was the situation for most of the race after polesitter Andrew Beaumont (Lotus 18) was unable to match his qualifying pace, losing out to Nuthall and a charging Fairley before retiring on lap 11 of 14, having run out of fuel. Nick Fennell's Lotus was third after Barry Cannell (Brabham BT11A) crashed.
Fairley and Nuthall led the next encounter in a similar fashion, while Beaumont's tank was full this time and he fought from the back to sixth. Cannell's rejuvenated Brabham went one better and was fifth.
Tom Smith won the first Equipe Classic race in his familiar red MGB, sliding around the track in an equally familiar style. Second place was a closer contest, won by Chris Ryan (Triumph TR4) from Lee Atkins's TVR Grantura, despite the best efforts of Atkins.
Atkins hoped to win from pole for Sunday's race, which featured a largely different field, but was eclipsed by Mark Holme's Austin-Healey 3000. Holme had built up a large lead until the pitstops, when a gamble on a late stop did not pay off and left him adrift. A safety car period to recover Tom Grindall's MG did not help his cause, although a penalty for Triumph TR2 driver Rob Cull did. Cull had run as high as third but was docked three laps for pitting before the window opened.
While Holme was fighting back, Mark Ashworth's TVR Grantura sneaked into the lead and stayed there. Atkins was second and Holme an impressive third.
Reports by Stephen Lickorish, Mike Holder, Marcus Pye, Paul Lawrence and Rachel Harris-Gardiner. Pics by Jakob Ebrey Photography, Steve Jones, Mick Walker and Gary Hawkins. Want the full picture on this week's national racing, including more event reports? Subscribe today and never miss your weekly fix of motorsport with Autosport