Petronas Sprinta Moto3 rider John McPhee feels he is "proving the performance is there" to make the step to Moto2 in 2021.
Britain's McPhee made his full-time debut in Moto3 in 2013 and has since won two grands prix in the lightweight class, becoming the first Scottish rider to win a race in any grand prix class since Bob McIntyre in 1962.
Remaining with the Petronas-backed Sepang Racing outfit in Moto3 for the second-successive season, McPhee currently sits third in the standings and 10 points adrift of leader Albert Arenas having scored two podiums from the first three rounds.
Though yet to discuss future plans, 26-year-old McPhee now has his sights set on a Moto2 step next year – though is focused for now in the current Moto3 title battle.
When asked by Autosport in an interview organised by Petronas if he was looking at this as his last year in Moto3, McPhee replied: "Yeah, 100% I would love to step up.
"I feel like now is the time because we're proving that the performance is there to make that step into Moto2, and obviously if I can stay in the Petronas family it would be my dream.
"So, we'll wait and see. Obviously right now I've got a job to do and I'm focused on that.
"But within the next month to six weeks, I'll need to kind of start knowing what's happening because the season's all going to happen so fast.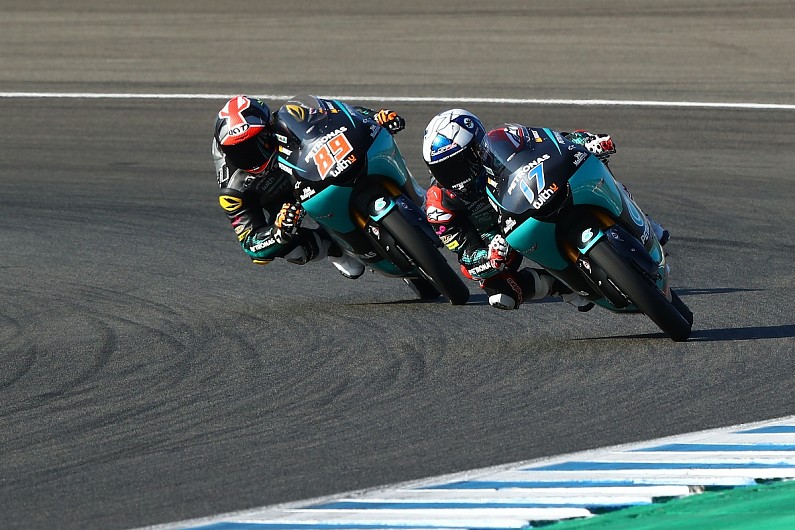 "My target is definitely Moto2."
McPhee has made his strongest start to a campaign since 2017, having been a factor in the victory battle for all three rounds so far – with a third podium taken away from him at the last corner of last month's Spanish Grand Prix following contact from Tony Arbolino.
With continuity in his surroundings for this season, McPhee says this is what has boosted his confidence on the Honda this season.
"I think the main thing is obviously a huge thanks to the team and especially my crew chief Mark Woodage," he added.
"The team mainly because it's my first time in my career I've had the opportunity to work in the same team with the same partner for two years running and have the same bike, the same people, the same everything around me.
"And that makes such a huge difference.
"The reason I thank Mark is because he did such a good job with the pre-season with getting the bike dialled in, everything working the way we want it to work.
"We left Jerez pre-season test, went to Qatar and then went back to Jerez and we've literally not changed the bike.
"I've been able to jump on and ride the bike and just focus on my riding.
"That's what's been able to give me the confidence to then build and build and chip away at those lap times and become stronger for the races.
"It doesn't mean we have the perfect bike, but it means I've been given a bike and a package that I can work with and I know the limits of."