Alex Marquez says Honda is giving him "the confidence a rookie needs" as he continues his adaptation in MotoGP with the reigning world championship-winning team.
Reigning Moto2 champion Marquez rose from 21st in qualifying following a crash to end the second Jerez race in eighth spot, just 19 seconds from the victory, which represents an improvement of almost eight seconds from his Spanish GP finishing position at the same track of 12th.
The younger Marquez brother was the sole Repsol Honda representative on the grid for the Andalusian Grand Prix after Marc withdrew through injury.
Asked if he has felt any added pressure over his first two race weekends because of his surroundings, Marquez replied: "No, racing is racing.
"I never get pressure from Honda, from Alberto [Puig, team boss], from [HRC director Tetsushiro] Kuwata-san.
"They always give me the confidence that a rookie needs, so this is a pleasure to work with the people that understand the racing, understand the rookies.
"[In the race] the position for me and for the team wasn't important.
"What was important was to improve the seconds, the gap to the first rider.
PLUS: The catch-22 Honda faces in MotoGP with Marquez sidelined
"We did it, we improved from last weekend with really similar conditions, so it's what we needed to do.
"Now we go to Brno – that is one of my favourite tracks – and try to be faster, try to be closer and try to enjoy a little more on the bike, this will be the main target for us."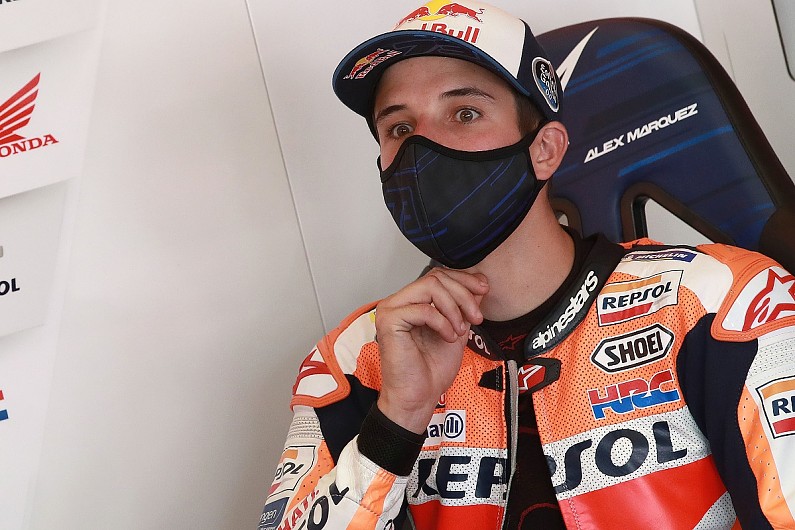 Due to the high attrition rate in Sunday's race, with only 13 of the 21 starters making it to the chequered flag, Marquez played it safe in the latter stages because "the risk was too much" if he pushed to the pace he felt he could do.
"From FP4, my rhythm was much better compared to the race pace, but normally in race everybody is slower – only Fabio was able to make a good pace from the beginning to the end," he said.
"The other people were much more slower compared to FP4.
"Also [Sunday] was the hottest day that we had during all the weekend, so I was not so bad.
"For sure it was easy to crash, I tried to control [my pace].
"I was able in one part of the race to be a little bit faster, but then physically it was difficult to finish the race, but also especially for taking risk.
"I could go faster, but then the risk is too much to finish the race.
"I arrived at one point with a good rhythm, I said 'this is my place, this is my feeling and I need to keep it till the end'."