Aleix Espargaro says the Brno track surface is a "disaster" and not at "MotoGP level", admitting his feeling on the bike in places was like riding in the wet.
Czech Grand Prix venue Brno hasn't been resurfaced since 2008, and over time the asphalt has lost grip and has become bumpier.
Numerous riders complained about the track after Friday's practice sessions, with Aprilia rider Espargaro one of the most vocal, branding the circuit in its current state as "one of the worst" he has ever ridden.
"The track conditions are a disaster," Espargaro fumed.
"I think it's one of the worst tracks I ever ride in my life, not just in terms of grip; the grip is very, very poor.
"But also the bumps. We had many crashes today [in all three classes].
"In two or three places I was closer to wet feeling than dry because you cannot push, you cannot stress the front or you crash."
When asked where the worst points of the circuit are, Espargaro replied: "Corner 10 is very, very bad, and also corner 13 is unbelievable.
"I'm braking in the middle of the straight and in mid-corner you are [leaning] 10 degrees less than a normal corner.
"But also corner 10 is very bumpy, everywhere, the track condition is not at the level of a MotoGP circuit.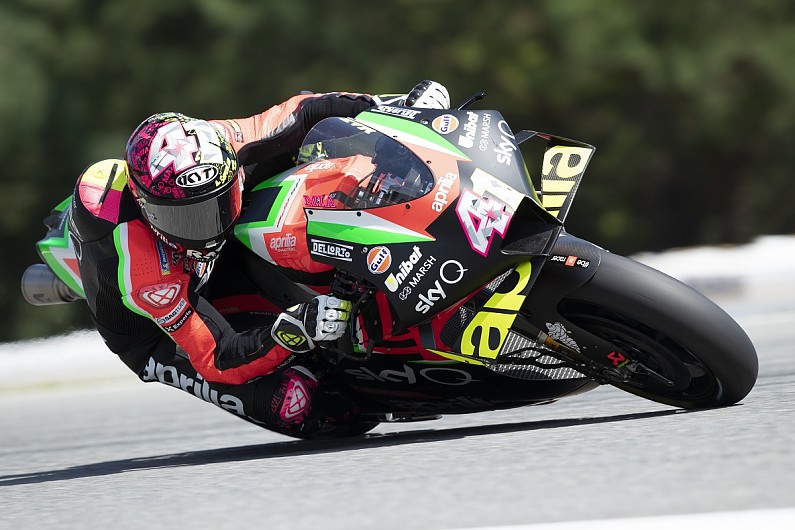 "Apart from the bumps, the grip has been very low, the lap time of MotoGP were super slow.
"And if you watch the other classes, for a Friday, the amount of crashes is too much.
"For me, it's unacceptable to race here. It's very far from the level for MotoGP, it's a disaster this tarmac."
PLUS: Why frustrating Friday won't derail MotoGP's main man at Brno
Espargaro's brother Pol says a resurfacing is "needed" at Brno, but admits the coronavirus crisis could mean the circuit may not be able to make that investment for 2021.
"I guess with all the COVID and all what's happening around these years, for sure, it's not going to be easy to have this big investment here," Espargaro said when asked by Autosport about whether the riders will ask for the track to be resurfaced.
"It's starting to be something about safety and something that we need to… normally when it's plus 10 years [since the last resurfacing] it's something we ask for, because after 10 years the track starts to get very slippery.
"So, yeah, it's needed."
Valentino Rossi echoed Pol Espargaro's sentiments, adding: "The situation in the last years in Brno is a bit difficult, but you understand, to resurface everything you need a lot of money.
"So, we're speaking about millions of Euros.
"It's not easy, in this situation I can understand because there's no fans [allowed at the track], I don't think the circuit is used a lot.
"So, I don't know if they will resurface."