A GRIP ON SPORTS • What an eventful Sunday. Which may lead to an eventful week. Or not. A lot depends on college presidents and virus numbers, which makes it hard to predict.
•••••••
• We used to talk in the S-R newsroom about a phenomena we referred to as "The Spokane Vortex." Often, over the years, big news stories from around the world would somehow have a Spokane connection. It happened way too often considering how out-of-the-way the city is and how few people live here.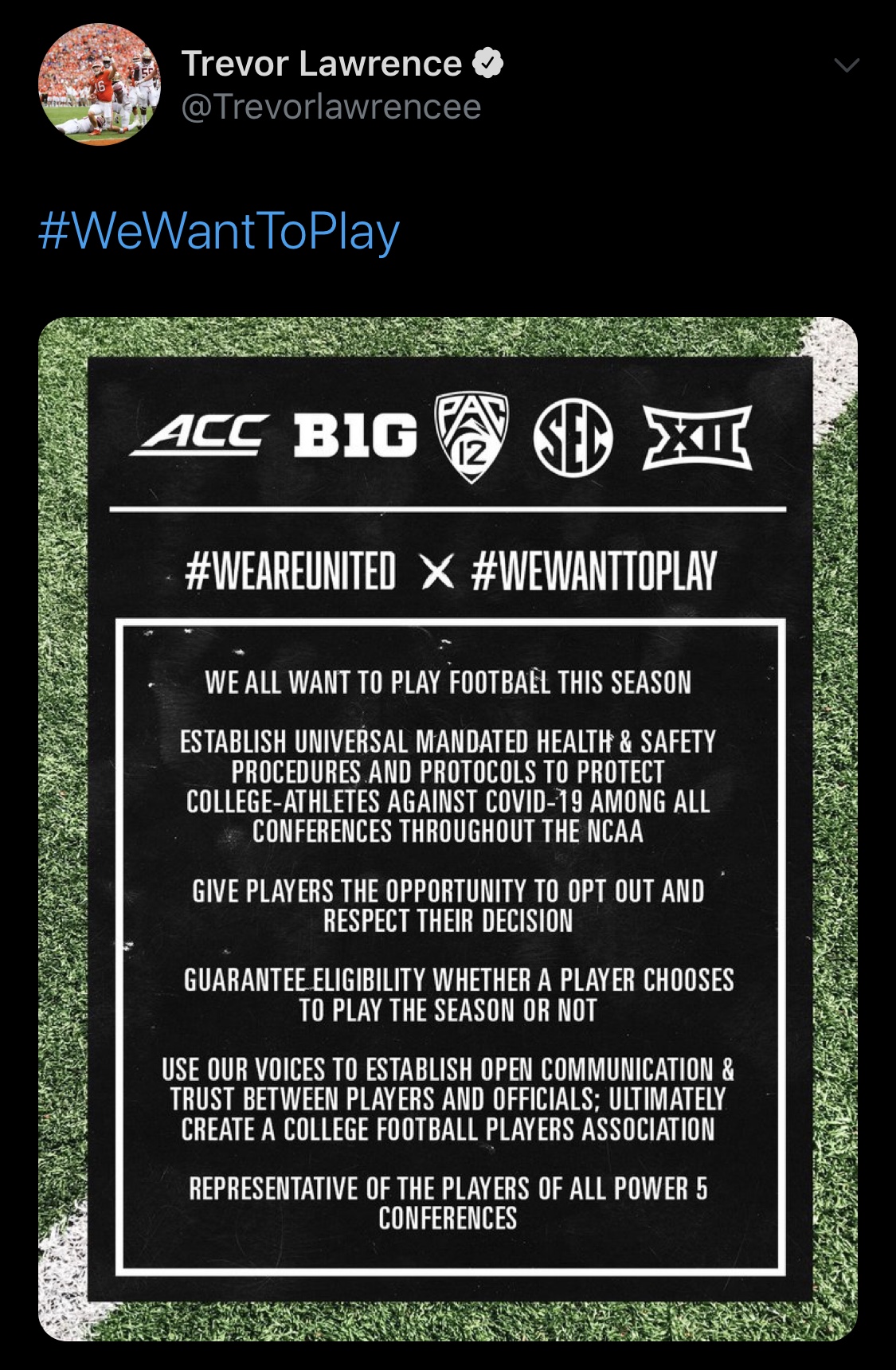 Little did I know, the vortex has grown to include Pullman.
Last night, the first signs of a revolution in college football began to emerge. The players took small steps toward exerting their power – and making it clear they are going to organize collectively.
The uprising may have started on the West Coast. It may have spawned prodigy in the Midwest. And it may have morphed into something different in the South. But over the weekend, it coalesced into something united throughout the country.
College football players want to play the game they love, but they also want those in charge to unite to keep them safe and to recognize they are the key component of the sport.
What does that have to do with our local vortex? To make their voices heard, the player groups turned to Dallas Hobbs, the Washington State defensive lineman, and asked him to create a visual touchstone for their movement. He did. And now it's all over social media.
An easy-to-understand summary of their philosophy and demands.
Every successful revolution has its Thomas Paine, its Leon Trotsky. People who help sell change. It seems as if Hobbs is on that path in a decidedly modern way. And that college football is part of the local vortex after all.
• Is golf changing? The simple answer is yes. Players hit the ball so much farther than ever before, are better at blending power with finesse and are more willing to take private feuds public. In other words, it is entering the 21st Century of sports.
But it also has its traditions that haven't seemed to change. They were illustrated Sunday at Harding Park, where a decidedly traditional player, Collin Morikawa, won his first major title at age 23.
Morikawa may not look like golf's old guard, but he certainly plays that way. He doesn't bomb the ball as far down the fairway as possible, consequences be damned. He puts a premium on controlling everything, from the course to his own game. Just like hundreds of champions from the past.
His PGA title yesterday was punctuated by two exceptional shots, a chip-in for birdie on 14 and a drive on 16, the short par-4, which led to a tournament-winning eagle. But the victory was built on a time-honored tradition of putting the ball in the fairway, hitting greens and making the occasional putt.
As other contenders tried to overpower the course, Morikawa and runner-up Paul Casey tried to finesse it. They both succeeded. The youngster, however, was one stroke better.
• Speaking of the local vortex, Clarkston's Joel Dahmen shot a 67 on Sunday to finish in a tie for 10th. Jim Meehan watched and has this story on Dahmen's accomplishment.
If you watched the CBS broadcast hoping to follow Dahmen's day, you were sorely disappointed. According to my count, just three of his shots were shown, including his final one at 18. Despite the fan-friendly nature of Dahmen's personality and game, his appeal hasn't seemed to reach the network's golf coverage yet.
• Before we head on to the story links, we'll go back to the golf links one more time. If you spent any time in front of the television over the weekend, you had to notice the PGA's commercials aimed at telling the stories of Black professionals, all of whom teach the game.
They were well done. Maybe the best things in this genre we've seen in the past few months. Touching and inspiring, they were also anger-inducing – in a good way. They made you think.
And made me remember. It's ironic, in a way, that this white kid from the L.A. suburbs learned the lily-whitest of games from a Black man. But that's the way it was.
When I told my parents in the late 1960s I wanted golf clubs, my dad refused. Not until I had lessons. He was self-taught and he didn't want me going through that particular form of agony. So he asked around and was told the best place in the area for kids to learn was Brookside Golf Course.
You are familiar with Brookside, I'm sure. If you've ever watched a Rose Bowl game, heck, any football game from the Rose Bowl, you've seen the course. It's where all the cars are parked. Yep, the Pasadena city course is nestled in the Arroyo Seco and serves a lot of purposes.
When I was 13, it served as where I learned the game. My dad took me to the course, talked with all the instructors and picked the lone Black man who taught there. He would put a club in my hands and teach me how to play.
For the life of me I can't remember his name. It's lost to the mists of time and a couple hours searching the Net didn't break through the fog. All I can recall is two things: He was patient and he taught me a swing, and tools to keep it in shape, I still use today.
Oh, that and we talked a lot. It's funny. I played baseball, basketball and football growing up in Southern California. But the only Black coach I had any real contact with until I was college was my youth golf coach. As he taught me how to hit a 7-iron, he also schooled me in his life. It wasn't anything like mine. Or like anyone I had come in contact with at that point in my life. (For that matter, neither were his golf skills. He could actually hit a ball straight.)
If the 10 weeks of lessons were out-of-the-ordinary in any way, I certainly don't recall. He was a teacher. A damn good one. I was a student. A damn poor one. Everything else was immaterial.
A coach is a coach.
•••
WSU: Around the Pac-12 and college sports, as we mentioned above, the thought of postponing the football season to the spring seems to be gaining traction. There were meetings throughout the weekend among decision makers, with rumors abounding the season would be put on hold this week. We'll see. … A mysterious illness hit a USC player. … In basketball news, we get to see a great point guard battle one more year.
Whitworth: In a time of stepping back and closing in, the Pirates have moved forward and opened up a new athletic building. Dan Thompson visited the campus last week as the university showed off the Whitworth Athletic Leadership Team Center. The new athletic headquarters overlooks the school's outdoor athletic facilities and contains offices for the staff. … Tyler Tjomsland also toured the building and shared what he saw in this photo gallery.
Track and field: An American discus record was set recently in Rathdrum. That and more are part of this week's local briefs.
Mariners: It was just a matter of time before Justus Sheffield earned his first major league win. It came Sunday and at the expense of the team with the best record, the Colorado Rockies. The M's won, 5-3. … Could Daniel Vogelbach be on the way out? I have a friend who asked me the same thing yesterday. He hopes it happens soon. … Former trainer Rick Griffin and his wife Rachel have both been battling cancer.
Seahawks: The Hawks have their first player placed on the COVID-19 list. It's receiver John Ursua … Who may just make up their 53-man roster?
•••       
• The HBO show "Perry Mason" finished its first season last night. The finale was OK, if unfulfilling. But the show itself was worthwhile, if nothing like the 1950s version of the lawyer's story. And opened up a new series to look forward to as we enter a post-pandemic world (someday). Until later …