Formula 1 doesn't miss a beat as the paddock stays put at Silverstone for the 70th Anniversary Grand Prix.
Following the dramatic finish to the British GP which saw Lewis Hamilton claim victory on three wheels after a tyre puncture, the second leg of the Silverstone double-header takes place this weekend.
Valtteri Bottas will be eager to claw back lost ground in the F1 world championship standings having suffered his own tyre puncture with four laps to go, and after pitting finishing down in 11th place having been in second behind Hamilton before disaster struck.
Max Verstappen and Red Bull will also be looking to take advantage of any mistakes having unluckily missed the opportunity to do so during the final lap of the British GP, while team-mate Alex Albon will be aiming for a quick recovery having suffered a heavy crash in FP2, a Q2 exit in qualifying and an opening lap clash with Kevin Magnussen.
Racing Point is awaiting health protocol information to see if Sergio Perez will be allowed to race this weekend, assuming he provides negatives tests for COVID-19, with Nico Hulkenberg set to step in again if required.
After Pirelli completed its investigation into the tyre blowouts at the end of last Sunday's race, Mario Isola has confirmed the failures were down to the "perfect storm" with mandatory tyre pressure increases established as a safety precaution, but will stick to its plan of going one step softer with its tyre compounds for the 70th Anniversary GP.
The 70th Anniversary GP acts as the middle act of a second run of triple-headers on the reshuffle 2020 F1 calendar, with the trio set to be completed with the Spanish GP next weekend.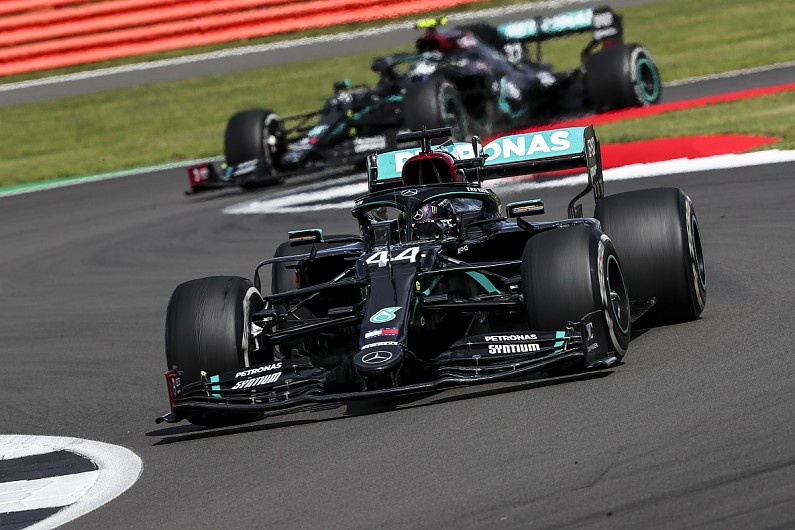 2020 Formula 1 70th Anniversary Grand Prix session timings
F1 is sticking to its traditional format of two free practice sessions lasting 90 minutes each on Friday, followed by an additional practice session running for one hour on Saturday morning.
The Q1, Q2 and Q3 knockout-style qualifying format is also being retained on Saturday afternoon to decide the grid for the 52-lap 70th Anniversary Grand Prix on Sunday.
The Formula 2, Formula 3 and Porsche Supercup series are all acting as support classes to the F1 70th Anniversary GP.
Friday 7th August 2020
Free Practice 1: 11:00am-12:30pm BST (11:00am-12:30pm local)
Free Practice 2: 3:00pm-4:30pm BST (3:00pm-4:30pm local)
Saturday 8th August 2020
Free Practice 3: 11:00am-12:00pm BST (11:00am-12:00pm local)
Qualifying: 2:00pm-3:00pm BST (2:00pm-3:00pm local)
Sunday 9th August 2020
Race: 2:10pm BST (2:10pm local)
How can I watch the 70th Anniversary Grand Prix?
• Channel: Sky Sports F1 HD
• Channel numbers – Sky: 406
• Channel numbers – Virgin Media: 506 (Sky Sports F1 HD)
Sky Sports has live and exclusive broadcasting rights in the United Kingdom with the build-up to the F1 race starting from 12:30pm ahead of lights out at 2:10pm.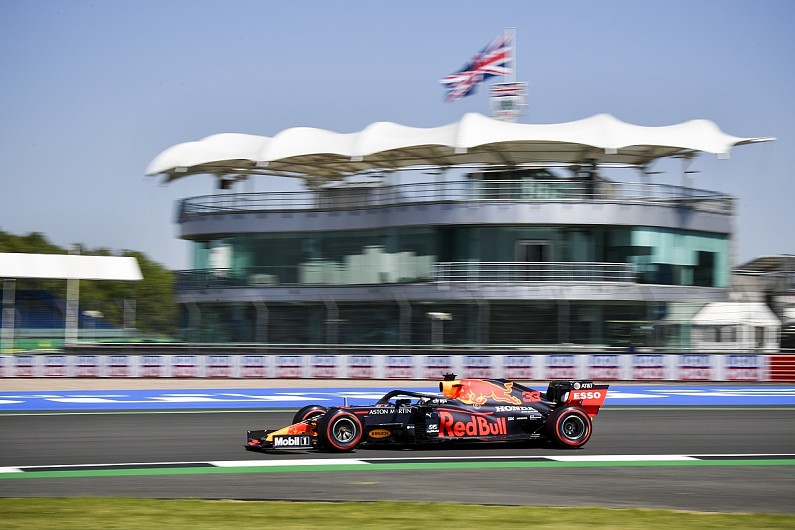 When can I watch the highlights?
• Channel: Channel 4
• Start time: 6:30pm
Channel 4 has the rights to show the British GP live but for the rest of the F1 rounds it will show a highlights package of qualifying on Saturday and the race on Sunday.
Weather forecast for the 70th Anniversary GP
Silverstone is set to have sunshine and cloudy conditions on race day for the 70th Anniversary GP, with highs of 24 degrees Celsius on race day.
Pirelli tyre allocation for the 70th Anniversary Grand Prix
Pirelli has opted to move one step softer for the second Silverstone race, with the hard tyre C2, medium tyre C3 and soft tyre C4.
For at least the opening eight races of the reshuffled 2020 F1 season each driver will be given the same allocation of tyres per race: eight sets of soft tyres, three sets of medium tyres and two sets of hard tyres. Pirelli will also supply a range of wet and intermediate tyres for each driver.